So you've been dating for a while and you've talked about marriage. You both have said you're ready and your families are dying for the date to be set and the ring to be bought – but your guy hasn't popped the question. Instead of waiting around for him, do what more and more women are doing – and propose to him!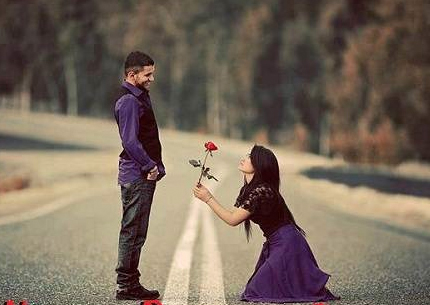 You might be uncomfortable (and a little disappointed) that you miss the big romantic gesture from your man, but the best part about planning the proposal is that it gets to be just how you want it to be. Taking matters into your own hands shows your level of commitment and your independence, both things that will make your guy crave you even more. (Plus, once he has a left-hand ring, you'll get one too!) Here are three sweet ideas to inspire you:
Sporting Event
While you might not really care too much about the World Cup or the World Series or the Superbowl, your man is a major fan. If you start saving up now and plan far ahead, you'll not only get great seats, but possibly something special at the stadium. Even if his team doesn't win, we bet he'll cheer for you!
Get His Family Involved
He's one of three boys and super close to his family – and luckily, they like you too. Figure out when the next big BBQ or event is and do something that involves everyone. Maybe it's a video or a photo album or something else sentimental. By getting those he loves the most together, it shows just how much you care about your future together.
Make it Sexy
When was the last time you put on a little number and surprised your guy? Buy the lingerie he loves, cook (or order-in!) a great meal, and when he comes home from work or a night out with the guys, be ready to go. After the wooing is finished, have an intimate conversation that leads to a proposal. There is nothing sexier than that!
You can also take this fun quiz to see if this is the right option for you, here