Thanks to all the jewelers who sent us their design ideas for mangagement rings. We call them "mangagement" rings but these rings can be worn by any person who loves them. We just created this design challenge as part of our Propose Too initiative that supports women proposing to men.
Below you will find the finalists in the 4 categories, congratulations to all these talents! We need your help to finalize who will win the Propose Too Design Contest award in each category. Thanks a lot!
Less Than $1,000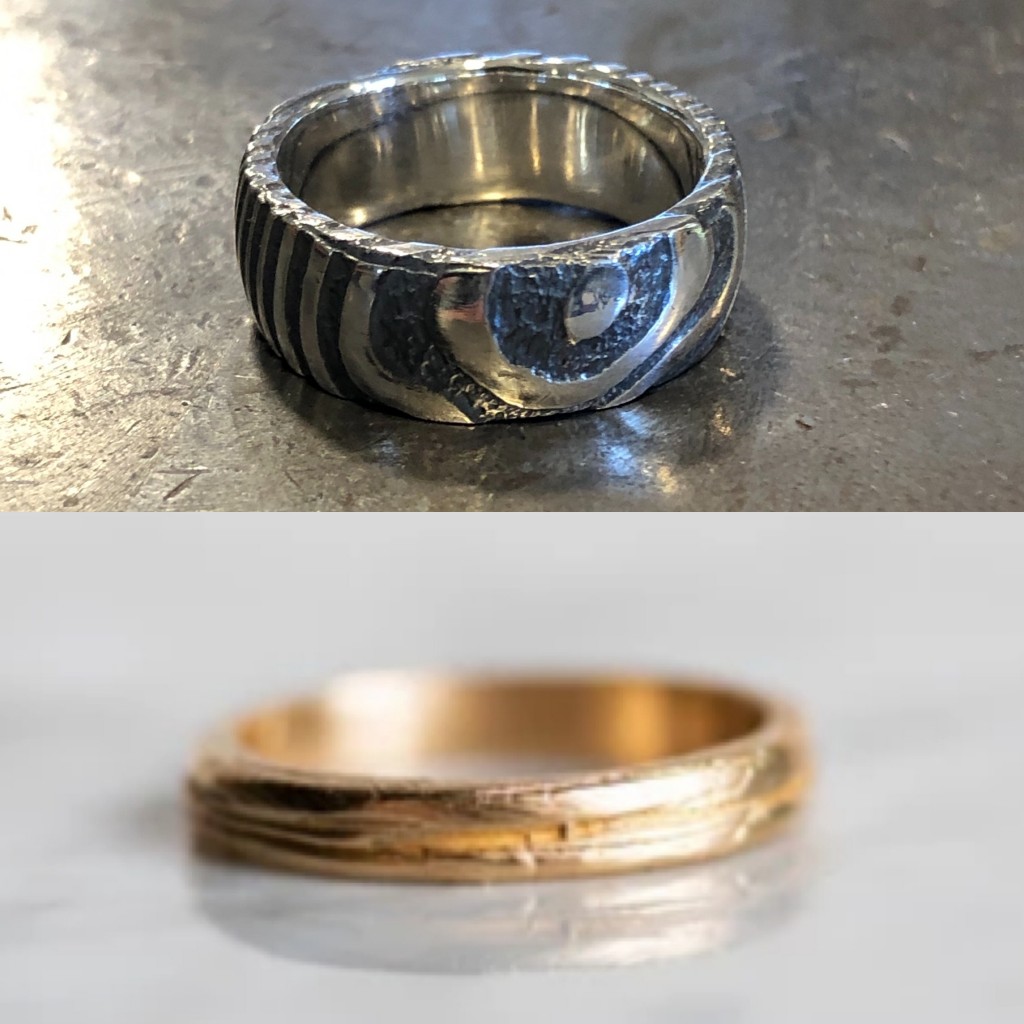 The challenge for this category was to create a cool design within a limited budget. The top ring  is a Chris Ploof x Sholdt collab in Oxidized Sterlium Silver cast damascus. The bottom ring is a Machinations textured gold band.
 1 ring worn 2 ways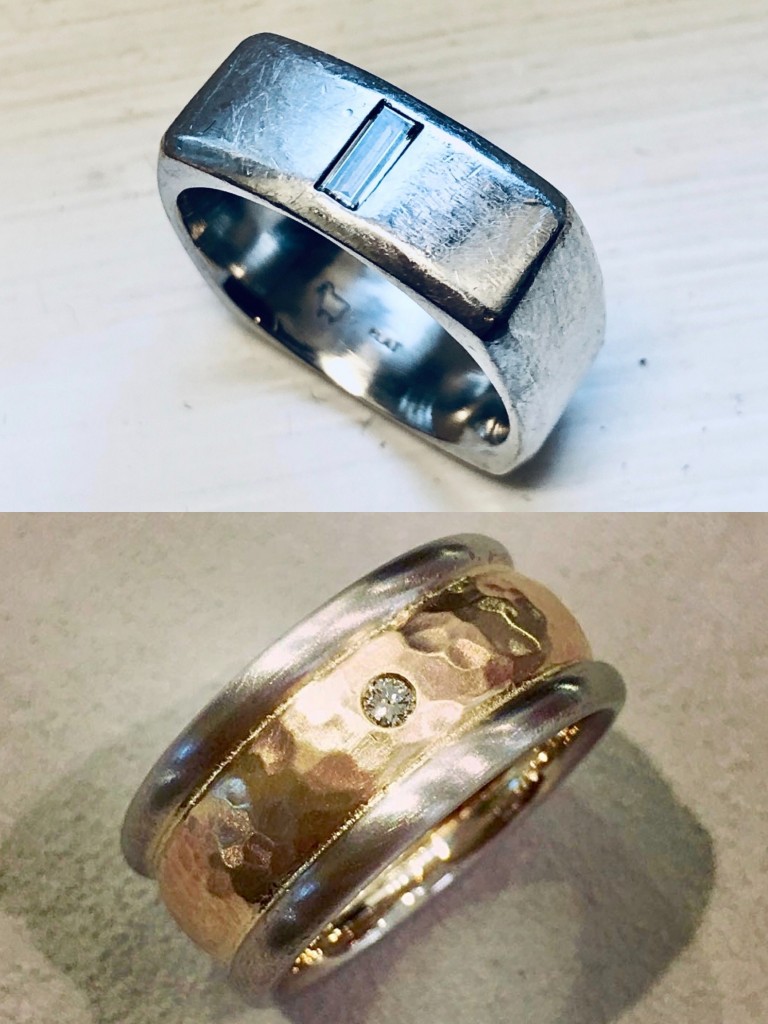 The challenge  was to create a ring that could be worn 2 ways for the engagement and the wedding. Both of the above rings can be worn with the diamond side on top of the finger or hidden. The top ring is by Julie Lamb: one side of this platinum band has a burnish set diamond baguette and the other has a satin finish with polished beveled edges.  You can wear the all metal side out and keep the diamond hidden if you choose. The bottom ring is by  Vas Bijoux: a two-toned ring featuring a flush-set diamond and fabricated in 14k white and yellow gold with a hammered finish on the center band and a satin finish on the outer white gold bands.
Customizable Engagement Band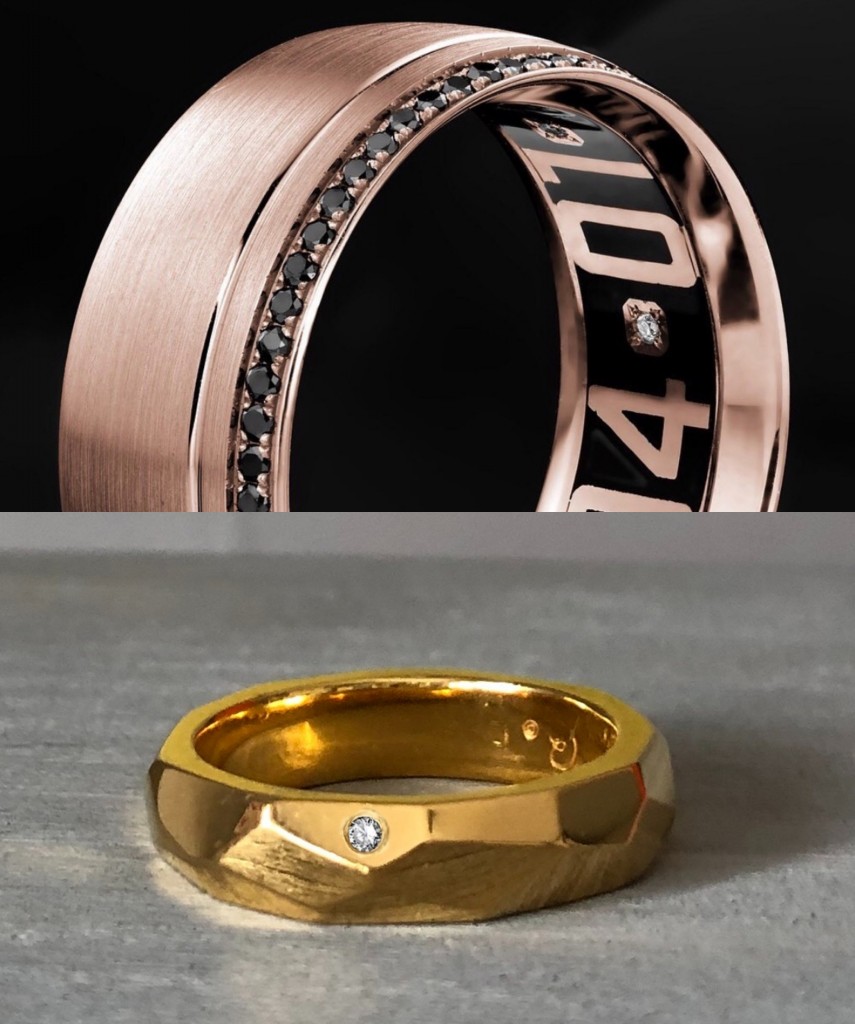 A lot of the rings we nominated can be customized, these 2 were our favorites. The top ring  is a Crown Ring design from their Carlex collection. Hand-painted enamel features the customizable message/date of your choice. The bottom ring is by Delphine Leymarie. Her Facette band is in recycled gold that you can customize with any birthstone. This ring stood out to us because it is inspired but diamond facets but made of gold.
Matching Engagement Bands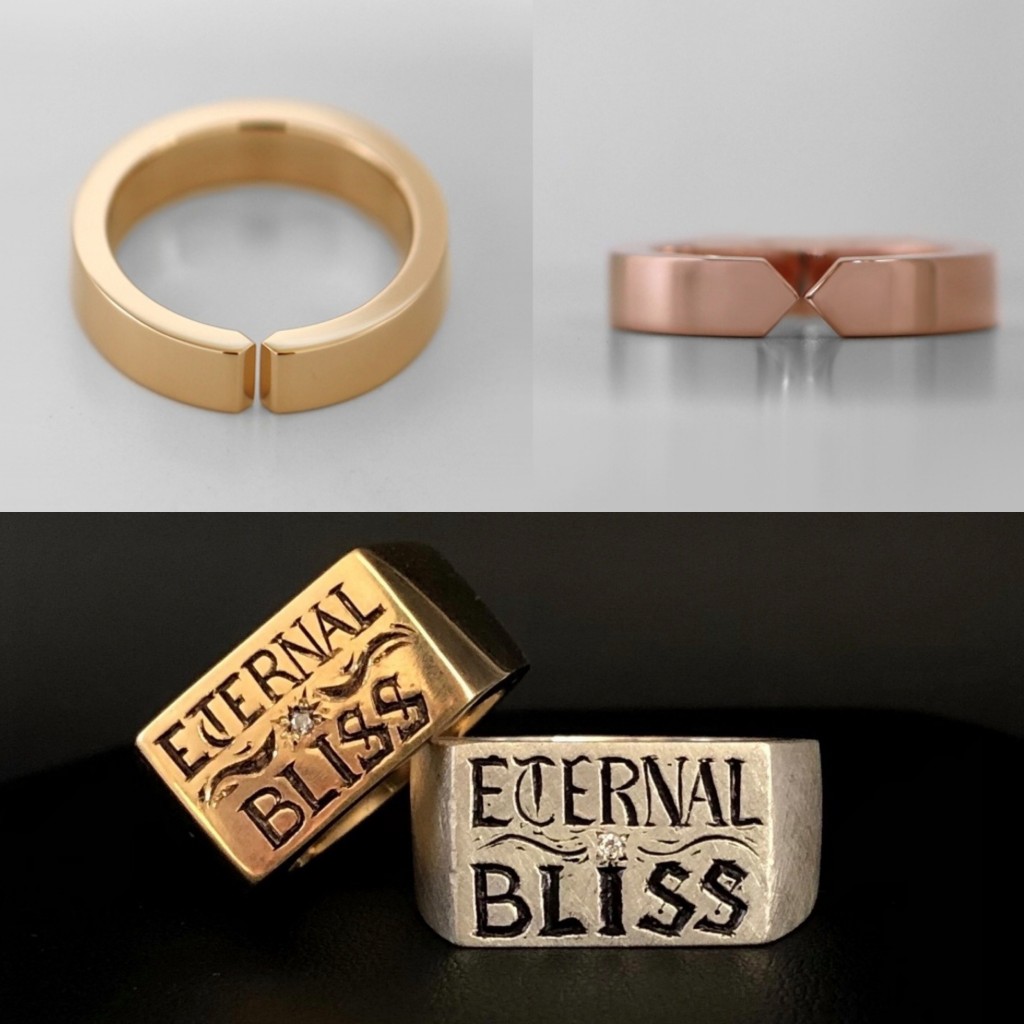 Many of the mutual proposal stories we share feature matching engagement bands which is the challenge we gave designers for this last category. The Top set of rings is by Everling Jewelry . These interlocking bands are hand fabricated using recycled metal. The ones in the photo are 18k yellow gold and 14k rose gold. Because this brand specializes in custom design, the rings can be made in any gold color or platinum alloy that we work in. They can also be made in any width. The bottom pair is by Gem Steady. e love these hand engraved signet rings. They can be personalized with any phrase, character, diamond or gemstone and retains a masculine feel any man would be proud to show off to his friends and family. The inside of each ring can be personalized even further with a special message just for their significant other.
Official Ballot Below
Voting will end April 1 and winners will be announced April 15