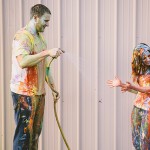 Fun Fall Paint Fight Engagement Session
Conrad was able to come out hunting with me early in the morning before he had to go into work. That morning, I kept using my call to bring in the turkeys and Conrad was being very rude to me telling me not to call, which I thought was so strange. I have hunted turkeys for years and believe I am really knowledgeable about their patterns and how to call, so I decided to ignore him and do what I wanted anyways since it was my season.
More »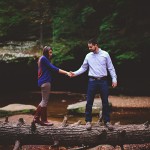 A Magical Forest Fall Proposal
Cory and I met in high school. Cory was a senior and I was a freshman. Cory asked me out on a date and of course my dad wouldn't let me go. After weeks of begging my dad, he agreed only if my best friend Elise was to go with us. We ended up dating for 3 years (Cory became the son my dad never had). After dating for three years we both were in different places in our lives so we decided to break up and go our separate ways. Eight years later we went out on a lunch date and got engaged 5 months later.
More »