Getting engaged involves more than simply buying a ring! One of your life's most important moments needs to be well thought out and planned. Making it perfect will pay off. Think of this as your planning check list.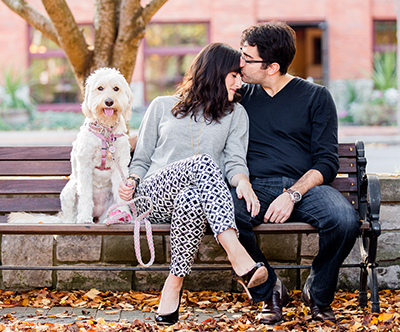 6 MONTHS PRIOR
START THINKING AND LOOKING FOR CLUES
Think about popping the question in a setting that will be special and meaningful for the both of you: something intimate, the place you met, the location of your first date, or something with your loved ones, or even a big public proposal? Has she given you any hints on the type of rings she wants? If not ask her family and friends and check her social media pages.

5 MONTHS PRIOR
SET YOUR BUDGET
Figure out how much you want to spend on the ring. It is very common now to get your girlfriend involved in selecting the ring and even decide on a budget together. You might already have and surely will have shared finances and plans. Once you have the overall budget, you'll need to decide together if the priority is the center stone or the setting. The good news is that many jewelers offer a financing plan and many couples upgrade their starter engagement ring down the road.

4 MONTHS PRIOR
DO YOUR HOMEWORK
After having narrowed down the rings she likes, make a list of trusted jewelers in your area or sites that you may wish to use. Research reviews and how and where the rings are made. What is the maintenance and exchange policy? Don't hesitate to ask a lot of questions, if they are not answered, it is not the right place for you.

3 MONTHS PRIOR
BESPOKE OR NOT
Engagement rings are usually made to order, don't wing it last minute. If you are planning to design a ring from scratch or make a lot of alterations on an existing style, you need to start the process now to make sure the ring is ready in time.

2 MONTHS PRIOR
TIME TO FOCUS ON THE PROPOSAL
Now that the ring is out of the way, you need to finalize where and how you are going to propose. No need for a big production, the best proposals are meaningful and sentimental. Remember that it's about her and your relationship, not just you. Make all the appropriate reservations and arrangements. If you need help, you can either hire a proposal planner or ask family and friends for support on the day.

1 MONTH PRIOR
PLAN A GOOD BAIT AND SWITCH STORY
Make all the appropriate reservations and arrangements and make sure she has the date marked in her calendar. For the latter, you need to find an idea that will get her to the specific place and time, if possible dressed up with a proper mani… while still keeping the proposal a surprise. You should plan for someone to be there to take pictures and videos behind the scenes.


2 DAYS BEFORE
REHEARSE AND CONFIRM
Confirm all your reservations and although it may sound foolish, practice what you're going to say during the proposal. Determine where you're going to keep the ring so that you're not fishing around in all of your pockets trying to find it while you're asking the big question.

THE BIG DAY
It's finally here! Relax and enjoy yourself. Congratulations! You've made some great choices.