He might have had the most romantic, sappiest, cheesiest proposal ever, but your guy isn't one to smile sweetly for the camera for three hours. It's the first big fight most engaged couples have: he says "Why do we have to dress up and take photos for save the dates?" and you say "There's nothing I want more!" Keep the peace and persuade your guy that these shots are worth the time and memory with these tips.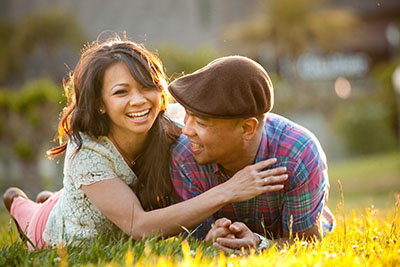 1 – Incorporate Something He Loves
You might not be a Cowboys fan, but he sure is! You might not order a whiskey on the rock when you go out, but he does. You're not the biggest fan of outdoor grilling, but he makes a mean steak. Whatever it might be that your leading man is into, make that part of the engagement shoot. Plan it on golf course, wearing matching jerseys or doing something that he really loves. This will make him more comfortable and give you a better argument for when you want to kiss in front of the roses…
2 – Show Him Some Really Amazing Shots
Though he might not realize it now, in 10 or 20 years, your kids will look at these photos and be fascinated by what they're parents looked like. Show him some pictures from your grandparents or his to prove just how meaningful these portraits will be down the road. It might not be the best day for him, but it will mean something to all that follow him.
3 – Start With a Sexy Shoot
Yeah, that's right – use your iPhone or camera and take some tempting photos of yourself. Put on your best lingerie – or dare to go bare – and snap enticing shots. Print them out (discreetly of course!) and give them to him inside of a letter with a sweet compromise: "You do the engagement shoot with me and I promise you'll get to come home to this…" He'll be game. Trust us.
4 – Don't Make It Too Structured
You don't need to wear matching clothes or strike the same pose. You really don't need to have that serious face or that kissy one. What you really need are some gorgeous photos to put on your save the dates and to keep in your memories (and okay, for Facebook). Try not to go overboard with the session or spend too much money. Let it be casual and happy, just like your relationship, just like the reason you fell in love with him to begin with.
 By Aurora Brown
Photo Credit: ChocoStudio