Rain or Snow, the way to Propose!
It may almost be March, but that doesn't mean everyone has spring-like weather on the way any time soon. Whether you're facing snow or rain, you still may want to pull an outdoor proposal. Here are three ideas that aren't always done! 1. Have a snowball fight. What's a way to relieve stress and have some fun? …
More »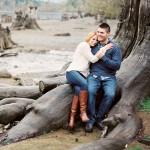 A Rainy Engagement Session by the Lake near Seattle… with Wine!
I remembered the morning of the proposal he wanted to show me Point Defiance in Tacoma. We arrived at the beach and began walking along the water, taking pictures; climbing over and under fallen trees along the way.
More »