HOT TOPIC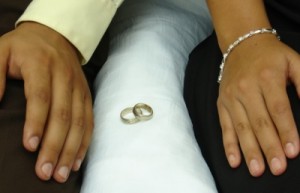 Although no one wants to consider the idea of breaking up after getting engaged, just like the unromantic prenuptial agreement, it's one of those things couples sometimes  must consider.
After all, an engagement ring is an investment. A pricey investment. Because engagement rings are purchased with the assumption that they will last forever, if the relationship terminates early then it's only fair that the purchaser will expect to get the ring back.
But there are gray areas. For example, most would say if a man cheated on his fiancee then she should be allowed to keep the ring and vice versa. This situation took place on The Bachelor when Melissa Rycroft gave the ring back to Jason Mesnick after he broke up with her on live television. A lot of people thought she deserved to keep the ring.
But if both parties mutually agreed to end the relationship, and it wasn't particularly on good terms, then who gets the ring? Who you think should get the ring after a break up?