First and foremost, being able to be safe at home with your person is a privilege that many of our health and essential services workers do not have. We are so grateful for their sacrifice and hard work, and so lucky to get to hang tight at home with the ones we love. However, most of you are not used to be with your significant other all the time and are finding the experience somewhat challenging, especially after the first week of confinement .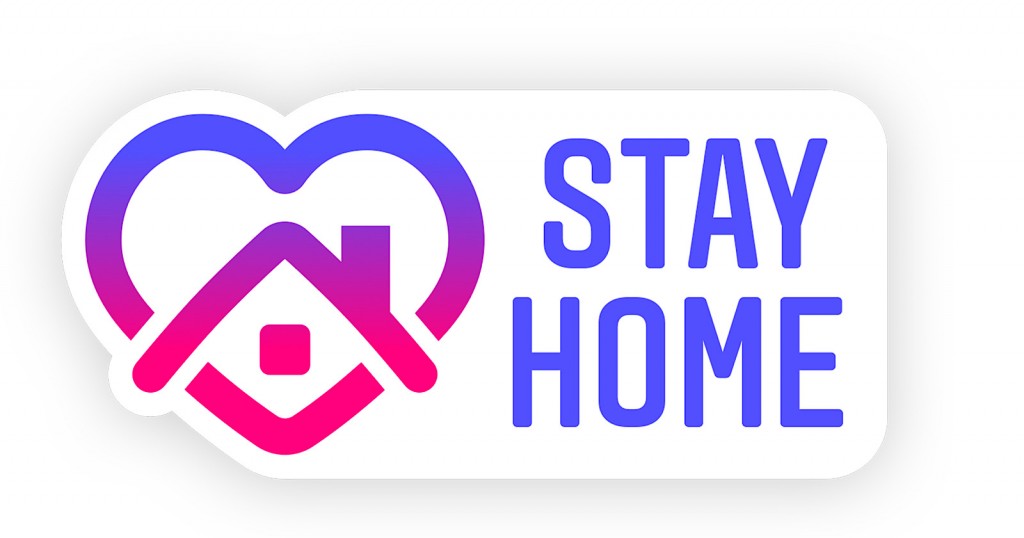 That first week, you got to realize how lucky you were  to have found your person in these challenging times. You had quality time to hang together and embrace as a couple a scary situation. You binged on TV shows, cuddled, had sex a lot, chatted and ate a lot, zoomed with family and friends and maybe even participated in couple challenges on TikTok and Instagram with the Stay Home stamp. We are entering a second week with no end date in sight and now a little bit more planning and efforts are needed.
I work a lot from home and my fiancé James too. We are usually together 70% of the time. So I thought I might be able to give you a few tips and asked 2 experts for more.
Here are my 2 essential tips if you live in a city apartment.
Divide the space in your apartment/house between common spaces and "Me space" We live in New York so though we have now a lot more space in Harlem, we've lived in much smaller places before. It might be down to calling dibs on the coach, kitchen counter or the bed, whatever works in your space.
 Create a schedule during the week including rituals and compromise Like you would if you were going to work, have a schedule for your work day and plan breaks to take separately or together. I am totally incapable of having any noise or interruption while I write and create content. My fiancé James is an extravert and loves to chat. I have breaks during the day during which I make the effort to communicate. Also , one of the advantage of being home together is that you can meet for lunch every day.
Michelle Keinan is a successful Wellness Multi-preneur, Speaker, Community Builder and Expert in Wellbeing through Neuro-Linguistic Programming, Communication & Somatic Therapy. She has created a Facebook Group called Quarantined Wifes you can join.  I asked her for some tips for recently committed couples.
"If you've been suddenly thrown from newly engaged bliss into lockdown mode – now is not the time for "the ol' ball + chain jokes". No, you have bigger issues to deal with – namely, how to make sure you get through this uncertain time healthy, happy and even more deeply in love with your partner than ever before so that wedded bliss is still within reach." Says Michelle.  "With good and hard times on the horizon, you're lucky you have a partner by your side. This is an opportunity for you to grow closer together and build the foundation for the life you want. And it's possible, even if it feels like everything is going wrong out there. I've been with my husband for almost a decade, and like all married couples, we went through our own stressful times. As co-founders, co-parents AND co-habitators sharing close quarters in a small Brooklyn apartment, we learned how to get through our drama as quickly as possible since we've been spending almost every waking moment together for years before the quarantine. This is all you need to do to survive this (hopefully) once in a lifetime pandemic situation."
Visualize the relationship you want to have, then figure out how you need to show up and what you need to do in order to make that vision real. This is where I start with my clients. If you want your partner to be your knight in shining armor, how can you let him know the things you need so that he can fulfill your desires? "Honey, it would make me so happy if got this specific cough syrup brand in this exact flavor – and I would feel so safe and cared for if you disinfected the packaging right when you got home. Thanks for always showing up for me babe!"
 Handle your own feelings. When you feel triggered or attacked or even let down by your man, take a very real look at what is going on with you. Chances are, your cup is empty and you need to get yourself in a good place. This is deeper than taking a bath or putting on make-up. There are a lot of big scary things going on in the world and we can all feel the fear, grief, frustration and insecurity swirling around us. Your partner is not a dumping ground for your emotional ups and downs so instead of trying to get him to listen, do this. Grab your headphones, blast some angsty music and shake your body. This is not a performance – this is your opportunity to move it out of you. Thrash, writhe on the floor, jump on the bed, scream into a pillow. You'll feel a big relief when it's over – as will your partner – and it will let you connect again. Sometimes we do this in my coaching groups and it's a game changer!
Take space. Seriously. Even if you live in a studio apartment, make a do-not-disturb nook for yourself and go there when you need to. Hang a sheet from the ceiling, paste a sign that says "Taking a Break" and grab your noise cancelling headphones. Let your man know that that if he sees the set-up in action, he needs to wait until you give him the sign that you're ready to interact again. You can meditate or pick your nose (make sure you wash your hands if you do!) – whatever you need to do to just veg out and feel the bliss of being unwatched and unbothered. Before you know it, you'll be missing your man's company and that do-not-disturb can turn into a little NSFW action 😉
Jessica Baum is the founder of the Relationship Institute of Palm Beach and creator of the Self-Full™ method — a therapeutic path to personal wellness and freedom from codependence sent in these 6 great tips.
Get outside: Being confined together can bring up issues around personal space and the need for "breathing room." Get outside and take a walk when you can. Leaving the house for a 15-minute walk can prevent conflict and take down stress levels.
Schedule parenting duties: If you and your partner have kids and you're all stuck at home together, it's more important than ever to create a plan for sharing parenting responsibilities. Take turns with childcare. There's no need for one person to handle it all. And if it's safe to do so where you live, let the kids out to play or go for a walk whenever possible.
Step away from the 24-hour news cycle: It is so tempting to watch this crisis unfold minute by minute, but if it's causing you or your partner to feel fear and panic, limit it. Go to your trusted news sources for 30 minutes in the morning and 30 minutes in the evening; don't stay glued to stress.
Remember your common goals: This is especially important if your commitment is new. Set anger and frustration aside and remember that you both have the same goal: to stay safe and healthy. Focus your conversations on your common goals, and be willing to compromise.
Practice gratitude: Look for things you can be grateful about during this challenging time, rather than focusing on what-ifs about the future. If you are both safe and healthy right now, remind yourself of that and practice staying in the moment.
Skip the fights: Now more than ever is not a time for fighting. Fights are more likely to be based in fear when we are in incredibly challenging times like these. Have patience with each other and know that this increased tension is likely due to fear.
All that being said, don't hesitate to share with us how you are doing and any of your own tips.
Sev