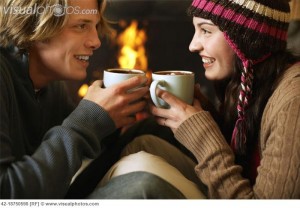 Baby, it's cold outside! Which of course is the best time of year for cuddles, romance and definitely proposals. One of my favorite things about this nippy season is definitely the hot chocolate. If your girl is a hot chocolate lover too, then these proposal ideas will warm her from the inside out.
1) Sneak the Ring into a Swiss Miss packet
So you're cuddling on the couch at home either by the fire or watching a movie. Nothing is quite as cute and simple as that. The best part? She'll never see it coming. Ask her to make you guys a mug of hot cocoa and strategically place the packet that you've resealed to contain the ring. When she pours the powder into the mug (before adding the hot water or milk from the kettle), she'll definitely hear a *CLINK* and be completely caught off guard…giving you plenty of time to get into the kitchen on one knee.  Love really is sweet.
2) Get a special made hot chocolate stick
Hot Chocolate Sticks are awesome little sticks of solid hot chocolate that you mix into hot milk. The sticks melt making the perfect hot chocolate. Guess what else these adorable little sticks do perfectly? Proposals. That's right. You can have your engagement ring made into a stick! As the hot chocolate melts, she'll see the ring at the end of her stirrer and be completely surprised! Check out the picture below.
3) Surprise her with a flower with a secret
Another great option is the blossoming marshmallow flower by Dominique Ansel where you can hide the ring. As you can see in the video, the flower opens when in contact with the hot chocolate.
4) Make a mug with a message at the bottom
Paint-your-own pottery places are all the rage these days. Paint her a mug and on the bottom of the inside write "Will you Marry Me!" Surprise her by a wonderfully romantic date in during a particularly cold day. Tell her you'd love to make her some hot chocolate and slip away to the kitchen. Use your new mug as her drinking glass and hand it off. By the time she's done sipping the hot beverage with you, she'll be FLIPPING OUT about the message that has been there the whole time.
Nikki