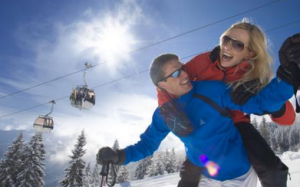 Winter sports are always fun for couples to do together. But why not make it even more special by planning your proposal during a nice weekend getaway? Here are some cute, proven ways to have a perfect proposal out on the slopes.
1. "Hey, look at the view!"
Chances are, no matter where you go on your ski/snow boarding adventure, the view is going to look spectacular. Get either a friend or a ski resort faculty member (like this guy below did) talk to your girl about your trip and tell her to look at the view over there. The catch? "Over there" is really the direction where you are, already down on one knee.
2. Pretending to take a picture
Going back to the good view thing above, it'll be easy to convince your fiance-to-be that you want to take a picture of the two of you in front of a picturesque scene. Get someone to hold your camera, but have it set to video (so you can capture the whole thing, of course!). She'll really think you're taking a picture, until you get down on one knee and pop the question.
3. Having a friend conveniently film the moment randomly
This guy didn't do anything fancy, but as you can tell, she is BEYOND thrilled anyway. If you're on a trip with friends, of course you're going to document the moment. Just have your friend get camera happy all weekend so she won't suspect a thing, until you reach into your pocket, that is.
4. Set up a banner on the mountain
Plan in advance for this one. If you can get a "Will You Marry Me?" banner made and have someone (maybe the resort staff) put it up somewhere she can see it, then she's in for a GREAT surprise while she's riding the ski lift or taking a nice trip down the mountain.
Skip ahead to minute 2:00 to see this guy's banner proposal.
Nikki
Photo Credit: The Telegraph