Jessica & Conrad
How They Met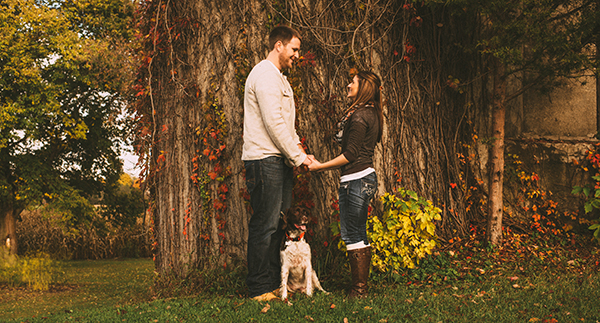 We met in high school through friends – Conrad actually became very good friends with my older brother, Jason Volk, and I will admit there was a brief time in high school that I had a crush on Conrad. I remember writing him a note that I never actually gave to him because I was too scared, and we did text for a while. Though, I became in a long-term relationship and after my breakup near the end of my college career we started spending more time together since we were in the same group of friends and then the sparks really took off for us! It is so amazing to think that someone you have known for such a long time ends up being the one meant for you.
The Proposal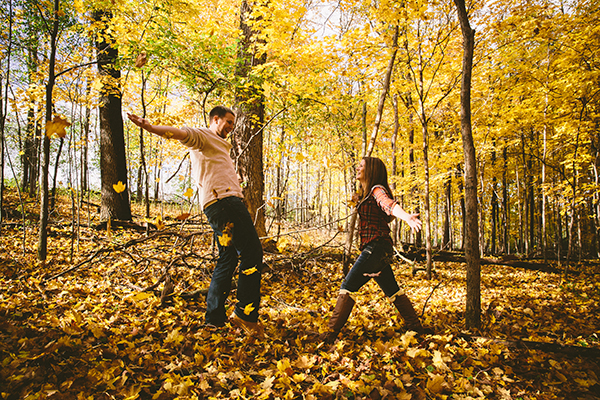 Conrad was able to come out hunting with me early in the morning before he had to go into work. That morning, I kept using my call to bring in the turkeys and Conrad was being very rude to me telling me not to call, which I thought was so strange. I have hunted turkeys for years and believe I am really knowledgeable about their patterns and how to call, so I decided to ignore him and do what I wanted anyways since it was my season. We were seeing turkey after turkey and I eventually harvested a nice tom (male) which totally ruined Conrad's initial plans to propose Friday when he had off work to hunt with me all day. So, he rushed around to come up with a second plan. That evening he told me that he wanted to go pick up his new (hunting) blind from the edge of the field because it was supposed to be windy that night and he did not want it to get wrecked. Thinking nothing of this, we headed over to the land and started walking out to where the blind was. About half way there in the middle of a cornfield (almost to the blind) Conrad decided to take a "quick" look with the binoculars to see if there was anything in the nearby fields. He then said to me, "Look, there is a turkey up over on that hill where we saw one this morning." So, I took the binoculars and looked determinedly to find the turkey (I looked for quite some time since Conrad always pesters me how I can never see anything). Finally, I turned around to see Conrad down on one knee with the most beautiful ring (that he created himself for me) proposing!!!  My answer was obviously "Yes!" and I could not stop shaking and smiling!
The Engagement Session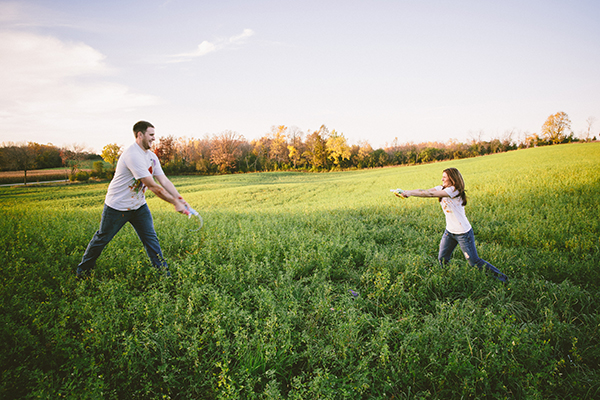 Conrad's grandparents and parents own a nice amount of beautiful land in our hometown. We love the outdoors, it is where we hunt together and got engaged, so it was the absolute perfect place for us to take our pictures. It was SO FUN! We wanted to make sure it was our personalities. We love fall – it is hunting season, the beautiful colors, crisp air… it was absolutely perfect! Though, we have got to say the grand finale of our paint war was hands down the most fun!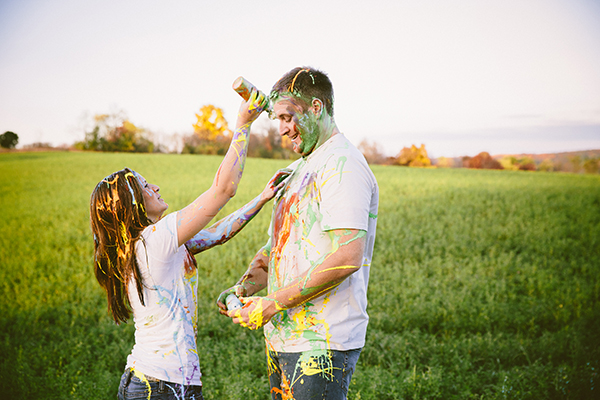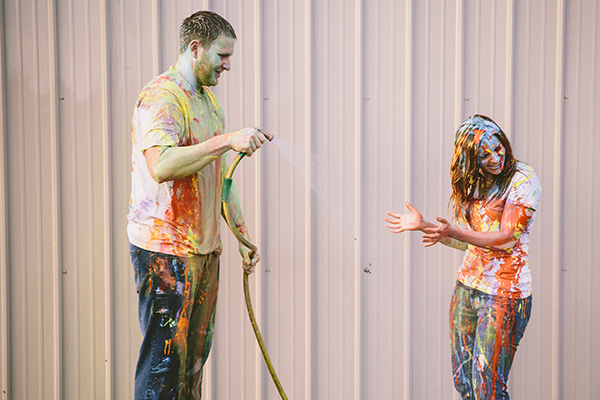 The Engagement Ring
We went in together to look at rings one day. We were down to two we really liked. Jessica started listing off things she liked about both of them. "I love the round-shaped diamond. I love the vintage-look along the sides of this one and how it pinches when it gets to the center diamond. On the other one I like the smaller diamonds next to the center diamond. I think the one band is too thick for me and the other is sort of too thin", etc. After leaving we talked about the two rings the next week or so and when I kept asking her about them she still couldn't decide which one she liked more, so I thought if I could design the ring myself and take what she likes from both she would love it. I went into the store a lot to design it for her and she had no idea.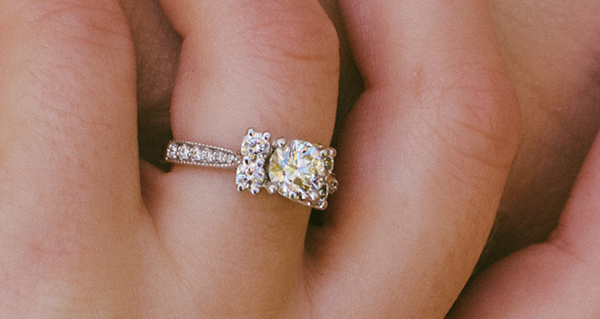 Photographer: Ren Davis from Studio 29