It is hard for a new bridal brand to enter the market and become successful. As an editor, we have loved following Noam Carver's rise from an emerging designer to one of the best selling up and coming brands in the industry.  Noam continues to find ways to keep classic ring settings fresh and exciting, he also dares to create unique designs that push the boundaries of what wedding rings should look like. I recently chatted with couples who chose Noam Carver rings and the jewelers who sold them these rings. Here is what they had to say about their love and obsession for this rising Canadian brand.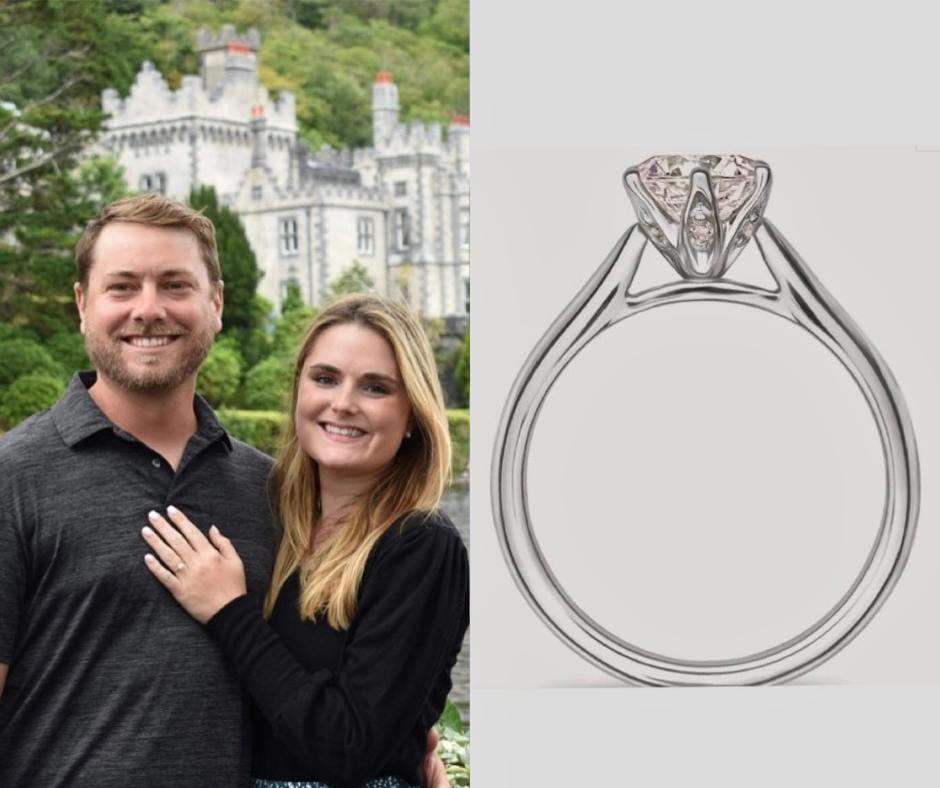 While visiting Ireland, Matt wanted to make the trip extra special and proposed Siobhan in front of a gorgeous castle. He picked a 6-prong brilliant cut diamond solitaire by Noam Carver in 14K gold purchased from Portsmouth Jewelers in New Hampshire.
"Noam Carver's talent as an artist and sculptor translates into beautiful jewelry which attracts brides-to-be and their partners. His skill allows him to create stunning ring designs that do not compromise the integrity and structure of the ring. You can spot on the design of Siobhan's ring beautifully shaped prongs with diamond accents. It is the subtle nuances and details that Noam Carver adds to his designs that separate him from those who try to emulate him." Says Leo Poisson, owner of Portsmouth Jewelers.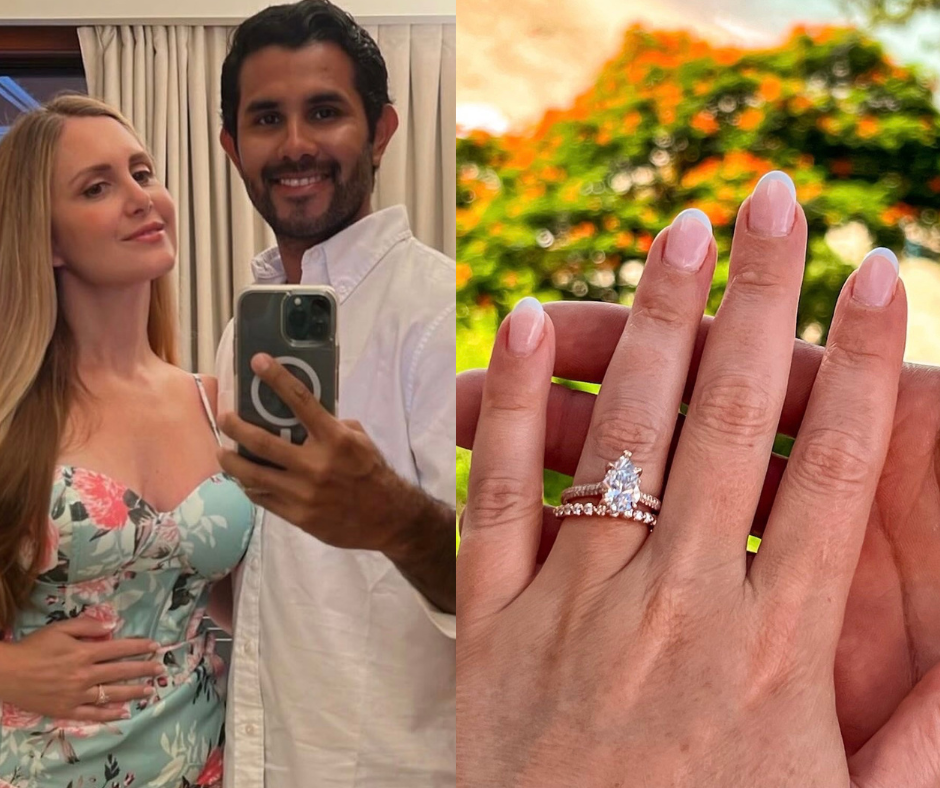 Andres & Vanessa met while living in different countries. They fell in love instantly. Andres proposed to Vanessa on a tropical vacation in Hawaii. He stood by a bonfire above the sea under the stars, and after distracting Vanessa, he bent on one knee asking for her hand in marriage. Their love is a fairytale and a dream come true.
Amy Astaraee, owner of Brax Jewelers in Newport Beach California, believes her brides connect with Noam Carver rings because of how unique their designs are. Every bride can find a ring as unique as they are, suited to their style and personality. Vanessa picked on a one-of-a-kind  pear-cut diamond center set in a micro-pavé setting in 14K rose gold.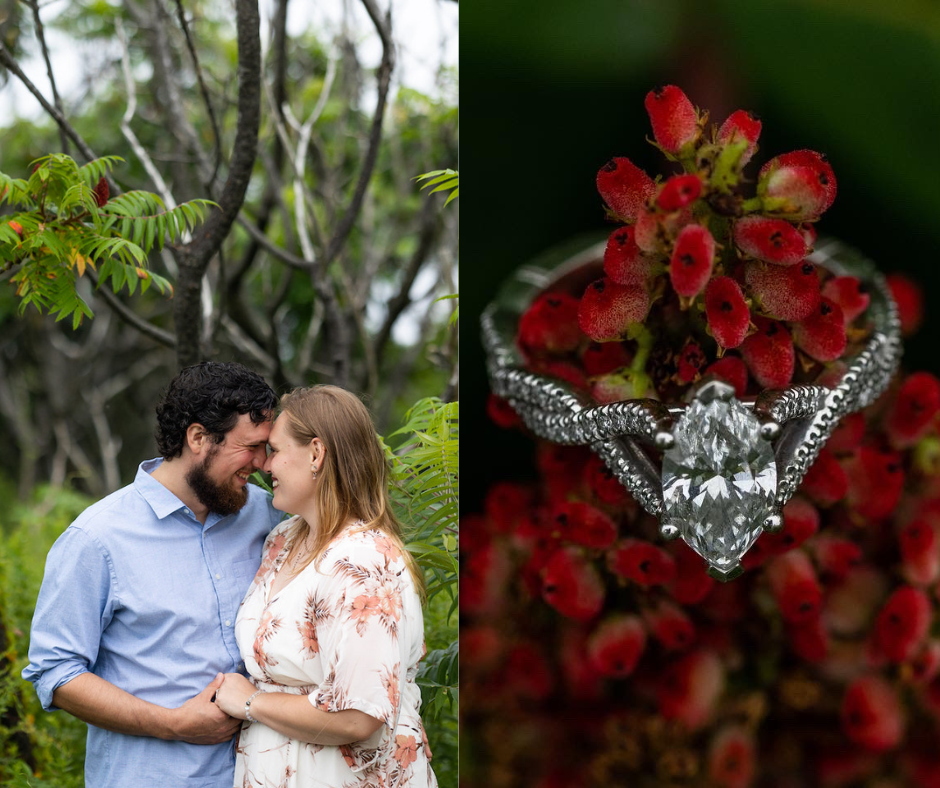 Photos by Polar Square Designs
Alex & Emma had been dating for about 2 years when he proposed. On Valentine's day, Alex surprised Emma by waking her up with flowers and Dunkin' coffee. They spent the day together and had dinner plans that night. They had decided to go to a rooftop restaurant in Providence, Rhode Island, that was hosting a romantic event. They spent the night talking about their future and all the plans they had. They finished their dinner  and decided to head home to watch a movie. When they arrived, Emma walked into their apartment and put her bags down to tend to her puppy. When she turned around, Alex was on his knee.
Alex chose Emma's ring at Providence Diamond  totally on his own, as he wanted Emma to be completely surprised. The Noam Carver collection spoke to him, and he was drawn to the twisted motif on the band, as it represents their two lives unifying as one. He picked a stunning marquise diamond for the center stone. Providence Diamond's Bridal Director Ursula believes that Noam's designs speak to couples that are looking for something one-of-a-kind. Noam Carver offers a unique and broad selection of rings that gives couples the opportunity to find a custom ring that truly suits their personality.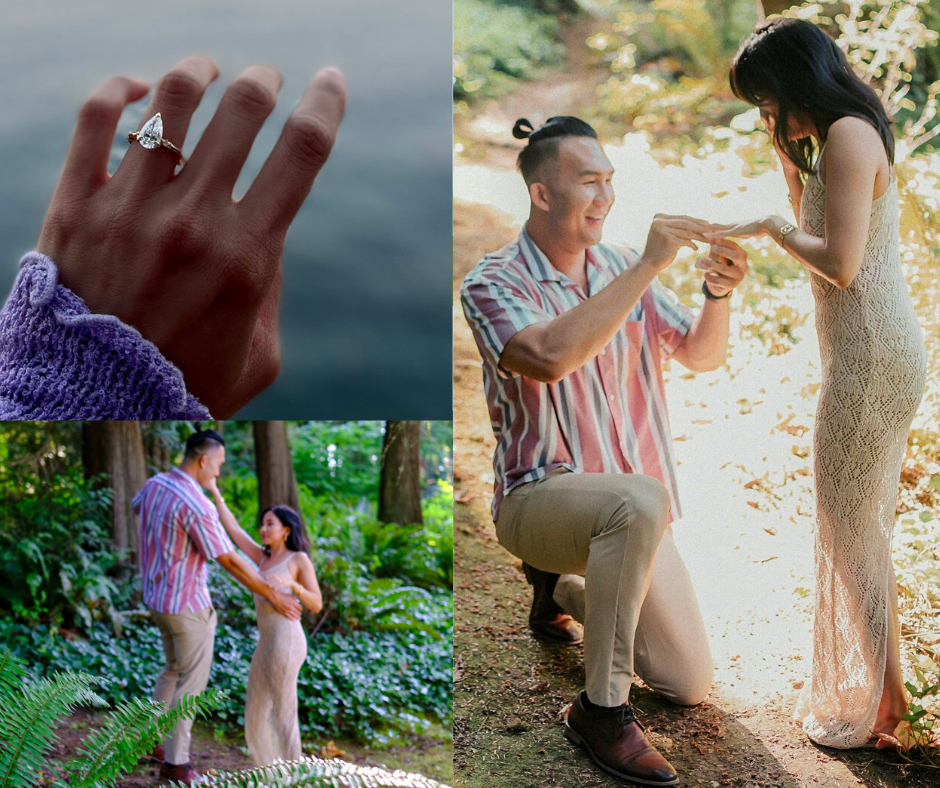 Cody thought about proposing abroad, however, he knew Kattaree would probably love something more intimate and to be surrounded by her family. So Cody and Kattaree's sister planned a family vacation to Washington, deep into a green forest, surrounded by beautiful pine trees. He proposed while the sun was setting and all they could hear were birds chirping.
Finding the ring was a long and rewarding process. Kattaree didn't want to settle for an ordinary ring. She looked at many brands and designers but the one that really piqued her interest was Noam Carver. Noam's designs were minimal, sophisticated, and unique. When the couple met with Noam, and were able to put together a customized engagement ring, that was truly a dream come true. The ring was purchased at the Wedding Ring Shop in Hawaii. This destination jewelry store chooses to work with Noam Carver because of the detail in craftsmanship and the durability of his products. Along with his award-winning design, they choose to highlight his Atelier collection because "It honors the traditional legacy of fine jewelry, with impeccable attention to detail." Says  Hailley Baughman from the Wedding Ring Shop.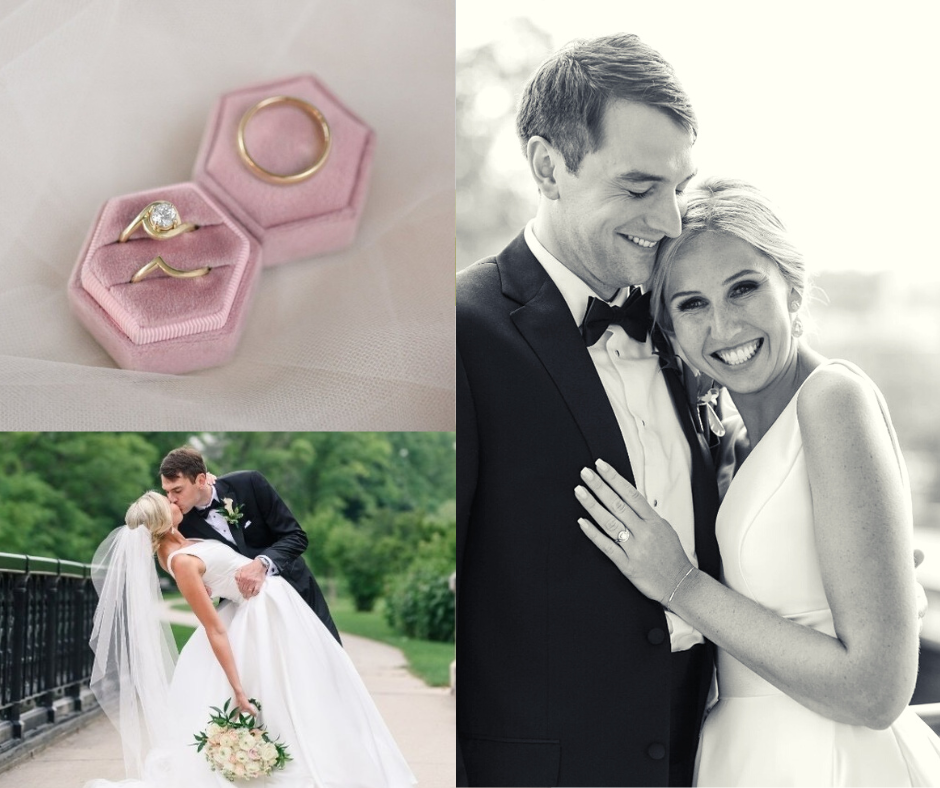 Photos by the Paper Elephant
Ellie and Rudy are married! Ellie personalized her Noam Carver wedding set by removing all diamond accents, to keep the focus on the settings' design and the beautiful center diamond. They purchased their rings at Koehn and Koehn in West Bend Wisconsin.
"Noam Carver styles have a certain flair, or difference that noticeable, but still subtle. He's definitely inspired by classic foundations of rings, but it seems to be just a starting point for him. Future brides really like the small elements that make his styles "different," but also something that will wear well into the future. (So they won't feel dated)." Says owner Andy Koehn.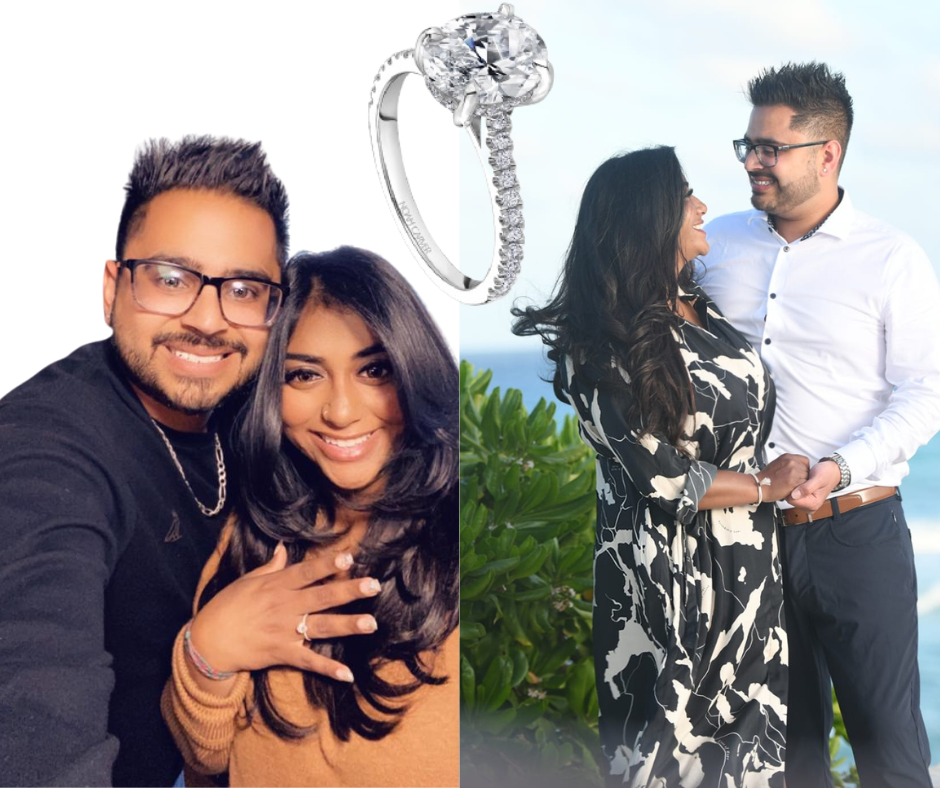 This past April, Serena surprised Alykhan with a trip to Cancun for his birthday. On their last day in Mexico he told her he wanted to do a photoshoot. They spent the morning looking for photographers and ended up on a beautiful beach at sunset. On their last pose the photographer got Serena to look out into the sunset. When she turned around, Alykhan was on one knee with her dream ring in his hand.
Serena's fiancé picked her Noam Carver ring at Boulevard Diamonds in Edmonton, Alberta. "It's still surreal to see this beautiful ring on my finger. With all our friends around us getting engaged,  I knew I wanted a ring that was different. Thats how I fell in love with the oval shape. It was unique, timeless and gave off such a classy vibe. One day I decided to log onto pinterest on Alykhan's phone and left it open to my "dream ring" page. It was filled with oval engagement rings with hidden halos." Says Serena.
"I never wanted to be there when he went shopping so I told him my dream ring had 3 things: An oval, a hidden halo and a medium size band. The one thing I didn't tell him was that I dreamed of having a Noam Carver ring. I decided to leave it up to fate. When my fiancé tells me the story of how he went to pick out my ring, he says that he was drawn to Noam Carver and couldn't look anywhere else. " Serena adds.
Noam Carver's talent goes beyond feminine engagement rings and wedding bands. Noam just launched this year 4 amazing Men's collections! We got a sneak peek during Vegas Jewelry Week.
Find a store in your area to try on some Noam Carver rings