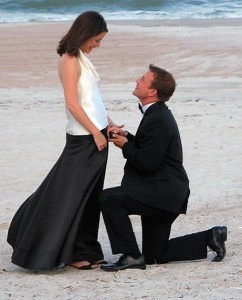 So you want to get engaged to the man of your dreams, but he just won't pop the question? Then follow these three steps to help convince him to propose.
1. Talk to him, but not about getting married!
If you ever want your guy to ask you, it has to be his idea. So don't even mention the word "marriage" or you'll have him running for the hills. Instead, talk about your future, like what kind of dog or house you'd like to have. Show him that you are committed to him for the long haul.
2. So once he finally "comes up with the idea to get married" he has to get you a ring.
But not just any ring will do for you, so once again you have to drop him hints and make him think that he came up with the idea for XYZ ring. The best way to do this is to pick up a copy of Engagement 101 Magazine and look through the magazine together making sure that he circles the ring styles you really like. He can then take the magazine to the jewelry store and find the perfect ring for you.
3. Wait! Patience is a virtue, and in this case a very important one to follow.
Once he buys the ring it could be months before he ask you the question. He wants this to be a memorable and romantic occasion you both will cherish the rest of your lives, so give him some time to plan. Or maybe you'll get lucky and he will just pop the question randomly.