Yvonne & David
How they met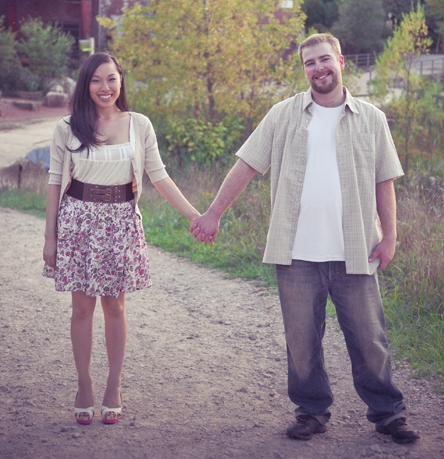 It started as a casual friendship in our first year of high school. It wasn't until our second year that we crossed paths again in history class that the friendship would grow into something more. Neither of us would have ever guessed that we'd be getting married just over 10 years later.
David was the funny guy who was into school athletics; laid back and easy going. I was a nerdy, introverted book-worm. To get my attention, David resolved to try and impress me in class, so much so that I'd have to notice him!
Each History class became a battleground for debates and academics. David competed fervently with me (which made me angry at first). But then, glares became stolen glances, loathing turned into laughter, and fights into flirts. Before we knew it, we were head over heels in love. That summer on June of 2001 after the History Exam, David asked me to be his girlfriend. The rest is … well, quite literally, history.
The proposal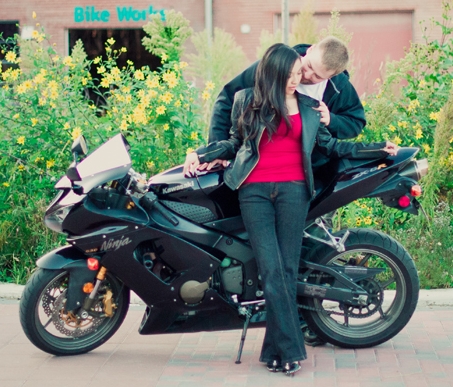 On our 10 year anniversary, I had come home from a long day at work and opened the door to a bouquet of red roses. David suggested a walk around the park to de-stress. This is something we usually do together, so I thought nothing out of the ordinary. Thinking that it would be a local park, I left my ID and cell phone at home. However, he did remind me to bring my camera. It wasn't until we were pulling onto the highway before I realized that we maybe going a fair distance. David assured me that we were going to stop at a few different parks to change up the pace. I thought it was a very sweet gesture for our anniversary.
David drove us into our childhood town and we pulled up to a very familiar field. Way back when, we had our own secret place that overlooked the beaches of the lake. I loved it there. It reminded me of all our stolen moments when we were so young. At first I did not recognize the area, but soon the familiar view had me rushing back to old memories.
Well, I went completely snap happy with my camera. We did some people watching and even spotted a wild fox! Then, David pointed out a couple walking by the beach. I looked through my lens and zoomed. I chuckled. "Honey, that's not a couple…" David coughed but I was still looking through my camera display. " It's just two guys walking with their arms crossed. Haha." "Uh, well I wonder if that guy is going to ask the other guy the same question I'm going to ask you…" Awkward. "What?"
I turned around and David was already on one knee, the ring in an open box in his hands. My jaw dropped and I put a hand over my mouth. He was blushing and nervously started into his speech (but I really mostly was freaking out in my brain to remember it all). Honestly, it was all a blur. His words were incredibly sweet and when he asked me to spend the rest of my life with him, I managed to get out a "yes".
And as he slipped the ring onto my finger, it then quickly became a "yes! yes! Yes! YES!"
I felt like it happened so quickly, so I had to slow time down. So for a moment, we just stood there, tête-à-tête, feeling the breeze and listening to the sound of the beach.
Before heading home, we stopped by our old high school for a photo of where we started. 10 years ago, that was where the journey began.
David said his original plan was to propose to me in our high school, but he told him they would charge him for trespassing. I was amused and joked around that it would've been a funny story to tell with engagement mug shots. On the drive home, I was kicking myself for not bringing my cell phone to call everybody. I was DYING with anticipation. But it was a lovely ride home anyway because we held hands all the way there…
The engagement ring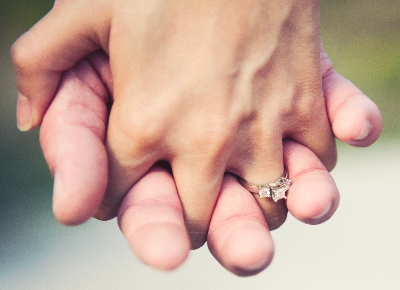 I have very traditional and classic tastes. I wanted a regal looking white gold, three-stoned princess cut engagement ring and that is exactly what I got!!
Bonus Story: She proposed back to him!
I asked David to meet me at the mall after work.  He was grumpy and a little sick, so it took some coaxing (with a bribery of food/dinner out) to get him there. I asked him to meet me outside a FOREVER XXI store and it took him a long time to get there.
I must have looked like a lunatic pacing back and forth nibbling off my fingernails!! He FINALLY met me in front of the store but he looked so sick.  I said, "Come on" and dragged him into the store quickly. He was so confused, thinking I was taking him shopping.
I led him directly upstairs to the corner of the store… I asked him if he remembered this being a Sportschek. He said yes…
Then I asked him if he remember what it was BEFORE that.
He said, "Yes, it was the Indigo Bookstore."
I then asked him, "Do you remember what happened here? … This is where you told me you loved me for the first time 10 years ago."
((Suddenly a saleslady INTERRUPTED US!!! But she flushed redder than me and quickly hurried off with"OH! Sorry, you guys were having a lovey dovey moment and I just totally ruined it.  Sorry.  Sorry."))
So that threw me off and I completely forgot my speech.  I stammered something about loving him and asking him if he knew what today was.  Talked about how on Leap Year, an Irish tradition lets a lady propose to man.  That's when I pulled out the box and asked him, "Will you marry me?"
To which he responded, "No way.  That's a Michael Kors box.  Is it a watch!?" He was super excited and opened the box. "WOW, that looks so cool."
"So – uh … You didn't answer my question… Will you marry me?"
HAHAHA
He said "Yes!  I can't wait." Gave me a kiss and apologized for possibly getting me sick.