It's time to take note from some of the most powerful women in Hollywood. From big screen actors to iconic fashion designers, your celebrity favorites aren't afraid to express their love by proposing to their partners first. Not only are couples proposing in non-traditional ways but some are even surprising their significant others with a proposal back. Now this is an idea we can get behind!
Are you a take charge kind of person? Take a note from fashion icon Diane Von Furstenberg, who famously told her husband, Barry Diller, "You know, if you want, for your birthday, I'll marry you." A week later they were married at City Hall in New York City and Diller gave her 26 wedding rings (for the 26 years they had not been married). Seventeen years later, they're still going strong. This proves that if you feel inspired to pop the question and want to start your married life together as soon as possible, a no frills City Hall wedding is all you need to solidify your love. Buy an outfit you feel great in (it doesn't even have to be white), put together a bouquet of your favorite flowers, and invite a few of the closest people in your life to witness the event. No stress!
We aren't surprised that creative forces like Pink and Kristen Bell proposed to the men in their lives. Pink took matters into her own hands when her boyfriend, Carey Hart, was participating in a motocross race. While he was beginning his third lap, Pink showed him a sign that read, "Will You Marry Me?" The cutest part? She followed up a few seconds later with another sign that said "I'm Serious." If you're looking to plan a playful proposal, think about what your partner likes to do for fun. Does your S.O. love to go hiking? Propose at the top of their favorite mountain top. Are they into music? Surprise them with tickets to a concert and print out customized tickets that say "Will You Marry Me?" on it (along with all of the pertinent information like the time and date, of course). If this literally means going to the track to get their attention, we know it works! Pink and Carey tied the knot a year later and the adventurous pair now have two kids together.
Kristen Bell made a political statement when she proposed to husband Dax Shepard over social media. As soon as the Defense Of Marriage Act was struck down in 2013, Kristen made a bold move and proposed to Shepard via Twitter. The couple welcomed their first child earlier that year but vowed not to get married until it was legal for everyone to do so. With so much political activity happening throughout the country today, proposing during a march or protest is a powerful way to make your bond even stronger. Get your friends and family involved by having them nearby or at the finish of the event to make it a memory you and your partner will never forget.
Jennifer Hudson was one of the first women to propose back to her fiance, David Otunga. Five months after he asked for her hand in marriage, she made it extra special by proposing on his birthday with a one-of-a-kind five-carat engagement ring. Granted, we all can't afford such a luxurious gift but it's certainly the thought that counts. The fact that Hudson took the time and energy to propose back, especially when David most likely had no idea it was coming, shows how much love there is between them. Giving a gift back during your engagement can only strengthen your relationship and is something to consider when thinking of ways to commemorate the engagement period.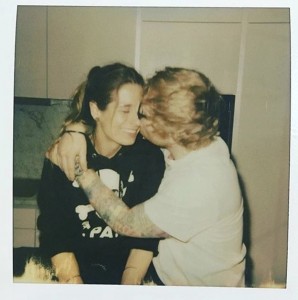 You also may have noticed that pop star Ed Sheeran has been sporting a ring since he got engaged to his longtime love Cherry Seaborn last December. Well, it turns out that Seaborn actually proposed back to Sheeran, using an engagement ring that she made herself. And let's just say that Sheeran was a big fan. As he put it, "I never saw why men didn't wear engagement rings. It's the same commitment either way. Cherry made it for me herself out of silver clay. I really like it. I haven't told anyone that, either."
So, would you ever do something thoughtful like this and create a one-of-a-kind ring for your fiance-to-be? There's certainly something very romantic about not only this idea but all of these celebrity proposals. Especially because all that really matters is that you and your sweetheart are happy from the time you ask "will you marry me" to when you both simply say "I do."
Written by Carly Petrone