Thanksgiving is the perfect time to let your significant other know just how much she means in your life. What better way to express how thankful you are for her presence than proposing?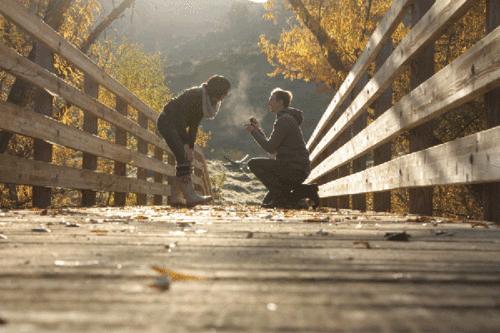 This can, however, get tricky. After all, you don't want a big in-front-of-the-family proposal if you're not certain. And if it's not with her family, it may not be the best way to go about it. In case she does actually say yes, you want to give her a home base to run to, if you know what I mean. So, with those in mind, here are some ideas!
1. A Thankful Thanksgiving Proposal
If you have the tradition of going around the room or table at some point and expressing what you're thankful for, you couldn't ask for a better opportunity. Gush over her in front of friends and/or family (preferably hers) and then get down on one knee. Make sure you have the ring handy. Entrust it to someone else at the table, keep it in your pocket, you could even get away with taping it to the bottom of the table after checking with the hostess about seating arrangements. Just remember that I don't use "gush" lightly. You don't want to just say, "I'm thankful for you. Will you marry me?" This is your opportunity to make her feel like the luckiest girl in the world– use it!
2. A Nature Walk Thanksgiving Proposal
Some families enjoy some wonderful time outside after Thanksgiving dinner to work off some of the calories and enjoy the brisk winter approaching. Whether this presents a more private opportunity or ideal scenery, it could be the perfect opportunity. Pull her aside and use the atmosphere! Whether others know what you're doing or not (and I would suggest having someone handy with a camera close by for the moment, but that's just me), make sure to let others know so they can take part in your celebrating!
3. A Dessert Thanksgiving Proposal
When the dinner is coming to an end and the pumpkin pie appears, tap your glass with a fork for attention, and ask her something sweet. This is ideal if you don't have the "I'm thankful for____" tradition, because everyone is still gathered but they're not as focused on stuffing food into their mouths.
4. A Cooking Thanksgiving Proposal
If you are the ones preparing the food, cooking can be hectic. What better way to relieve the stress, and enjoy a private moment before all your guests arrive, but interrupting the cooking with an "impromptu" proposal? While you are furiously mixing away at something, come up behind her and start the day off in the best way possible.
5. A Traditional Thanksgiving Proposal
Plan the proposal around the activities of the day. Whether you want it to be private or public, with family or friends– of course mold this around your to-be-fiance. Whether you're playing board games in the evening, watching football, enjoying the weather, expressing your thanks, or having a cozy time by the fire after dinner, you want to plan this proposal around the day. Personally, no matter when you do it, I think a "thankful list" of some kind is the best way to approach it to go with the holiday and remind your sweetie of all her qualities that really mean the most to you and made you fall in love with her.
Emily
Photo Credit: imgfave.com