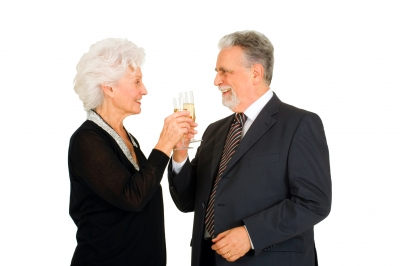 Love 'em or hate 'em – your hubby-to-be's family become your kin too the second you say "I do." And if you're lucky (and smart) – they become part of your family far before that. Each relationship is different, some mothers and daughters are over protective, while others are incredibly welcoming from the second they meet you. Regardless of the dynamic, it's important to show your guy that you're not only dedicated to him but to everything that comes with him and everything he comes from by making a strong bond with his family. Here's how to win over your in-laws-to-be!


Ask Questions
There's nothing more exciting for parents than to know that their child has found happiness – especially in love. So show them just how great you really are and how great you think their son is by expressing your curiosity. How did he grow up? What was the cutest thing he did as a baby? Will you show me your favorite photo of him as a kid? When have you been the most proud of him? Mothers and fathers will enjoy reminiscing on old stories and they will love how much you want to know about him. Make sure to share some sweet (and yes, maybe embarrassing) memories about your man with his parents, too.


Do Something Thoughtful
It can be easy for parents – especially moms – to be very wary of any new lady who comes into her son's life. And when he announces you're the one who will hang around in the long run, she may be a little more guarded, knowing she's no longer the spotlight of his life. What she wants to know is that you not only care about her child, but also that you want to be intertwined with his family's life, too. Tell them about traditions that you hold close to your heart, share an heirloom recipe, make her a photo album from old pictures your guy keeps around – anything thoughtful that will express just how much you love him – and his family.


Put a Stamp On It
If you and your guy live pretty far away from his family, make sure to keep in touch not only through technology (Skyping, calling) – but the old fashioned way, too. Send sweet cards for all the holidays and random letters to clue in his folks on what's going on. Write about the hiking trip you both loved or how you're thinking of decorating the house you're buying together. Make sure to sign some of them from the two of you – and send some special ones just from you to his mom or his sister or grandma.


Don't Discount Their Opinion
While it is your wedding at the end of the ball – it's a very special day for his family, too. You don't have to listen to every single piece of advice and execute it in your nuptials, you should still ask for their opinions. What's the most important part of the wedding that they want a say in? How can you pay tribute to all they've done during the ceremony?


Spending Time Together is Best
More than anything, making an effort to get to know your in-laws will mean the most. Even if you're not in the same town, make every effort you can to build a relationship with them. Since they'll be in your life from this point on – and serve as grandparents to your babies – having a healthy relationship with them will not only make your life easier and better, but it'll help your marriage in the long run, too. (So encourage hubby to do the same with your folks, too!)
By Aurora Brown