We started developing video content for Engagement 101 TV in 2008. We are so excited to celebrate Engagement 101 TV's 10th anniversary with our first short movie, Double Proposal directed by Lisa Hammer starring Danielle Boivin and Edward Michael. As the movie is about to be released we had a quick chat with Lisa.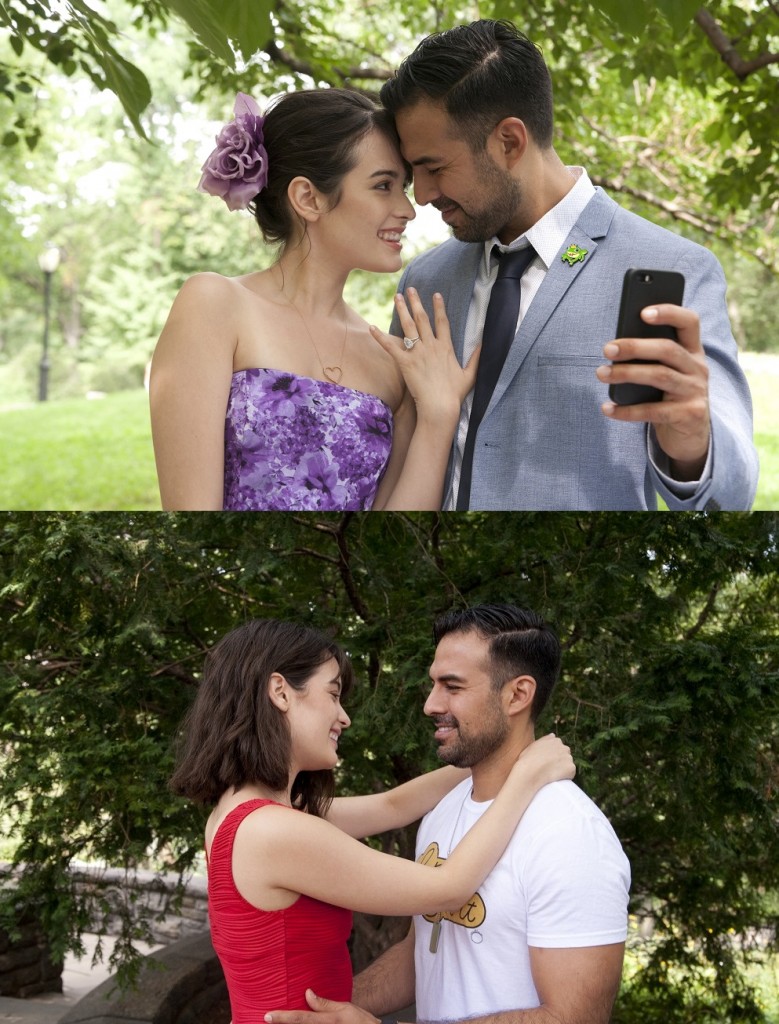 Photographed by Jill Wachter , engagement ring by Sylvie Collection , heart pendant Elisa Solomon, frog pin, dog tag necklace and t-shirt from the Engagement 101 Merch store.
Lisa, tell us why you were drawn to this project.
When I was approached by Engagement101 TV to direct "Double Proposal" as a short film in Central Park, I instantly became excited. I have been directing fairy tale films for many years so directing "Double Proposal" was a no-brainer for me to say "YES!!" I loved the idea of a modern-day fairy-tale, where after we see the dreamy traditional proposal, we see the empowered woman asking the man to marry her, and giving him an engagement pendant! What a cool idea, who's time has definitely come.
Why did you select Central Park as the location and tell us about the casting of the leads.
I have been shooting films in Central Park for many years and I was eager to do it again, there are so many romantic, beautiful areas of the park to shoot in, and the city is very friendly to film shoots of all sizes. I am so happy with how the film looks: lush, romantic and playful.  We did a big casting for the lead actors and received hundreds of submissions. Edward and Danielle had something very special, and worked so perfectly together. You can feel the chemistry on screen.
What was your inspiration for this very modern proposal story?
It was easy and fun to work with Engagement101 TV because Severine and James, the producers, are super-creative and we all contributed ideas to the script with no judgments or egos. We had a great team, including Levi Wilson as the Director of Photography, a great hair/makeup person and great crew. The Propose Too Movement is close to my heart. I think women should feel free to propose to their man, and the man should feel free to not have to take the lead. Everyone is different, some women are more type A, like me. I kind of took the lead in my own engagement to Levi, who is more chill and introverted. It takes a strong man to not feel intimidated by his strong woman taking the lead. I hope this helps open new doors of communication and new ways to look at relationships and marriage. It's all very exciting! There's an Easter Egg in the movie that Star Wars fans will surely connect with.
Watch the movie now!