Birthday proposals have become a hot trend in proposal planning. It's a great bait and switch kind of proposal. If your couple or someone close is celebrating a birthday, family and friends will be around. You will most probably be dressed up which if you are proposing to a woman means that she will have a fresh manicure… which is so very important for on-the-day ring selfies. Moreover there will be lots of smartphones around to catch your moment.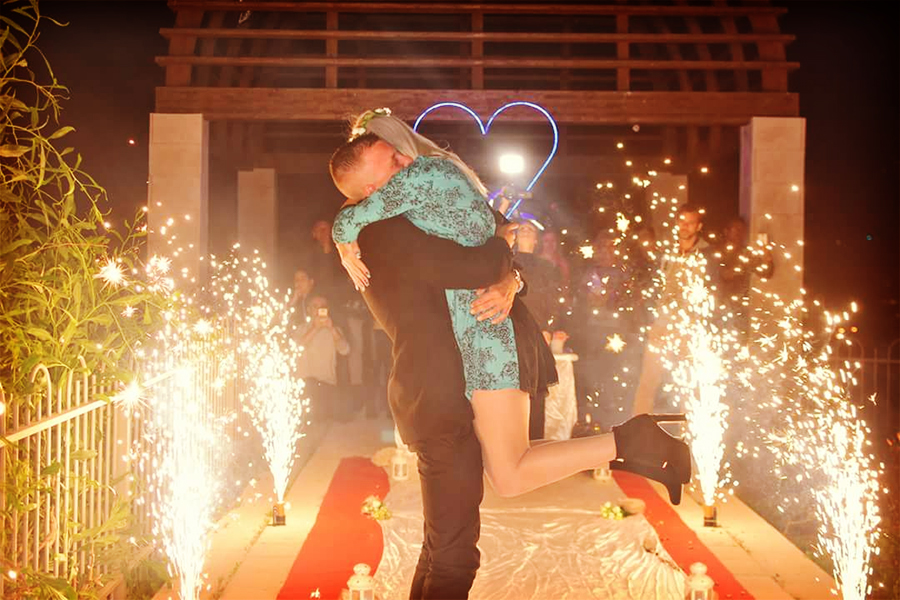 Dani decided to propose on Ksenia's birthday. The couple's family and friends  met at a restaurant to celebrate her special day. After dinner Dani told Ksenia  that he had to go to the bathroom and her family told her that they had to leave and that Dani would catch up. They took her up some  stairs where there was a whole set up and Dani ready to pop the question. She said yes!
This a classic and foolproof way to propose on your partner's birthday. If your love suspects that a proposal is coming, your need to get creative to keep the proposal a surprise. Heather Vaughn founder of The Yes Girls, the original proposal planners, suggests two tricks. "We actually recommend that the one proposing picks their own birthday versus their significant other's birthday. When it's their own birthday it helps to throw their partner off and keep the engagement a surprise. The person proposing can also address that the best birthday gift she or he could receive is a lifetime with his or her soulmate." That's very clever, yet here is an even more creative way to go. "Recently we helped a client plan a reverse surprise party! We had a client who found out his girlfriend was planning a surprise birthday party for him, so he secretly coordinated his proposal to happen that evening so that his birthday party turned into their engagement party with all their family and friends. So fun! The person proposing could get a friend involved to suggest that person plan a surprise birthday party when all along it's really to reverse the surprise for the proposal."
In conclusion, birthday proposals can be awesome and down the road it will be one date that will become even more special for both of you.