Your dream man might not be the perfect image of what you imagined your fairytale prince would be. He might be a little shorter, balder and poorer than the fantasy you imagined for yourself, but he's your number one – and maybe The One – anyway, and you'd never have it any other way. Even so, there are times when a handsome stranger walks by and you have some thoughts that you think might be inappropriate since you're a committed woman. The good news? It's totally normal and healthy to be attracted to men who aren't your boyfriend. But it's equally fine when your guy finds another girl good-looking. Might be tough to swallow, but here's what men and women say about… other men and women.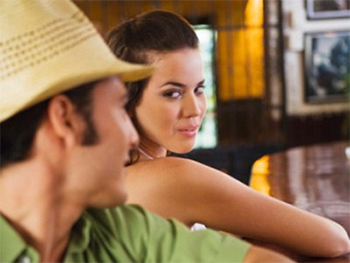 WHAT HE THINKS IS OKAY
"It's really hard not to look at other women – but I try really hard not to do it in front of my girlfriend. I sometimes fantasize about them but I'd never act on it."

"My girlfriend is super-hot, but I do enjoy looking at other women. I sometimes flirt at bars, but I'm always going home to my girl."

"I think about my exes sometimes, but my relationship is so much better with my current girlfriend."
WHAT SHE THINKS IS OKAY
"I love going out with my single girlfriends and playing wingwoman. I don't really miss flying solo, but it's nice to get attention from men who aren't my guy. I'd never tell him I danced with some guys before though!

"I sometimes day-dream about my ex-boyfriends and some of the things they did in bed. I'd never trade my current man for anyone, but there are always nice things you remember from the past. And yes, sometimes dirty ones!"

"I find myself checking out my hot co-worker, but we're both in relationships, so I'd never act on it.
HOW TO MAKE IT WORK
Anytime you find yourself dreaming up things from the past or dirty thoughts about people you don't know, make it an opportunity to talk to your partner about things you want. Open communication and having the guts to explore one another – and the bedroom – will make your sex life and relationship so much better.
By Aurora Brown
Image via Getty Images