Christmas is LESS THAN A WEEK AWAY. Have I mentioned that before? No? Well… there it is. In writing.
CHRISTMAS IS LESS THAN A WEEK AWAY!
If you want to propose on the holiday, or perhaps just in the season if Christmas isn't your celebration of choice, you can take some ideas from the great Will Ferrell movie, Elf. Here are the four that I think would be the greatest.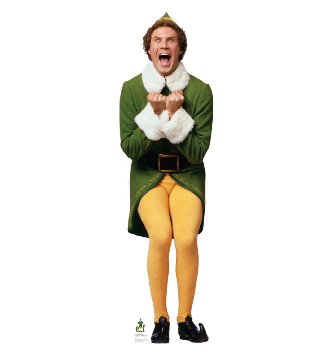 1. Ice Skating.
This is the most down-to-Earth idea you're going to get from the movie. Bundle up and find the rink with the prettiest lights nearby. Whether it's in central park or located indoors, nothing beats ice skating in the winter. Kiss her on the cheek before sliding on to one knee and asking the big question.
2. "SANTA! I know him!"
Act like kids again and go to get your picture taken with Santa at a local spot. When Santa asks what you want for Christmas, get down on one knee and say, "For this lady to be my wife!" Or, ya know, however you would phrase it. Buddy would agree that Santa can do anything, and that includes making a "Yes!" happen for you!
3. Make her spaghetti.
I wouldn't suggest topping it with maple syrup, but you could make a different version for a movie night! Whatever ingredients you choose, cook your lady some food and cozy-up to watch the movie together.
4. "The best way to spread Christmas cheer is singing loud for all to hear."
Whether you do it on your own or enlist some help, go "caroling" without her knowing and end up on her doorstep. As you're spreading the Christmas cheer, step forward (if you're camouflaged in a group) and pop the question. OR you can go caroling together and then in the midst of the cheer create some more at a designated spot! Have a party waiting to celebrate.
Whatever way you do it, take some advice from Buddy and keep a smile on your face during this happen time!
Emily
Photo Credit: Advanced Graphics