What's the hottest theme in engagement parties these days? The dessert-and-champagne party. Below are some tips on how you can pull one off.
Pick Out Your Desserts
Start the planning with a tasting at your favorite bakery (Yum!), and select a combination of seven to 10 dense and light desserts for your menu. A few of our favorites are petit fours and chocolate covered berries.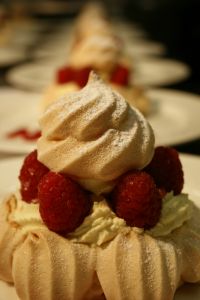 If you don't want to spend money at a bakery, DIY desserts are another alternative. If you love home-baked chocolate chip cookies, for example, you could serve them individually. Put each cookie on a plate with a swirl of chocolate like a chef would do.
Tempt dieters' taste buds with a special assortment of unusual fruits, like star fruit, pineapple and mango, and be sure to include some sugar-free options for diabetic guests.
Whip Up Some Drinks
As for drinks, it's easy to find nicely rated champagnes that aren't too expensive at sites like Wine Spectator. The company also makes great favors.
Though this theme implies only champagne will be served, other beverages are recommended. To accommodate all of your guests, serve wine, beer, top shelf after-dinner drinks, non-alcoholic soft drinks, juice and specialty coffees. If you want to add dramatic flair to your event, try serving flaming Mexican Coffee. (Of course, you'll probably want a professional to pour!)
Sweet Options
In addition to specialty dessert and drinks, some couples also set up a cigar bar — the cigars are there for guests' use and also as favors. You could even hire a cigar-rolling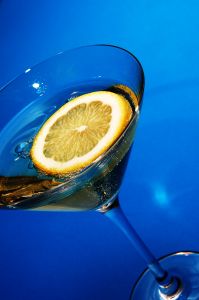 company to come in and roll cigars to order using different types of tobacco.
Important Reminders
A party like this should take place in the evening, so make sure from the start that guests don't expect dinner. State on the invitation that it's a dessert-and-champagne only event, and begin the festivities after 7 p.m.
The best location for this type of affair? A trendy restaurant will work, of course, but so will a beautiful private home. If relatives offer use of their home as their gift to you, show your appreciation by picking up the tab for professional cleaning afterward. Giving back…now that's a trend that will never go out of style!