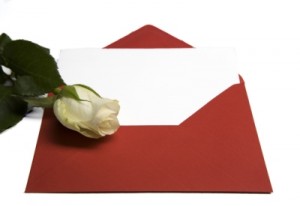 If you're concerned about your eco-footprint, sending out paper engagement party invites might not be your cup of tea. Luckily, there are several alternatives to paper invitations. Check them out below:
Video invitations
The growing trend of video engagement announcements and save-the-dates are the perfect way to get the word out of your engagement without harming any trees. Everyone has access to the internet these days, and sending out an invite is as easy as emailing them a link to a YouTube video. The video below is an example of a video invitation, and as you can see, they're unique, simple and easy to make. Some people even go beyond video and create really creative alternatives.
Email invitations
If you're lacking in video editing skills, then perhaps an email invitation might serve you better. There are lots of services out there that provide free invitation templates and some of them even come with animated graphics and music.
Recycled invitations
If you just have to have paper invitations, then make sure to use eco-friendly, recycled paper. Several companies like Earthly Affair and Lasso'd Moon Designs, who makes plantable invitations, can provide elegant invitations that are safe for the environment.