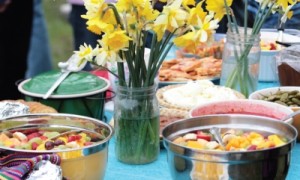 When you get engaged in times like these, celebrating can feel, well, tricky. A big chunk of money went towards your engagement ring and you have a wedding to plan. An engagement party might even seem a bit frivolous. you know you can't burden family and friends, and you don't want to add to your own debt either.
On the other hand, thankfully, life's greatest moments can occur despite a shaky economy. And doesn't a newly engaged couple deserve to announce their happy news with flourish and style — even now?
The answer, of course, is yes. With a little creativity, you can throw an engagement party without breaking your or anyone else's bank. Here's how:
Top Tip : Have the party right after the proposal
Having family and friends to support you and help produce your proposal is the hottest trend right now. They can help you document the proposal and make it even more exciting. Since everyone is around, you should all go celebrate right after the proposal. If you decide to propose on a Holiday or a Birthday, even better, you already have a location to host the party.
Keep the guest list small
Obviously, smaller engagement parties cost less than huge bashes. But there's no need to feel cheap while limiting the number of invitations you send out. It's actually part of the engagement party tradition. Engagement parties originally were meant to give the couple's closest family and friends a chance to meet before the wedding. A more intimate affair allows everyone to really talk and get to know one another.
Be creative with invites
Printed invitations can cost a bundle—and that's even before you consider the price of postage. For an engagement party, they're also completely unnecessary. If you followed Step 1, you already have a small guest list. So why not handwrite the invitations and envelopes yourself?You can purchase festive fill-in-the-
blanks-style invitations at a party store, or visit a craft store for blank cards you can decorate at home.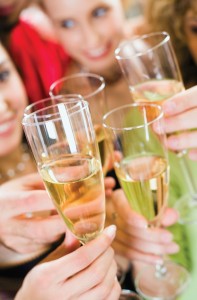 Host at home
Using space that's already at your disposal is a lot less expensive than renting a hall or paying for restaurant service. An engagement party can take place at the home of the guests of honor.A close family member or friend also might be willing to lend the space—provided they're invited to the party, of course. During colder seasons, a cozy living room will do nicely (especially if it comes with a fireplace!)
Do not consider this a mini wedding!
Traditional weddings often include every detail imaginable: a once-in-a-lifetime gown, stretch limos, elaborate
centerpieces, a DJ or band, favors for guests, etc. An engagement party, on the other hand, should not be a miniature version of the larger celebration to come. Keeping that in mind, you easily can opt to skip things like limos, centerpieces and favors.
Skip the gifts
When you're sticking to a budget, it's only fair to pass the savings on to your guests, especially in this economy. Include these lines on the invitations:"Your presence is the only present requested. Please, no gifts." An engagement party isn't a wedding shower,where the bride should be showered with gifts. And it's not the wedding either,where gifts symbolize congratulations once the couple is married.The engagement party is simply about bringing people together and celebrating good news.
Plan a simple menu
Provided you time the party right (either after lunchtime and not too close to dinner or well after dinner), you don't have to serve a full meal. Instead, you can scale down on food and beverages, cutting costs considerably. If you think in pairs, it's easy to come up with a simple menu:wine and sweets; coffee and cookies; or champagne and hors d'oeuvres. Plan ahead so you can make the food yourself, and you'll slash your budget even more.
Consider a BYOB or potluck meal
If you want to serve a full meal at the party, there is a way to do it without taking on all of the responsibility (and cost) yourself. In Step 5, you let guests off the hook for pricey gifts.That gives you license to ask them to bring wine or beer, non-alcoholic beverages, or a dish to share instead. Specifically request the items you need,whether it's a main dish, side dish, salad or dessert.You might even want to plan a theme for the food, such as Italian, Mexican or American-style picnic.
-Heather E. Schwartz
Looking for your wedding bands? Here are some ideas from our network partners . Wedding Rings