Harrison and Hayley met for the first time at a training program for Fuge camps. He was the video producer, she was the director. "And the rest was history…" as the video says.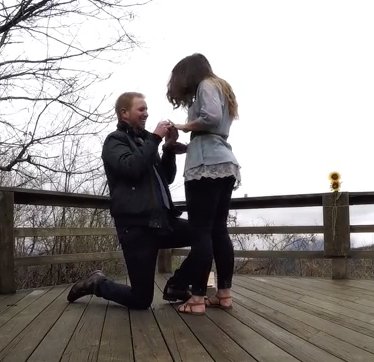 So when it came time for Harrison to propose, he knew he had to put his skills and their history to the test. He convinced her work to send her to a Director's visit to Ridgecrest Conference Center, where he and she worked together the summer before. She had her actual meetings, and then when she was done friends were there to hand her a laptop with a video to watch.
Once the video was over (5:15) she was instructed to walk the path and read the notes along the way. At the very end, there were notes in a car from her parents she was instructed to read before driving the car to the top of the mountain. When she got to the top (6:03), there was Harrison with a path, sunflowers, and a proposal waiting for her.
So much went into this proposal, it's hard not to shed a tear. And, um, did you see that ring??
Emily