On their six month anniversary, Jamie and Chris got engaged in Bryant Park during the December 2 Christmas tree lighting ceremony. Jamie wrote about the whole experience on her blog:
And that's when I saw him pull a ring box out from behind his back. That's when he got down on one knee. And that's when he asked "Will you marry me?" while flashing me a beautiful 1 carat cushion cut diamond, flanked with 10 pavé cut diamonds on either side of the platinum band, and engraved with our own initials.

I don't know how much time passed, but my reaction went as such. "WHAT?! WHAT?!" It took all I had to process what was going on. To put 2 and 2 together and notice that the "friend" we had met up with was in fact a professional photographer. And to respond to his second question of "Is that a yes?" with a reply of "Of course!"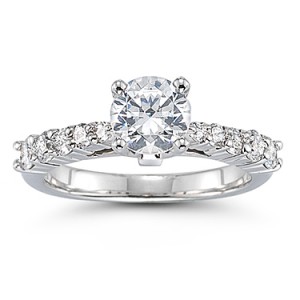 In case you were wondering about her engagement ring, the platinum ring was made by Novell, although the version shown here has a round cut center stone.