Saturday, June 11th, 2022
The Fourth of July can be a wonderful day to propose. From barbecues to fireworks, there are so many wonderfully patriotic and summery moments to propose. Because of this, however, it can easily be a cliche moment or maybe overshadowed by all that's going on. Here are four do's and don'ts to keep in mind if you choose this special day to propose.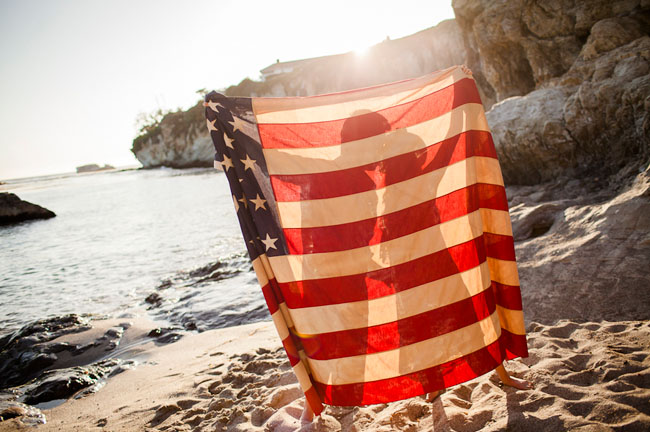 Do…Make sure you know if she wants a private or public proposal.
I understand if you don't want to give the game away, but there's a chance you guys maybe haven't talked in detail about proposals or marriage. If that's the case, you may have to take someone in confidence to figure out if a public proposal is yay or nay. After all, you don't want to be at a barbecue surrounded by friends and family if she would rather have a private walk on the beach during the fireworks. Pick your moment with her ultimately in mind.
Don't…Propose when it's super noisy.
Let's face it. The Fourth of July is all about noise. Marching bands, parades, canons, and fireworks– all of these things add to the glory that is our Independence Day. However, this can make it difficult for you to propose. If you propose in the midst of a barbecue or gun salute or fireworks that are close enough to just about bust your ear drums, she's not going to hear you. It may not ruin the moment, especially if you're kneeling and holding the ring, but if you want her to hear all the amazing things you have to say about her and the love you share, take this into consideration.
Do…Go with the holiday.
You've decided to propose on the Fourth of July. Therefore, you cannot avoid the holiday. Embrace it. Go all out with red, white, and blue. Let her pick our your clothes, even, without knowing why it's so special! Plan a party, decorate– go all out. The Fourth of July should be special to your relationship if you're planning this proposal. Do you have a big family barbecue, or does she? Do you always retreat to the beach? There has to be a reason you're picking this memorable day, so make sure to make that part of your proposal.
Don't…Propose during a parade.
Unless you two have a big part in the parade, or perhaps you live in a small town, this just seems like an everything-that-can-go-wrong-will-go-wrong scenario to me. Stopping in the middle of marching high school bands and local celebrities and patriotic groups just seems like a bad idea. Someone could run into you, she could somehow miss the proposal, she could feel awkward– unless she has told you this is how she wants it, don't do it. It seems like a bad cliche moment in a movie.
For the land of the free, and the home of the brave– I'm sure she's bound to say yes.
Emily
Photo Credit: Danielle Poff Photography
Tuesday, July 26th, 2016

I wanted to share with you my experience with a great book I just read, very relevant to me and some of you. I still read Jezebel but really miss Lindy West's voice and the days she was part of the editorial team . So I could not contain my excitement when her first book Shrill was announced.  It did not disappoint though I wanted to read even more! The reasons I highly recommend this book are many but the one that connected the most with me is how she found her voice as a big girl.
Born in the skinny land of France with contrary genetics, I am in awe of all these successful millennial women that are at last fighting successfully against "normal" beauty standards and the perception that when your BMI is higher than "normal", you most certainly spend you days on your sofa binging on Doritos.  Lena Dunham, Amy Schumer, Ashley Graham, Tess Holliday and Lindy are paving the way for a new generation of girls who will feel beautiful and worthy.  They have already helped this girl Sev feel so much better about herself. And create the most badass hashtags such as #effyourbeautystands and #imsizesexy.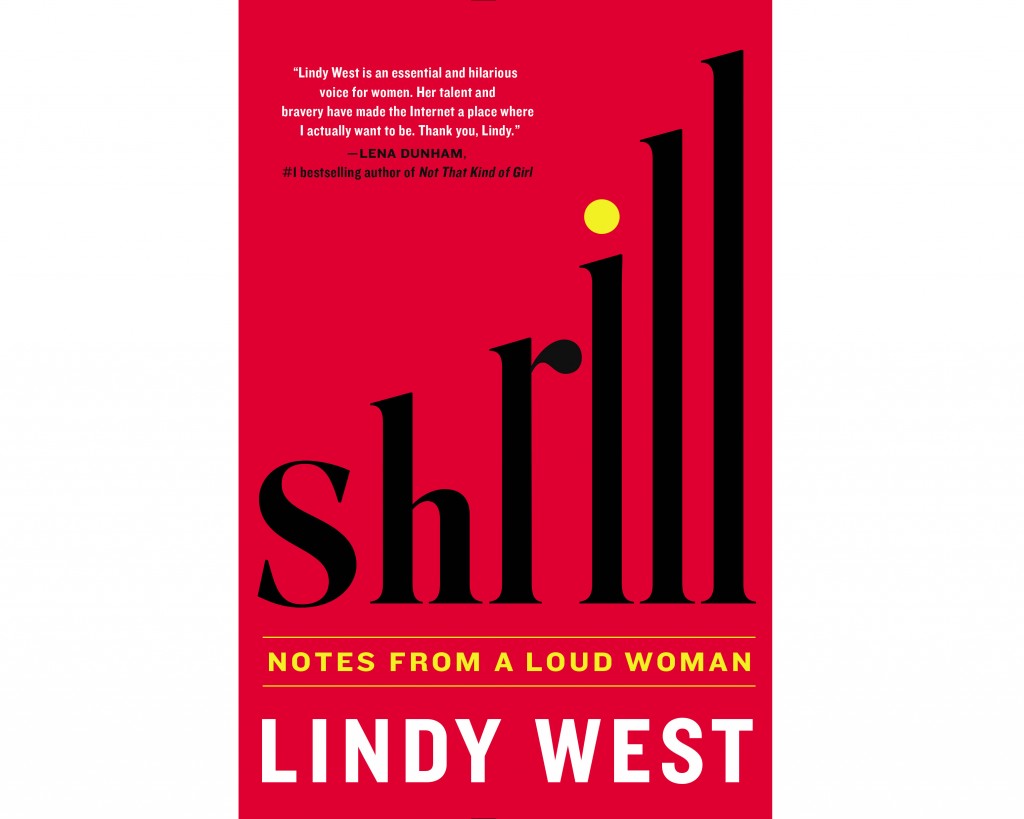 Shrill is a must read. It is empowering to women who don't fit in. It will help you find your voice if you haven't yet. It will give you a new perspective on feminism and internet comments. My favorite parts are when Lindy talks about her relationship. It gets so real. As a big girl who was many time made to think she did not deserve it all, Lindy got an amazing proposal and went all in for her wedding. You can buy Shrill here.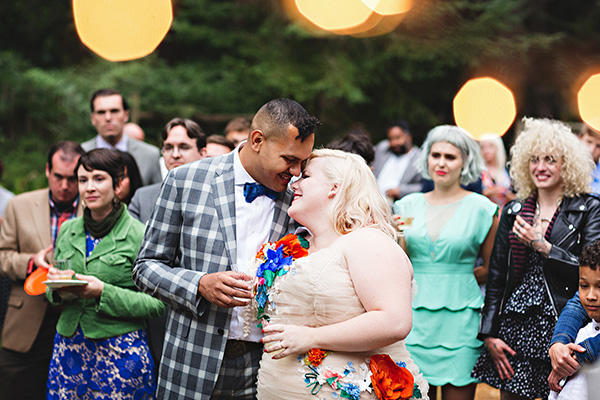 Photo by Jenny Jiminez, "Jenny is a Seattle-based photographer available for travel. Her eye is drawn to the humor & humane." @photojennyj
Friday, November 27th, 2015
Bring out the mistletoe! Thanksgiving is over and it's time for all the holiday proposals. As if the decorations and stuff hadn't popped up early enough, the thing is it is never too early to begin planning. With only a month until Christmas, and less than that for Hanukkah, you need to be prepared! Here are a few ideas on how to keep your cool but still have that proposal planned and ready during this busy time of year!
Even if you have a dance number that involves paper machete snowflakes planned, don't freak out if something goes wrong. The holiday season is supposed to be a joyful one, and sometimes we get so caught up in the details we miss that. Don't do that with your proposal. Go with the flow, laugh at the mistakes, and just enjoy the moment she says, "YES!"
2. 'Tis the Season, so make it count. 
This is the most wonderful time of the year, so you want to make sure your proposal fits the ticket. The last thing you need is you and your significant other remembering this time of year as the time you burned down the house trying to propose with too many Christmas lights. While you want the proposal to be spectacular, and not stress about it, you also want to make sure that it's just as magical as the first snow.
3. Know what she wants. 
You don't want a big to-do in front of her family if she wants something private. You don't want something private if she wants the limelight. Make sure that no matter what, you plan the proposal she's been dreaming of. Horse and carriage in the snow? It is possible! Anything is possible as long as you believe and, ya know, plan.
Emily
Friday, November 20th, 2015
Chris and Courtney were going to Disneyland. Much like any other person, Courtney dressed up. While the whole backstory isn't in the video, it's pretty clear that this couple loves their Disney.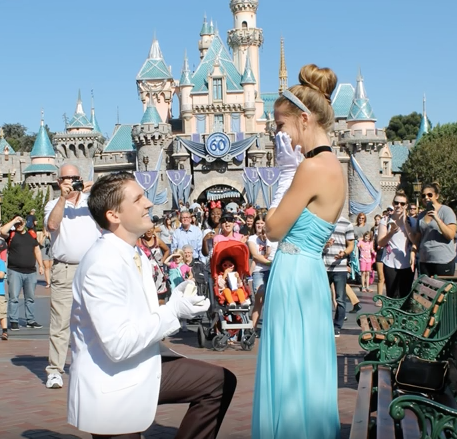 Chris comes up to Courtney with the glass slipper, friend dressed as the Duke and all. When he gets down on one knee and puts the slipper on her, it's absolutely enchanting. But it goes one step further– the pillow opens to reveal an engagement ring. When he kneels again, this time with the ring and a real proposal, it brings tears and excitement to everyone around. And I mean, everyone. Because it was at Disneyland.
Dear Disneyland, if you were looking for a magical thing to advertise with– look no further. This couple did everything right.
Emily
Wednesday, November 18th, 2015
Some parts of the country are well acquainted with snow and cold already, but the rest of us are just starting to break out the thicker layers. Winter is arguably one of the prettiest times to propose. Here are some ideas on how to do it so you don't fall under the "cliche."

1. Do it before Christmas or New Year's. While Christmas might not officially start until December 21st, Starbucks deemed November first as time for the red cups… and most places have the decorations out right after Halloween. So don't wait until just around Christmas and New Year's when everyone is getting engaged and jump the gun a little early.
2. Use the weather. Be prepared to jump at the first snow, frost, or cold starry night for your proposal. If you have a day set in stone in your mind, you may not get the snowy back-drop you're hoping for. Watch the weather and have your proposal plan ready and waiting.
3. Invest in some lights or candles. There is nothing more magical than lights and candles in the winter. Light up the night and watch it reflect off the snow for your proposal. Whether you're spelling it out or just creating a backdrop, it will make for an amazing moment (and, let's face it, beautiful pictures).
Emily
Monday, November 16th, 2015
Carlee and Lucas got engaged on Halloween. The two pride themselves on being a nontraditional couple, so when it came time to get engaged, Carlee let Lucas know she didn't want a diamond ring.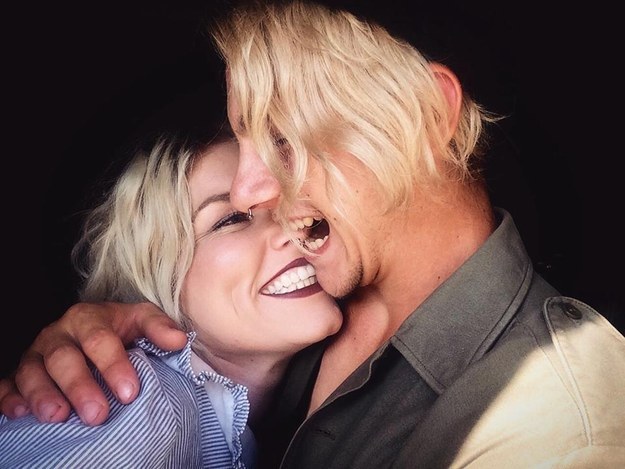 The two met in Lucas's native Canada at a music festival earlier this year. When Carlee said diamonds were overrated, Lucas started thinking of alternative ring options. But the two came up with the idea together.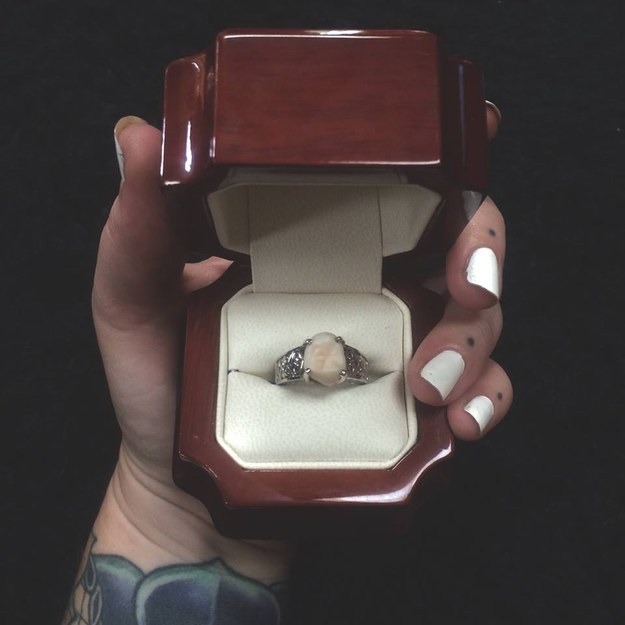 Lucas moved to be with Carlee, so he had his dad mail him one of his teeth he had removed when he was younger– and the two took it to a jeweler to see if he could come up with something unique. Although the two came up with the idea together, Lucas wouldn't let Carlee see it until he proposed properly in front of her family on Halloween.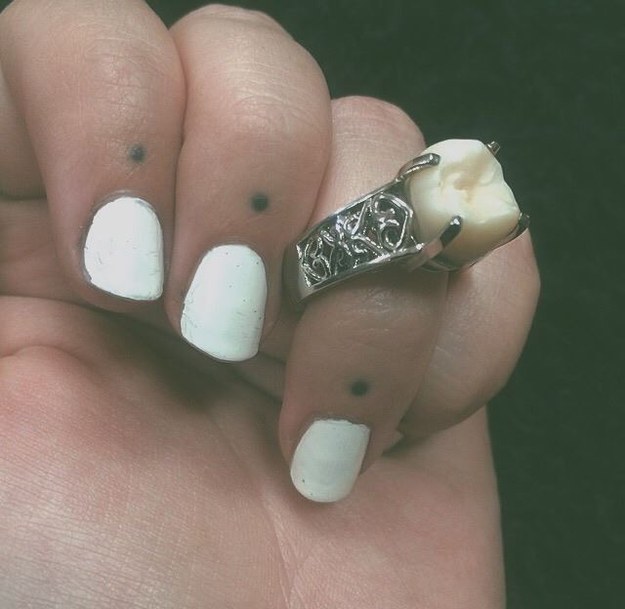 Forget a diamond, just get some teeth pulled. I mean… she literally has a piece of him for eternity, right? The two plan on getting married in Vegas this month!
Emily
Photo Credit: Carlee's Facebook
Wednesday, November 4th, 2015
Tuesday, November 3rd, 2015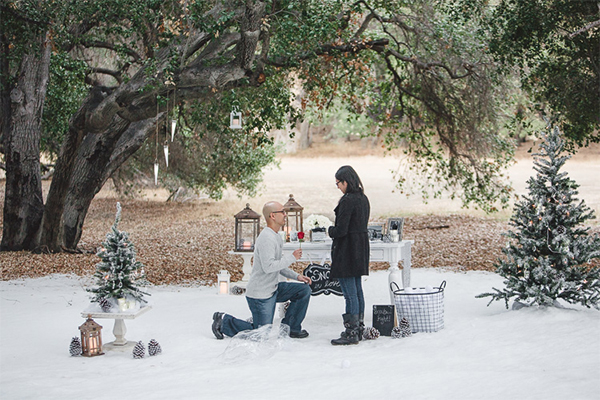 Read about Ryan and Sharon's Winter Wonderland Proposal in Malibu here.
The Yes Girls, the first proposal planning company that was founded in 2008,  has helped many couples get engaged over the years all across the country and the world. They make it easy and help the partner who proposes create a memorable and romantic moment. Check out the proposal story of the couple featured above. Spoiler alert! It's not real snow. The Yes Girls made it snow and it was awesome.
As engagement season is starting, the Yes Girls also created a wonderful gift box for your recently engaged friends. With a wedding planner/calendar, a card set of thank you's, and a beautiful way to keep that diamond ring shiny and safe, the Just Engaged Gift Box might be exactly what you've been looking for to help her celebrate.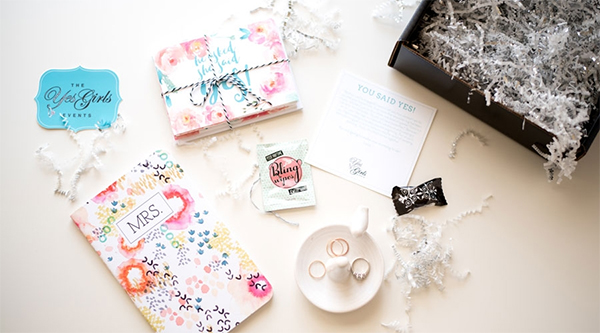 The Yes Girls are treating our readers with one very special gift for every purchase! The Yes Girls donate 10% of their profits to stop human trafficking and one way they do this is via 3 Strands jewelry, handmade by the rescued victims. For every "Just Engaged Gift Box" purchased for a friend, you'll receive one very special bracelet. And for every Proposal Package, you'll get one as well for your soon-to-be bride-to-be.
Thursday, October 29th, 2015
The holidays have arrived and there's no better time than now to propose. Jump-start the Christmas crowd and propose on Thanksgiving! Why, you ask? Well, in my opinion, there's no better holiday to propose. Let me tell you why.
1. The family is together.
Thanksgiving is a time where everyone sits around the table to eat a fantastic meal, or maybe you sit in front of the football game, or eat outside– whatever your tradition is, it's one where everyone is already planning on being together. What better way to propose than to have her surrounded by those most important to her, a family you'll become a part of? Noted: Don't propose in front of your family unless it's a sure-thing and she's already basically a part of it. It could get awkward, fast.
2. Your speech will write itself.
Rather than focusing on the things you love about her, why not focus on why you're so thankful for her? This will be a different twist on the classic proposal, and it makes it easier to start your proposal and keep it a surprise because, hello, it's thanksgiving! For all she knows, you're just gushing over her. When you pull out that ring, or drop to one knee, that's what will give it away.
3. It's an amazing distraction.
Proposing at a potentially hazardous Thanksgiving dinner takes the focus off of family feuds and puts it on bringing the family together! While you may be bombarded with different opinions about wedding planning, it keeps people from fighting over stuff like gun control. It's a win-win!
Emily
Monday, October 26th, 2015
North Carolina A&T's 2015 homecoming will be remembered for many things. After all, A&T beat Howard 65-14. However, for one couple, the day has significance beyond a win for the football team. And, let's face it, everyone who was at the gam will remember their moment as well.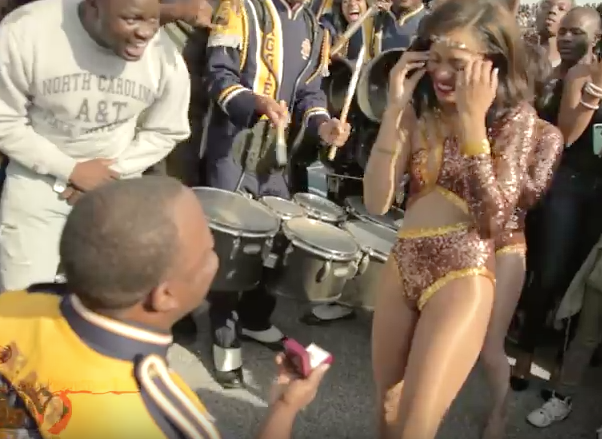 Around 2:30 Clarence cuts off the drumlins and performers asking them what they think they're doing. He does this, of course, to steal the spotlight for him and Keyanda. As soon as those behind her, and Keyanda herself, see Clarence pulling something out from under his band uniform jacket, there's shrieking and cheering all around. Let's face it, the faces the people around them are making are just as good as Keyanda's reaction.
Keep watching for an amazing performance by the Blue and Gold Marching Machine and the Golden Delights.
Emily