Sunday, October 25th, 2015
Michael found a very special way to propose to his girlfriend, Triston. After Triston gave birth to their new daughter, Lynleigh, he arranged for the nurses to dress her in a very special onesie that said, "Will You Marry My Daddy?"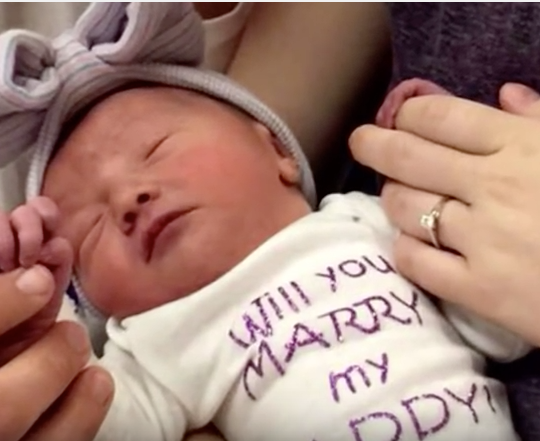 Michael wanted to propose for a long time, but decided to wait so their daughter could be a part of the other life-changing moment.
As if their lives weren't going to change enough, now they have even more to look forward to. Now besides having a newborn to look after, it looks like the couple gets to enjoy some wedding planning as well!
Emily
Wednesday, October 21st, 2015
David and Laura had been dating for five years. When David was having Laura's engagement ring made, he had some time to sit and ponder on just how he was going to propose. So when Laura wanted to get tickets to the UK Friends Fest, David knew the timing had pretty much fallen right into his lap.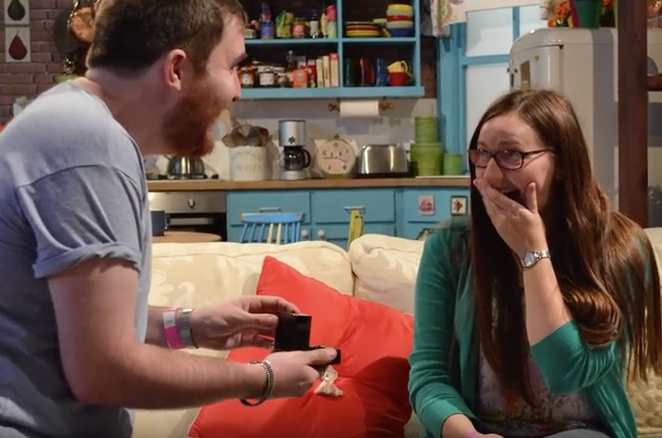 The couple got a true Monica and Chandler moment when they were the ones on set and David dropped to one knee while Laura sat on the famous couch (well, one of them). For fans of Friends, I'd say that the moment really couldn't get any better (unless, you know, the cast themselves showed up…don't get too excited).
Needless to say, we know that David will be there for Laura. The look on her face says it all: it really was an amazing surprise.
Emily
Monday, October 19th, 2015
We've heard of the dating craze that's taking everyone by storm. Instead of getting out, people decide to stay in and watch movies or binge watch shows and, well, chill. So if you're one of those couples that opts to stay in instead of go out more often than not, here are a few ways to work this into your proposal.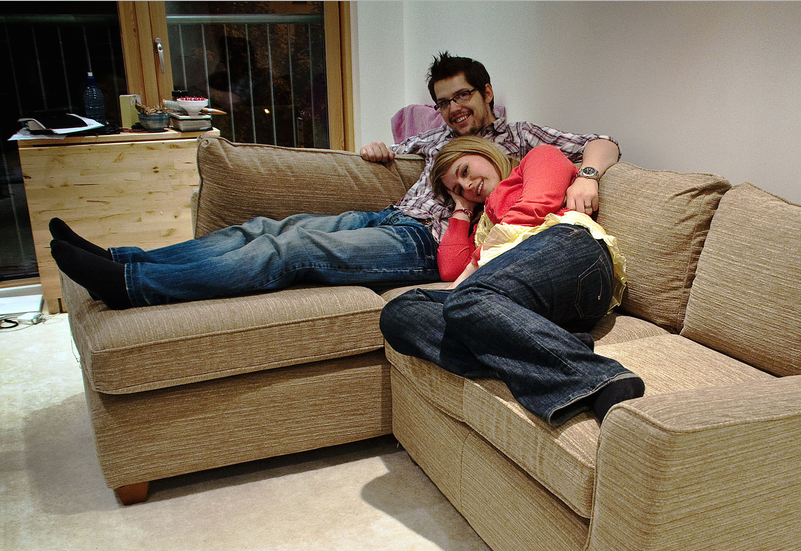 1. Make a List. Netflix has the feature where you can make a list of things you want to watch. Tell your significant other you've made a list specific to your planned-date-in. Fill it with romantic shows, or shows that reflect your relationship, and include at least one (even if it's a RomCom you normally wouldn't watch) that deals with marriage/getting married. When she realizes what's going on, pass the ring over with the popcorn (figuratively speaking, of course).
2. Choose the Mood Wisely. If you've been meaning to watch a show that may not be the most romantic, find a way to still set the atmosphere. Have some of her favorite foods ready to go, drinks of her choosing… you name it! Set out a blanket, a pillow– whatever you need to make her feel the most comfortable to accept that proposal and prop horehound up so she can stare at that new bling!
3. Make a Party out of it. What's more fun than cuddling on the couch with your loved one right before you pop the big question? Well, nothing, really… but it can be fun to share the moment with people you love. Don't just sit and sulk on the couch. Invite some friends over for some down-time and let them in on the secret to make it even more spectacular!
Emily
Photo Credit: Flickr
Sunday, October 18th, 2015
The air is getting crisper as the leaves begin to change and fall (in most places). This time of year provides a beautiful backdrop for proposals. But don't just think of the picture opportunities when it comes time to drop to one knee. Here are some do's and don'ts of proposing this time of year!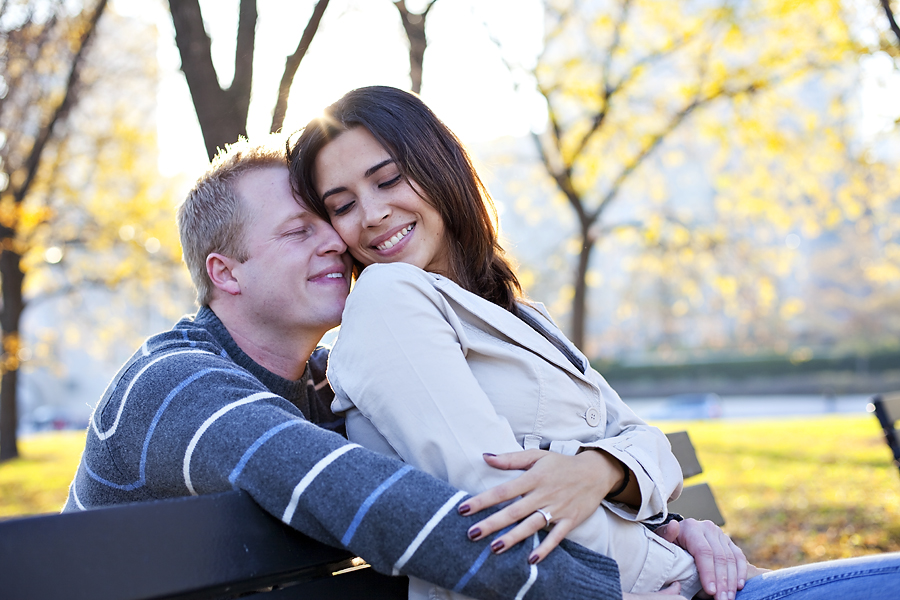 Do…make sure she's dressed propoerly
You don't want to surprise her with a hike in the woods pre-dawn only to have her shivering to her core. Make sure that she knows what she's walking into with the proposal. Whether it's outside for a hike, or by a campfire– you want her to be prepared for the big moment.
Don't…assume the leaves will be there
The later in the fall it is, the less leaves you're going to have. Common sense, right? Maybe! Make sure that if you want the leaves painting the background of your proposal you plan on going at the peak of the season. Just keep in mind that if you plan on proposing in a touristy area, it will be busy. Find a time to get out and explore when the crowds die down slightly.
Do…prepare for surprises
If you're going on a vacation for your proposal make sure you're prepared that cool can turn to cold in a heartbeat. Don't just prepare for the weather you want, prepare for the possibility of snow. Some places have already seen flurries this year!
Emily
Photo Credit: Flickr
Friday, October 16th, 2015
We are all used to proposals happening on shows like Jerry Springer. I mean, let's be real… those shows are so people can get drama in their lives when it's missing.
Don't deny it.
So when this guy got on one knee with a proposal, assuming it's following some transgression, the look on the woman's face is pretty fantastic.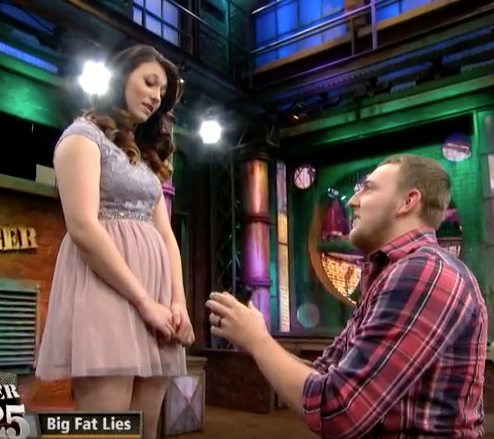 Following the embarrassing moment, she proceeds to tell him that she's been seeing someone else. Obviously he wasn't expecting who walked out next.
And, no, it's not his brother, or father, or best friend. Sorry to disappoint!
Emily
Tuesday, October 13th, 2015
Lauren thought she was testing a video game that her boyfriend had created. What she didn't know was that the video game had been created specifically for his proposal to her.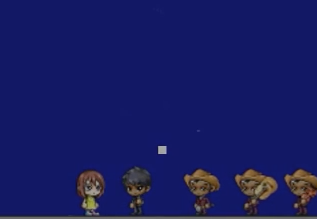 The video follows Lauren playing the game, talking through all the levels and asking questions. Thankfully her boyfriend gives us text on the screen that lets us know what's so special about each level. My favorite part? The fact that the ring was hiding behind the computer the entire time she was playing. Talk about hiding something "in plain sight."
The only disappointment is we don't get to see him drop to one knee, probably because he's most likely kneeling the whole time near the computer as she plays. When he does pull out the ring, though, we know it because she immediately begins crying and nodding her head. Oh! And the ring? Zoom in on that thing. It's gorgeous!
Emily
Sunday, October 11th, 2015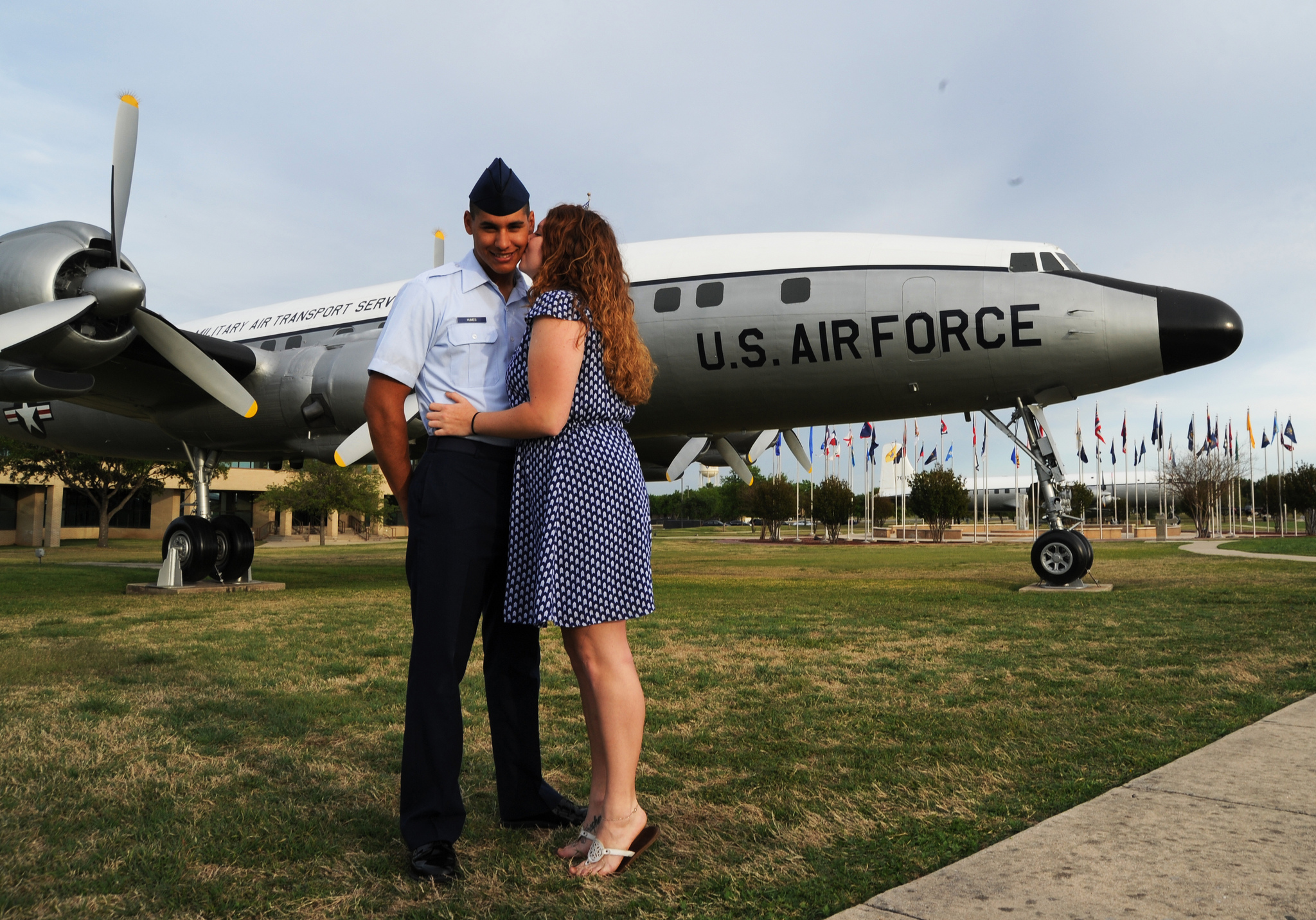 Although I am a firm believer in celebrating our military every day, there is a specific day in November approaching when we are meant to honor those who have and are serving. This is not to be mixed up with Memorial Day (in May) when we celebrate those who have given their lives for their country.
If you are in a relationship with a man or woman who serves, why not focus on this amazing aspect for your proposal? After all, it is bound to be part of your life (or perhaps already has) and affect your relationship in so many ways. Here are a few ideas!
1. Those who are serving. For those still in the military, find a way to involve his/her unit or closest friends in the service in on the surprise. Whether it's surprising her when she's come back from deployment, or asking him during a routine PT– it's bound to make it more special if you include those that he/she serves with.
2. Those who have served. If your s/o has served and is now facing life post-military, why not rope in the good 'ole days with a reunion? Invite some friends over to talk about the glory days, reminisce how the military affected your relationship, and when the time is right– thank everyone present, and tell them you know your s/o wouldn't be who he is or where she is without the military. Then get down on one knee!
3. If it's you and not your s/o. If you're the one in the military, or who served, bring up how it taught you so many things just as being in the relationship did. You can dress up in style (dress blues, ladies and gents) and tell your s/o the only other thing that would be as honorable as defending your country would be defending and honoring your s/o.
Thank you ladies and gentlemen who have and continued to serve our country.
Emily
Photo Credit: Flickr
Tuesday, October 6th, 2015
When you're planning your proposal, there are two things to keep in mind.
1) Are you confident she'll say yes?
2) If you haven't talked about marriage, think carefully on WHERE you're going to propose.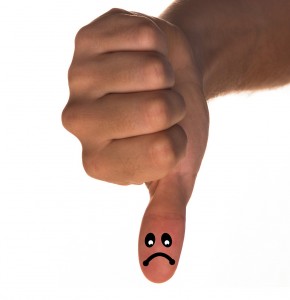 This poor guy starts proposing to his girlfriend in the middle of the mall. He talks about how they met in front of Cinnabon, and how she'll make him the happiest man alive. These two are surrounded by people, including a large group of elderly people the cameraman lists as tourists. As the man drops to one knee, a friend appears playing the guitar. But instead of a tearful, "Yes!" we would expect… well… just watch for yourself.
The cameraman says, "Oh, that's brutal," but the encourages the proposer by saying, "It's alright, man, it's alright!"
I'm not sure encouragement from strangers would help me in this situation. Can we say epic-fail-embarrassment-for-all-eternity?
Yes. Well, at least I can.
Emily
Monday, October 5th, 2015
When you get engaged, it's a roller coaster of emotions. You go up, down, there are some twists and turns– you really don't know what to expect. But for Austin and Ally, it was literally a roller coaster moment.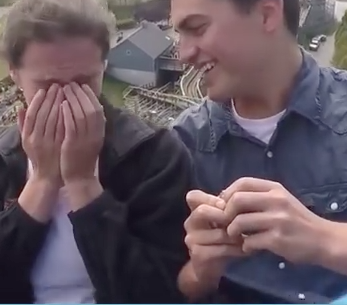 Austin asked Ally to be his "roller coaster buddy for life" as their  car was clickety-clacking to the top of a big drop on a roller coaster. Although you hear the announcer asking the riders to put away their cell phones, Austin's friend cleverly captured the moment with a GoPro. As soon as he pulls out that ring, and spits out the words, "Ally, will you marry me?" Ally is in tears, nodding her head enthusiastically. But Austin doesn't put the ring on her finger… instead he just grabs her hand as they plummet.
Austin, being incredibly smart, used a fake ring for his proposal mid-ride in case something was to happen. This is the way to do it, folks. If he had used the real ring, and had accidentally dropped it or something… it would have been all downhill from there.
Get it?
Emily
Thursday, October 1st, 2015
Victor and Edrea were diving off of Tioman Island. Victor held up the sign asking the big question, and got an "ok" sign from Edrea. I mean, it's kind of hard to cry and say, "YES!" while you're hooked up to oxygen.
What makes this proposal extra gutsy is this guy doesn't propose underwater and then wait until they surface to put the ring on her. Instead, he entrusted the ring to their dive master and actually puts it on her underwater.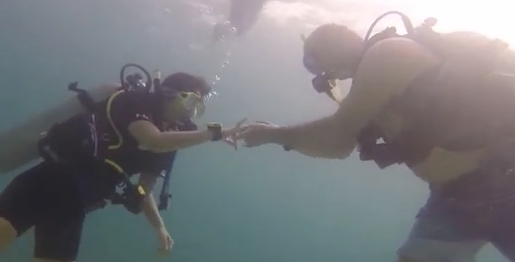 I would be petrified. I mean, what if he dropped it? Even though you're diving, it would still take a good amount of time to find it. And even then it's not a guarantee! This couple must have had a lot of faith in their dive master and their ability to do this underwater.
Emily