Victor and Edrea were diving off of Tioman Island. Victor held up the sign asking the big question, and got an "ok" sign from Edrea. I mean, it's kind of hard to cry and say, "YES!" while you're hooked up to oxygen.
What makes this proposal extra gutsy is this guy doesn't propose underwater and then wait until they surface to put the ring on her. Instead, he entrusted the ring to their dive master and actually puts it on her underwater.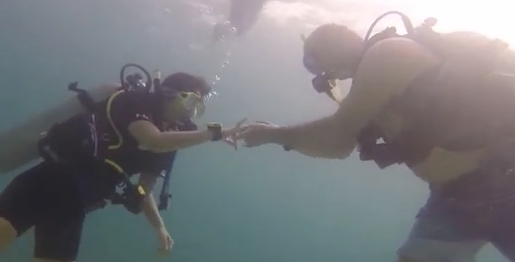 I would be petrified. I mean, what if he dropped it? Even though you're diving, it would still take a good amount of time to find it. And even then it's not a guarantee! This couple must have had a lot of faith in their dive master and their ability to do this underwater.
Emily