Fall is approaching and so are fall proposals, but I couldn't resist taking one more step back to check out this amazing beach proposal!
Taylor wanted to make a truly spectacular proposal. He and his now fiance, Dani, are both in school in Utah. Dani decided to go home the week and a half before school started to have some time with her family and friends, and Taylor decided to take advantage of it. He made a video of all the places they kissed (an "inside joke" sort of thing with the two of them) and she came across this awesome layout on the beach to watch it!
Her girlfriends and family were all in on it. As she watched, they gathered around her, and Taylor was on the beach somewhere! Once the video ended, he appears behind her, drops to one knee, and asks her to be his wife.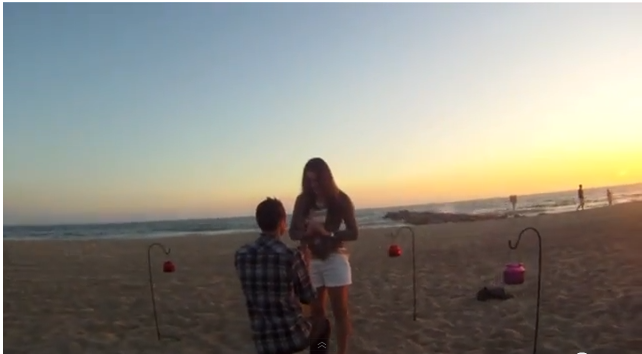 This happens around 6:50. All the kissing places go on, and on, and on. But, truly, how sweet?
How creative, thoughtful, and amazing is this?