All Jodi wants is for life to be more like a musical. In order to make her proposal special her boyfriend, Dan, decides to make her wish come true.
With a group of friends and family, Jodi is lead around Chicago by people singing musical selections we can only assume are relevant to the couples' relationship. From Bon Jovi to Rent, the singers do a decent job of helping Jodi's dream come true.
If you want to skip ahead, the boyfriend reappears around 9:30 where he finally drops to one knee.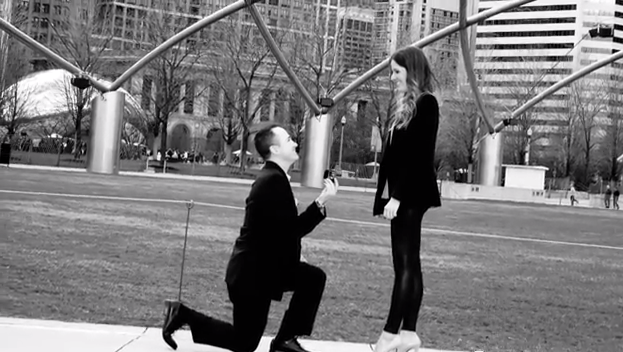 But, wait, that's not the end! He leads her to "The Bean" in Chicago's Millenium Park where everyone is gathered holding signs with "Daniel and Jodi" on them and singing, "Seasons of Love".
If nothing else, watch the end of the video for one musical number and remember the love.