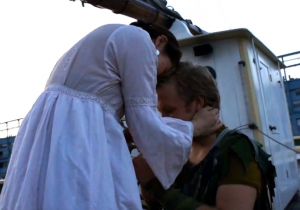 The goal to any proposal is to get a "yes" from your lovely lady. But an added bonus is truly being able to make all her dreams come true.
This guy did just that.
Even before they met, especially when she was a child, Moriah was in love with the story of Peter Pan and fancied herself as Wendy. She dreamed that one day her Peter Pan would fly in and take her to their own personal Never Never Land.
Imagine the irony when starts dating an actor who is actually playing the role of Peter Pan as his profession.
So, he decided to use this to his advantage. He rented a boat, flew in/bused in their closest family and friends and dawned his stage costume while hiding. She was brought to the boat by a friend and greeted by Captain Hook. The friend just happened to have a Wendy night gown for her to wear.
When she put it on and entered the boat, the first thing she saw was all her special people— and then she saw him. Her Peter Pan smiling down on her, greeting her with a cheery "Hello there, Wendy Lady."
The proposal was so magical, she said she felt like she was living in a dream. The best part? It was so extra magical that children actually gathered around on shore to cheer on Peter Pan and Wendy as they got engaged.
If that's not a magical proposal, I don't know what is.
Nikki