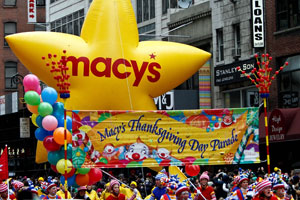 Who DOESN'T Love the Macy's Thanksgiving Day Parade? It's one of the best parts of Thanksgiving!
So, why not propose during it? Whether you're watching from home or actually there in person, it would be a magical time with all the beautiful sights, great music, and the energy of the crowd.
But what if your lady is IN the parade?
Check out this guy and how he incorporated this amazing parade and his girlfriend's involvement with it into his own proposal. His girlfriend was apparently a roller skating clown in the parade. He flags her down, gives her a hug and POPS THE QUESTION. I bet that makes the rest of the parade a lot more fun for her, eh?
Speed ahead to the one minute mark to see the big moment!
Nikki
Photo Credit: NYCTourist