Earlier this week, a blogger over at WeddingBee wrote about her dilemma with having mismatching rings. Her engagement ring, which is a vintage design, is vastly different from her wedding ring, a piece she bought off Etsy. After brainstorming for two months, she finally came up with a solution: she'll buy a second wedding band and wear them both on alternating hands.
I'm a lover of all things mismatched yet complementary, so this idea has really gotten me excited! I also like the idea of being able to wear one or the other or both depending on my mood or on any other factors.
This is actually a trend that has been growing in momentum lately. By mismatching the engagement ring and wedding band you can create different styles depending on your mood or depending on what function you're attending. Below is an example: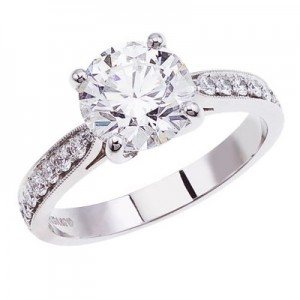 Here we have a simple solitaire engagement ring by Fusaro. Now, if we wanted to spice things up, we could add a splash of color with one of these sparkly bands from Etienne Perret.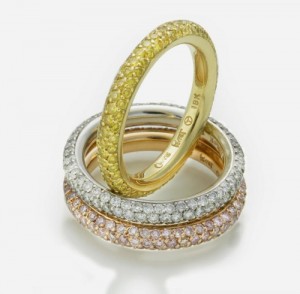 Another idea you can create is to pair a conventional engagement ring with a unique band to give it an extra bit of oomph. When paired with our simple engagement ring above, this Alishan band creates a more vintage look.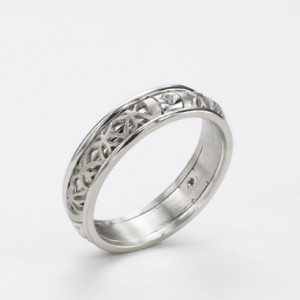 Or, if you have two very similar or identical bands, you can create a "sandwiched" look by stacking a band on each side of the engagement ring. The result will create a similar look to this floral ring by Katherine James.