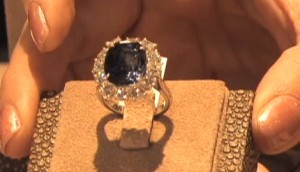 In episode two we continue our Jewelry Fashion Week coverage as we go down the list of important jewelry highlights. Sylvie Levine from The Sylvie Collection and Myriam Gumuchian from Gumuchian give us some celebrity engagement ring suggestions, while Myriam Galli from Gemveto and Natalie Kraiem from Natalie K show us the latest jewelry trends.
Other familiar faces in the video include Josh Kaufman from Martin Flyer, Rick Mulholland from Novell, Anne Storm from Peter Storm and Chris Ploof of Chris Ploof.
And for the guys, Andy Koehn from Koehn & Koehn and Ron Samuelson from Baltimore Diamonds give men some pointers on how to shop for the perfect engagement ring.
Watch the video!
If you're currently at work and can't watch the video because you're supposed to be working right now, here's a rundown of the trends featured in the video:
Celebrity engagement rings
Gumuchian suggested a gorgeous ring from their new Halo collection for Kate Middleton along with their Twin Set bands, and Sylvie Collection showed us the most gorgeous emerald cut ring for Kim Kardashian.
Stackable Rings
Gemveto shows us some colorful wedding bands, all thin and stackable.
Rough Diamonds
Natalie K shows us a gorgeous pendant made entirely of large rough diamonds in a floral pattern.
Tattoos
Novell's new TATU collection consists of bands with cool tattoo-inspired engravings.
Rock n' Roll
Peter Storm's new Rock My World collection proves that jewelry can have attitude too by designing a line that has a lot of rock influences.
New Styles For Men
Chris Ploof shows us some innovative pieces for men made using the unique mokume gane technique.