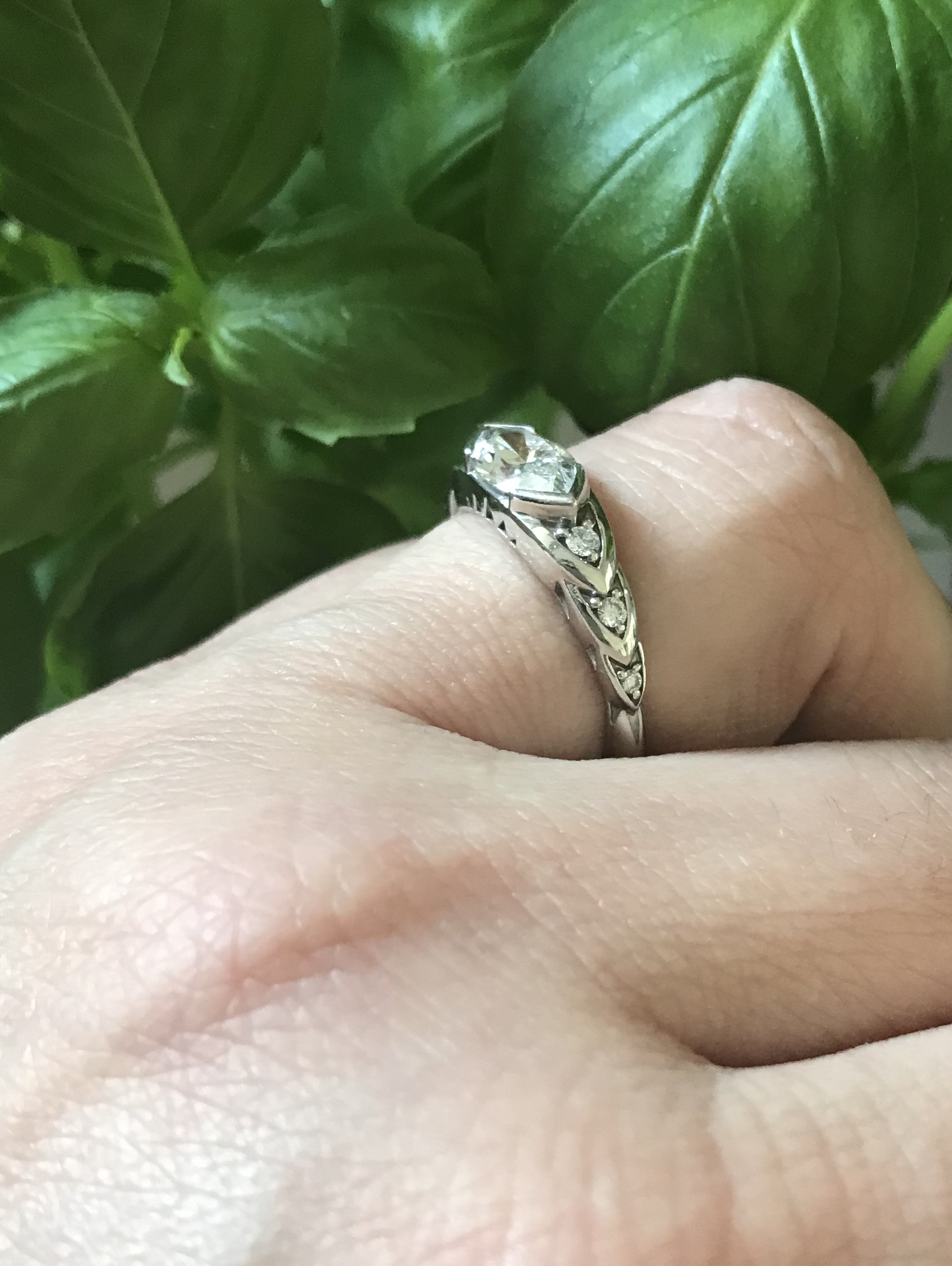 If you follow me on Instagram, you already know all about my new platinum engagement ring, designed by Julie Lamb. I picked a custom Miadonna lab-grown marquise cut diamond center that is set East-West.  I wanted to gather in this post the 8 most important things I learned that might become handy if you decide to have a  bespoke engagement ring made.
Take Your Time
If you are only making slight alterations to a designer's ring, these changes can be made quickly. Some examples of easy customization can be  switching from gold to platinum, picking an oval-cut instead of a round diamond or getting a name engraved. However, if you are creating something really unique, it will take time. Don't rush the process and get ready to spend a couple of months, maybe more, from start to finish.
Decide on a Realistic Budget
It is important to be realistic when planning your engagement ring budget. On the one hand, you need to come up with an amount your couple can afford without going bankrupt or giving up on other financial goals and dreams. In most cases the proposer pays for the ring, however the purchase is often part of the couple's  financial planning which makes it more of a joint decision.
Your budget should also match your ring expectations.  It is important to educate yourself about engagement ring costs.  Understand all the nuances that change the cost of the setting and the center stone. Go over all your options. If you don't do that, you will need to go over your initial budget or wear a ring you don't really like.
Pick the Right Designer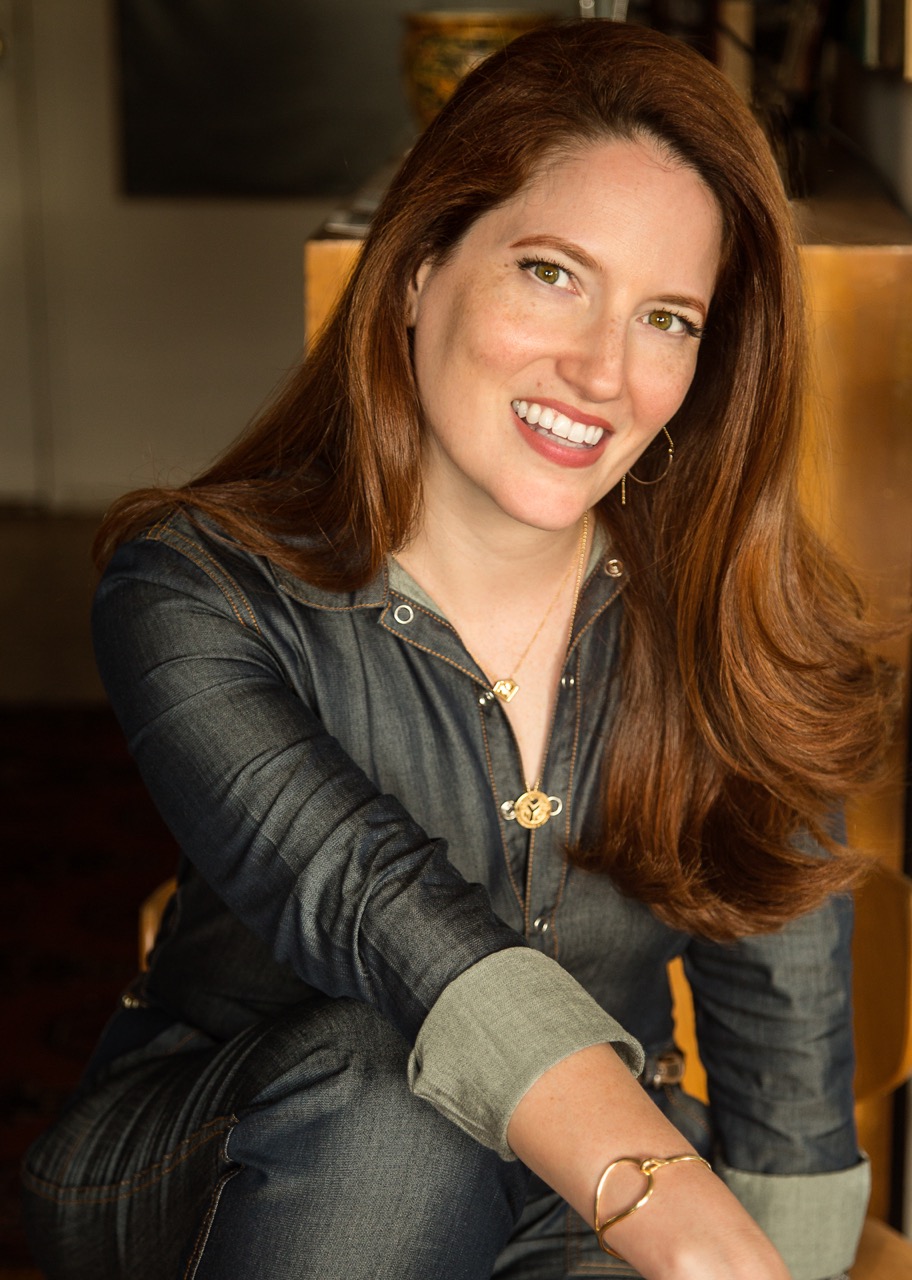 We all want to pretend that we can "design" but making jewelry that will last for generations is hard! Finding the designer that will be able to understand your ideas and make them work is key. The end product needs to look like your dream ring and it shouldn't fall apart. I would highly recommend picking a designer whose jewelry and design aesthetics you love. I picked Julie Lamb (pictured above) because I love her fashion pieces, I knew that my ring would be special but also signature to her style. If my ring style is a little bit too alternative for you, Julie can also help you with a more traditional project such as resetting a family stone, she also made the ring pictured below.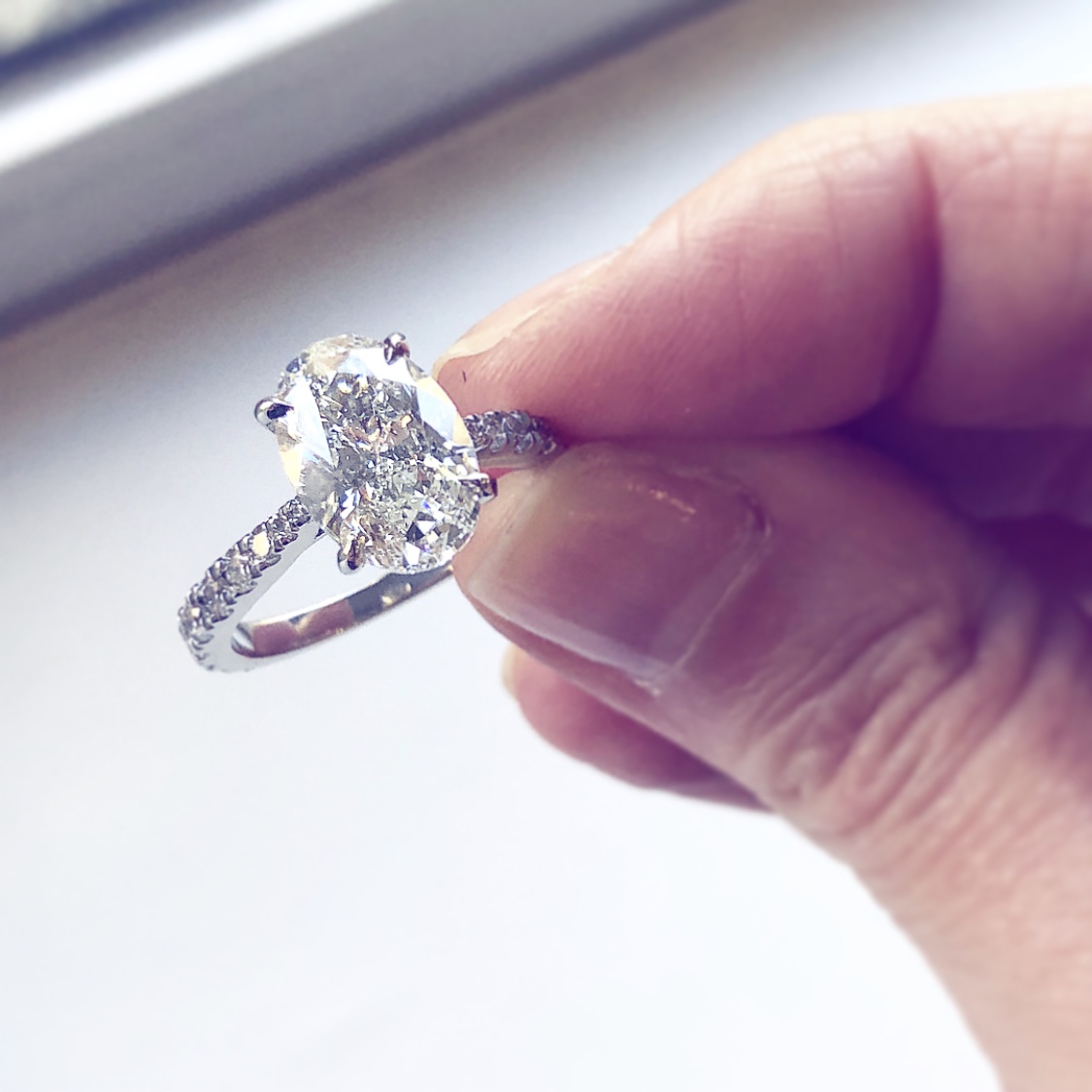 Ask about the Workshop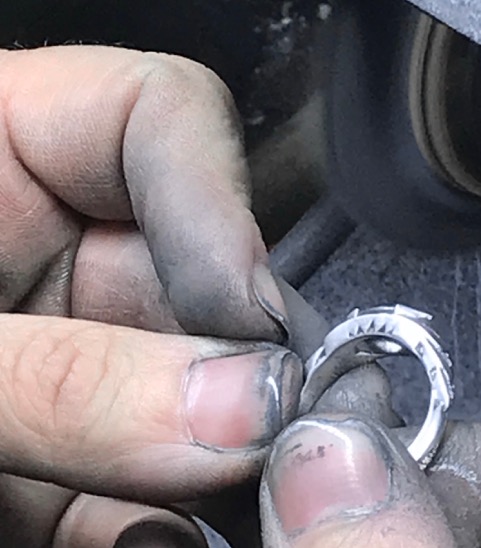 Some jewelry designers make jewelry on site in their studio, many outsource the manufacturing process to a workshop. I live in New York and we are lucky to have some of the best bench jewelers set up Midtown. Ask your designer where the workshop is. They might let you take a look behind the scenes. If you are working remotely and found your jeweler online, ask them where the ring will be made. Some e-stores manufacture custom rings overseas which they should disclose so you can check the workshop reviews accordingly. A good design is not a guarantee that the ring will be well crafted.
Make your Own Decisions about the Center Stone
10 years ago, most engagement rings included a brilliant cut diamond center. In 2018, you have lots of options, round or fancy cuts? Antique or new? Rose cut ? How about a colored gemstone? Should you check out moissanite?
Educate yourself, do your own research online, ask advice from a lot of different people and try on different options IRL. Though lots of experts and friends will have strong opinions on what you should pick, as long as you aware of the value and longevity of your center stone, pick the one that you really want.  I selected a lab-grown diamond by Miadonna  because it's beautiful, my ideal specs and I am a geek who likes technology. You do You!
Sketches and CAD are Great to Visualize but your Ring will Look Somewhat Different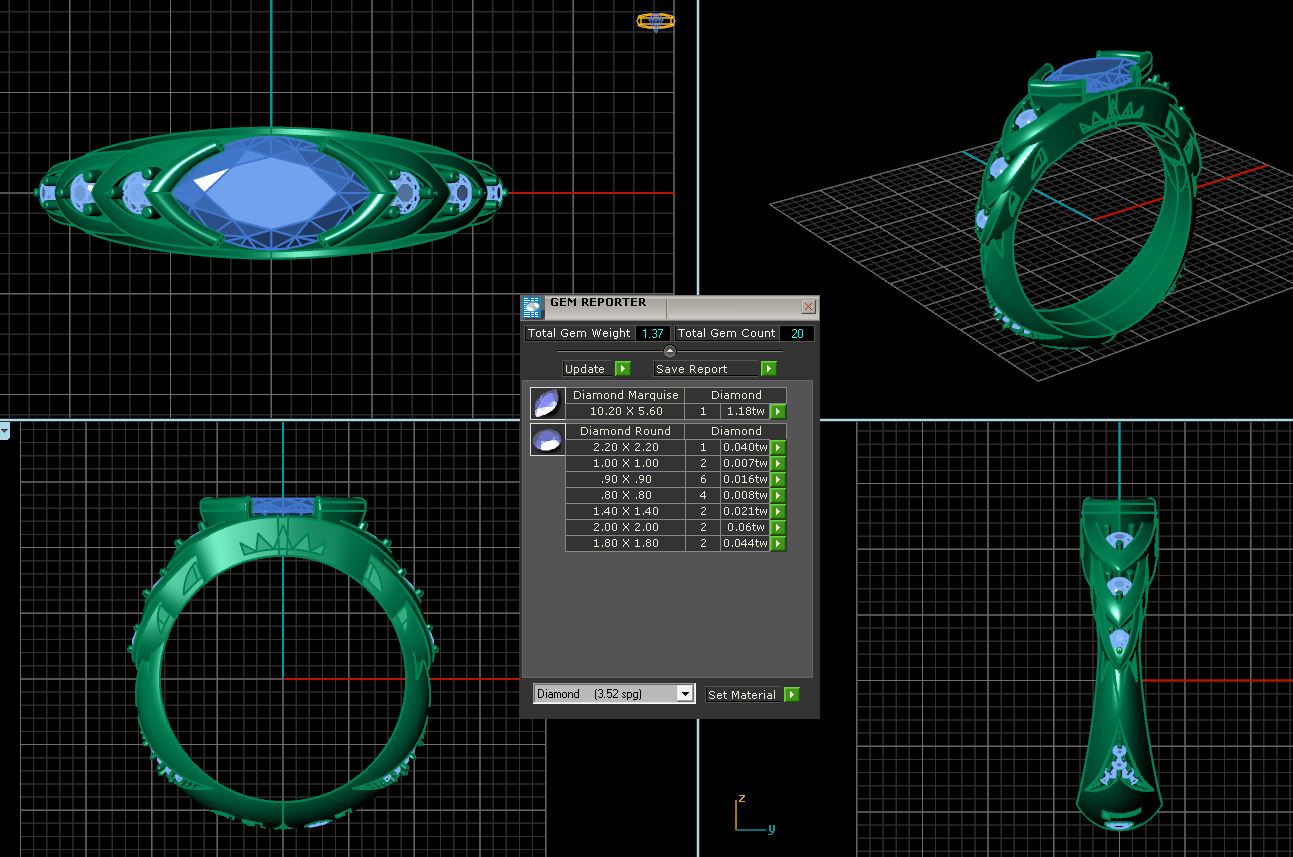 Most designers will show you a sketched design so they know they understand what you want and will make some suggestions through sketches too. Depending on how skilled of a drawing artist your designer is, these sketches could belong to a museum or will just be rough. Keep in mind they are just a map not what your ring in 3D and metal will exactly look like. Your designer also needs CAD (Computer-aided design) to communicate with the workshop and create a wax replica of your ring. These computer graphics are not exactly what your ring will look like. Sketches are usually dainty and on the other end of the spectrum CAD prints look sturdier and larger than the end ring.
The 3D Wax Ring  is When it gets Real!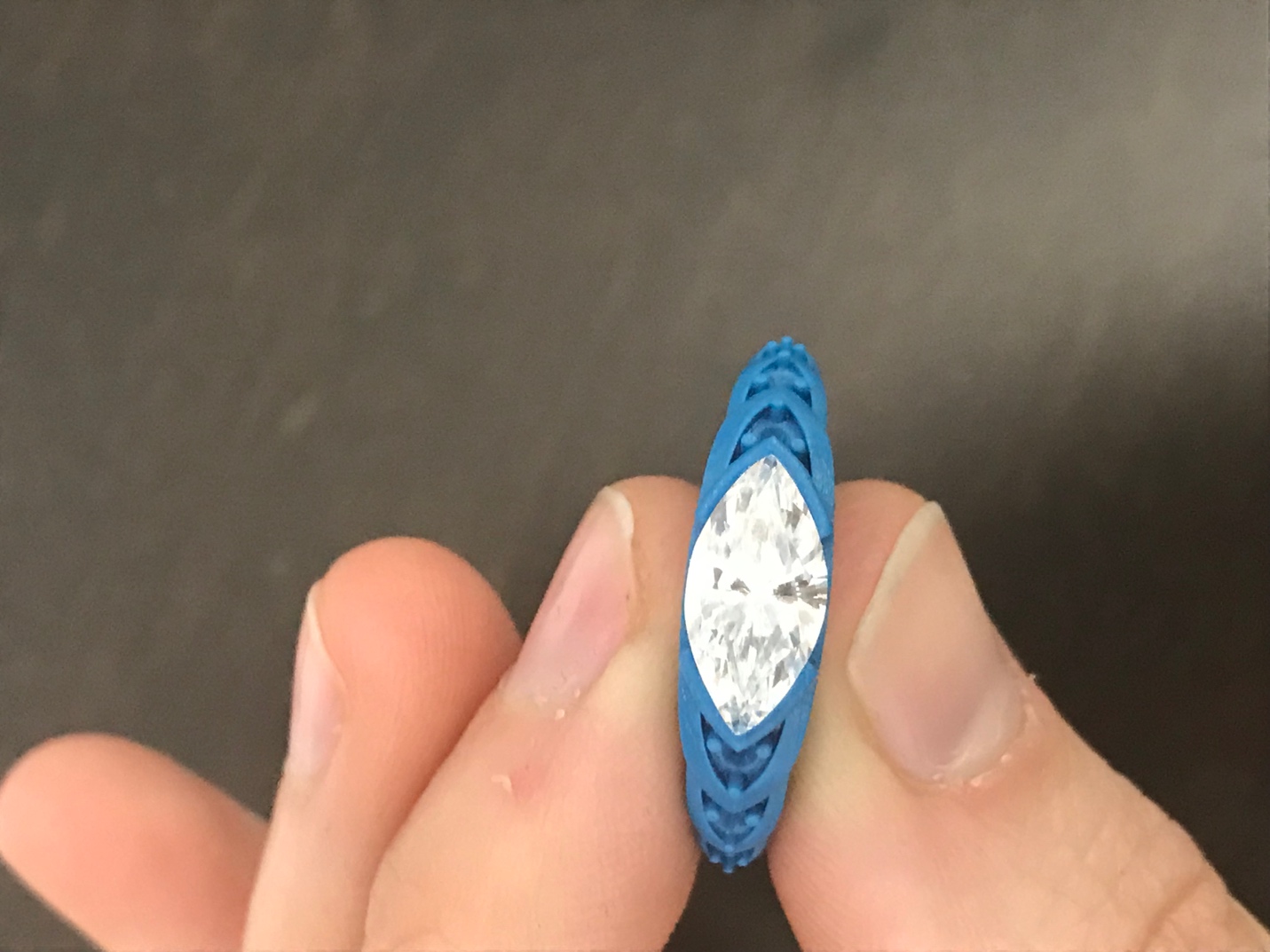 After the CAD step, a mold is created and your ring is cast in hard wax. Hard wax is super fragile so when you see your ring, don't get too excited ! I broke my wax ring… It is the stage when I could really understand and see what my ring would look like. Julie was able to position my diamond in the center and it looked amazing.
Have your Ring Size Measured Professionally
Like in fashion or when buying a bra,  ring sizes and fits vary depending on the design and who makes the ring. You should get measured at 2 times of the day as your finger's size tends to fluctuate. You should also take in consideration the design of the band. Wide bands cover more finger real estate, you might need more room. I own rings size 8 to 9 for the same finger depending on the brand and design.
I hope all these tips help, feel free to ask more questions. Getting a bespoke ring made is truly an amazing experience, I highly recommend it.
Sev
Severine Ferrari AKA Sev is the editor and writer of this blog and the online magazine Engagement 101. Sev was born and raised in Paris and has lived in New York City for over 20 years. Her blogging style still includes elements of her French writing style and humor. We recommend reading it with a glass of champagne and a French accent.