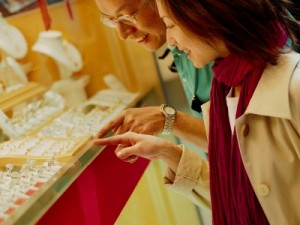 Here's an important engagement ring shopping tip: research shows that a woman in a serious relationship will drop a lot of hints, so you should probably pay attention to what she says. Has she commented about anyone else's engagement ring? Shown you anything in a magazine? Pointed out something in a jewelry store window? If not, why not steer her toward a window or two and see what she admires?

What is her personal style?
If you are not aware of any hints, you can still figure out some of her style preferences. Look at her clothing and home decorating choices. If they are streamlined and fresh, alternative, or fashion-forward, she's a modern girl. Does she choose classic pieces and love retailers like Ann Taylor and Pottery Barn? If so, she's a traditional girl.
Is she a modern girl or a girly girl?
Is she inclined to wear feminine clothing and fill her home with frilly ruffles and lace? You can
bet she's a romantic. The modern girl may be attracted to a design that's fresh or features an unusual cut, metal or design. A classic solitaire's a fit for a traditional girl. The girly girl will probably swoon over an ornate pavé, Edwardian or Victorian setting. Celebrity jewelry expert Michael O'Connor wants men to understand that a wedding is a woman's one chance to be part of a fairy tale. If your girl is a romantic, give her an elaborate ring that's right for a fairy princess.
What does her other jewelry look like?
If you look at her other jewelry, you also should be able to determine if she favors white metals or yellow gold. If she doesn't wear any jewelry, go with a subtle white metal.
Still confused about style? Choose a classic round brilliant solitaire in a plain setting. If the diamond is of good quality, the ring will be beautiful and unlikely to be a disappointment to any bride. She can always place her diamond in another setting down the line.
You'll also need to discover her ring size. The simplest solution is to borrow one of her rings and take it with you to a jeweler. You also can trace the interior of one of her rings onto a piece of paper. Another method is to put one of her rings on your finger and note how it fits. If all else fails, go with the industry standard—a size 7—and make sure the ring can be sized.
–Garnet Greene