As we all know, Valentine's Day is an honor of St. Valentine and while the actual holiday was omitted from the Roman calendar of saints in 1969, it is still observed by the hopeful and hopeless romantics who need a day to celebrate sweet nothings, chocolates, and overpriced prefixed menus. Those who've never had a Valentine find ways to keep ourselves busy, as I have for many years with laundry, to erase the notion that we're single and will not be wined-and-dined as we had hoped.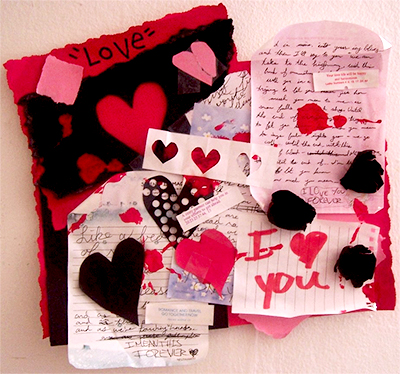 Somehow, if I'm honest, regardless if I've been in a relationship or out of it, Valentine's Day has continuously disappointed me. I've always seen it through rose-colored glasses that make it absolute necessary to be in love for this specific 24-hour period.
And when I've been single, I've been out on "dates" with my girlfriends where we both talked about how fabulous we were, how silly any man would be to not fall madly in love with us, and why we were happy to be solo on this day. When truth be told – as much pressure as every e-newsletter, store, and movie puts on us starting right after Christmas, how could anyone not feel a little pang going to bed alone on the day of romance?
I realize I have no room to be upset because I'm surrounded by endless amounts of love. And I happen to be under the belief that Mr. Cupid doesn't dictate when I tell those how I feel about them and I would never accept their admirations for me in return only once a year. While I recognize that yes, I would love to be sent flowers and I'm a fan of fancy things that sparkle and shine – I don't need them to be happy. I may happen to be almost as addicted to chocolate as I am to love – but I've never needed anyone to buy it for me, nor would it be a preferred gift selection. And of course, I love to be taken out to dinner and sharing a smooth bottle of Merlot, over candlelight and nice music – but true romance isn't advertised for a specific date and time, where everyone else in the country knows about it, too.
And isn't the best kind of love – the love you have for yourself, single or taken – more important that any of it? That's why on Valentine's Day, I encourage you to write a heartfelt, beautiful love letter not to your man, not to your friends – but to yourself.
If you want to, you can even send them to me here and I'll publish them on Valentine's Day on my blog. You might even win a prize for doing so! Don't let Valentine's Day get you down if it doesn't turn out as you have hoped. It might just turn out even better.
By Love Addict
Check out Confessions of a Love Addict, a blog about living, loving and exploring New York City. Email Love Addict: lindsay@loveaddictnyc.com.
Photo Credit: deviantart.com