You may have been waiting for that precious question for as long as you can remember — but maybe it's not going quite as you have hoped. Perhaps that special man looks (and acts) a little different than the perfect prince charming you imagined. Maybe he's shorter or balder, taller or nerdier than you hope he'd be — but even though he's not super perfect, he is super perfect for you. 
And strangely enough, there might be a super-perfect alternative to getting engaged that's better than the get-down-on-one-knee act. What if — gasp! — you proposed to him instead? Sure, it seems untraditional and less romantic than roses-and-sweet-nothings, but if the road leads you to happily ever after, does it matter where you start?
Maybe. Read these three tips to figure out if proposing to him is a good idea or if you'll end up regretting it.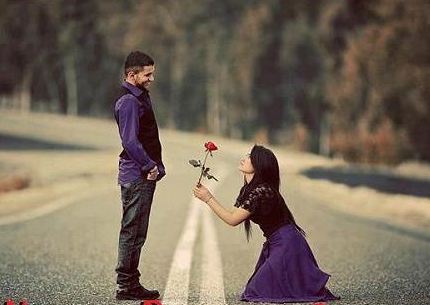 Why Do You Want to Get Engaged — Now?
Getting engaged is just the first step to a healthy, happy marriage. It's the start of your strong commitment to one another – for better or for worse – and making the decision to leap into the promise land isn't one that should be taken lightly. Think about why you know it's the right time to get engaged, and why you'd rather take it into your own hands than to wait for him to ask for yours.


Will You Regret Not Having the Grand Gesture?
Ultimately, a proposal is a grand gesture of forever and an often public proclamation of love. If you decide to be the one doing the questioning and he gets to scream yes or no — will you feel like you missed out? Will you be okay with telling your future children that you swooned dad instead of the other way around? While it's often popular for men to return the favor once their lady has popped the question, your guy could pick you out an engagement ring and leave it at that. If you don't feel like you'll regret the memory of your engagement, don't be afraid to come up with the perfect proposal for your guy.


What Does Your Guy Want?
If you do decide to pop the question to your guy — a trend that's becoming more common in recent years, do what you'd want your guy to do: put him first. Think about what he really would want out of a proposal — maybe not public, maybe so. Maybe at home with takeout and movies. Or at his favorite sports team's killer game. Just like a guy thinks about being super-thoughtful, you'll want to do the same for him. If you know he's the right guy (and you're pretty sure he's certain about you, too), and you know the time is right, it doesn't matter who asks. As long as someone – does!
By Aurora Brown
Photo Credit:  fsquarefashion.com