Liz & Mike, Elmira Heights, NY
How they met
Me and mike started talking on a dating website and the following week, we met in person at my parents. We have been together 3 years now !!
The proposal
Mike took me out for dinner. After the meal, he took me back to his house to hang out. We were looking at the Christmas tree. Mike asked me if I remembered one of the ornament. I said no. When Mike grabbed it, I noticed that there was a small crack in it. To my surprise, when he opened it, there was a ring in it! Mike told me how much he loved me and that he wanted to spend the rest of his life with me. When he asked me to marry him, I screamed: "YES! I DO!". Later, I also discovered that he had bought a house for us! Not far from my parents! Having lost my job just a few days before that, it was a great pick me up.
The ring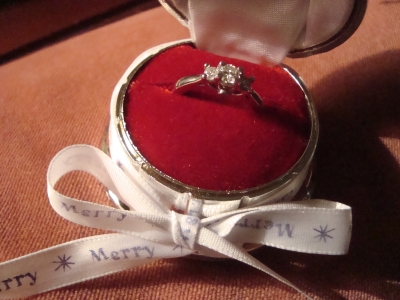 He  got the engagement ring  at  local  jewelry store. It is white gold with 3 diamonds  and 2 small  diamonds where  my wedding band could hook to (the diamonds where his moms).