How They Met
We first met in year 10 2007 at Turramurra high school, NSW, Australia. Josh had been at the school since year 7 – I was a newbie! The day I went along for my first interview with my parents and the principal of the school, Josh shouted out from a distance "the new girl is beautiful". Then when my parents and I were in the meeting with the principal, the office door was half open, Josh and his best friend poked their heads through the door, Josh kept laughing and smiling at me. Few weeks later, at my best friends house, Josh asked me to be his girlfriend. 9 years later, we both agree we still get butterflies and it still feels like the first time we met each other. I wouldn't change a single milli second spent with him for anything!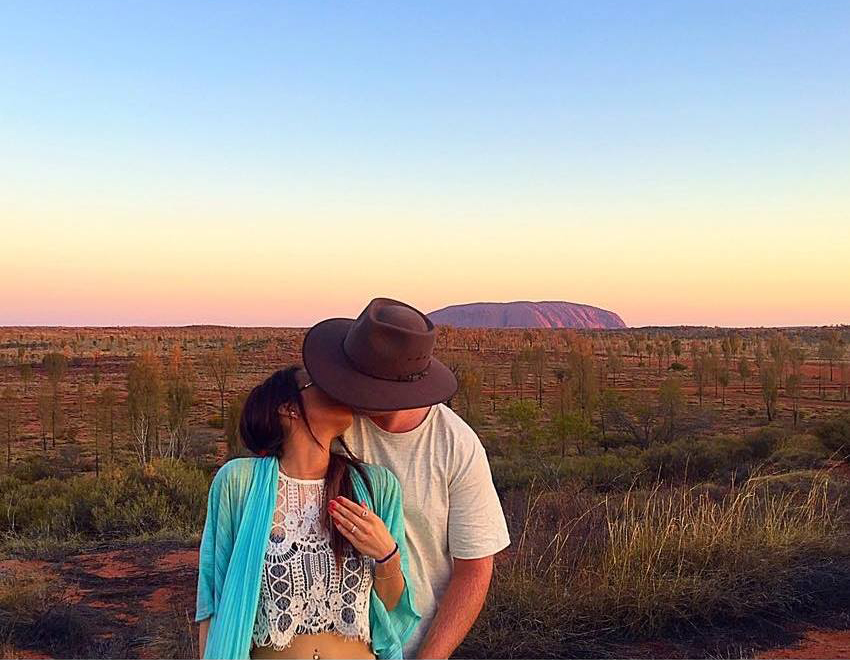 The Proposal
Both Josh and I have always had big dreams to visit Uluru, Australia. While I was at work one day, Josh messaged me saying that his mum had booked tickets and accommodation for us 5 to go to Uluru! (Us 5 being Josh, Josh's mum, Josh's sister, Josh's sisters fiance and I) The days leading up to the trip Josh mentioned nothing about getting engaged or anything like that! The first few days in Uluru were amazing! So beautiful! Then on 9th October 2016 we had an early start – "Uluru Sunrise Tour" which allowed us to view the sunrise over Ayers Rock while eating breakfast! We then had a guided tour and learnt about the Indigenous culture and stories. We then returned to our hotel rooms.
Josh went by himself to the local shops and returned with a gift for me! Gold Plated Heart Offset Pendant with Diamente Surround containing 999.9 pure gold. He then told me that there would be another surprise later on! I assumed it might be a matching bracelet or something beautiful! At 6:00pm us 5 left our hotel to go to "Sounds of Silence Camel Experience" When we got to the Camel Farm, I noticed Josh and Josh's mum both chatting to the camel tour guides. I didn't really think much of it.  There a group of 15 of us going on to camels, the tour guides lined us up and assigned us to camels – placing Josh and I on the end 2 camels (Josh behind me).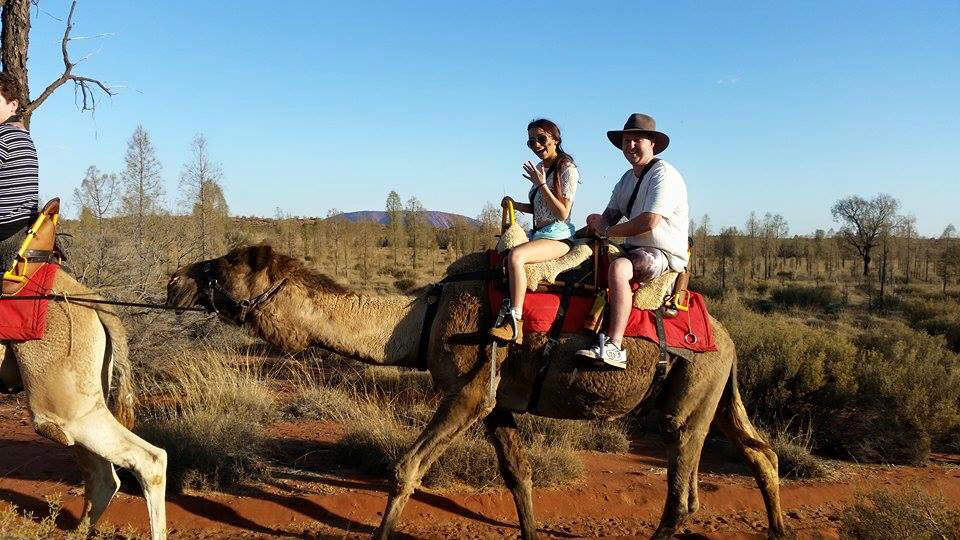 Before we got onto the camels, Josh's mum grabbed me and told me that Josh was scared of camels thats why he might be acting a bit strange and quiet – I thought Josh has never mentioned that he's scared of camels before. Before we started the tour, one of the tour guides placed an extra drink bottle holder onto Josh's camel. He said it was extra water incase people ran out – again I didn't think much of it and quickly glanced at the holder (not noticing there was no water bottle inside). Our camel was named Darcy! We started our camel ride. We stopped right in front of Ayres Rock to take photos. As soon as we started moving again Josh grabbed me hugged me and started asking me if I was sure I wanted to spend the rest of my life with him (I thought he thought he was going to die or something and that he was saying all of this because he was really scared!)
Anyway he told me how much he loved me and how he wants to spend the rest of his life with me and then brought out the box and placed it in front of me, he opened it and I burst into tears! He said "will you marry me?" – I couldn't stop crying or talk! He said "is that a yes or no?". I said "yes yes yes!". He put the ring on me and I couldn't stop crying! I wanted to hug him but we were still riding the camels! We still had 30 minutes riding the camels until we arrived the viewing platform.  As soon as we arrived at the viewing platform, I jumped on him and gave him a huge hug! Josh's family came over and congratulated us and Josh's mum and sister were crying! (I couldn't believe how well they all kept it quiet and managed to surprise me) The rest of the tour group came up and congratulated us as well!
The Celebration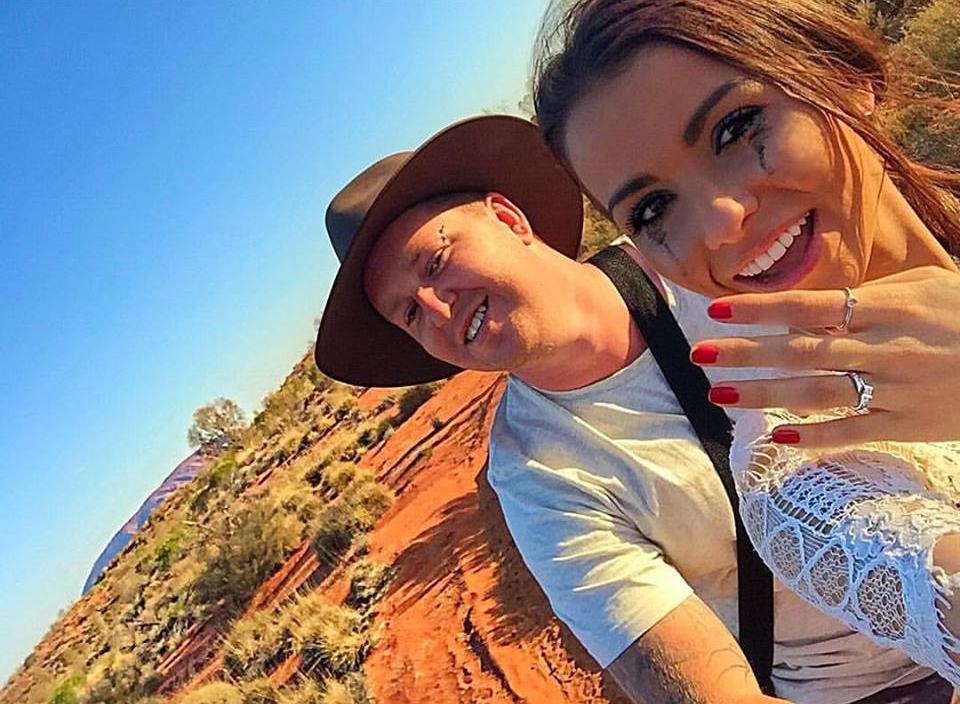 The tour guides took photos of us 5 by the camels.  We were then served canapés and chilled sparkling wine while on a viewing platform overlooking the Uluru-Kata Tjuta National Park. We called my parents, Josh's dad, grandparents and my best friend to let them know what had just happened! Walked a few meters, there were lots of tables set out with candles and a buffet station. We sat down and the people who we were sharing a table with congratulated us! We ate entree's and dinner (bush tucker – native bush ingredients), then two aboriginal performers came over to Josh and I and congratulated us by singing us an aboriginal song which in english meant "true love will last forever". Then we listened to the beautiful sound of a didgeridoo performer.  Then the chef and the kitchen staff all came over to Josh and I and sung us a congratulations song and presented us with a plaque of chocolate and berries which spelt out "congratulations". They then told us that Josh and I could go up to the buffet station and be the first two people to serve ourselves desert! After dessert, they turned off all the fairy lights and a resident star talker decoded the southern night sky, the Southern Cross, the signs of the zodiac, the Milky Way, as well as planets and galaxies that were visible due to the exceptional clarity of the atmosphere. There was also a telescope viewing station. I saw my very first shooting star! – Two to be precise.
Once the night finished, we then boarded the coaches that took us back to our hotels. When we arrived back to our room, there was a bottle of sparkling wine and a sign saying "Congratulations on your Engagement"! We spent a few more days in Uluru and rode bikes around the base! I found out later that Josh originally planned to propose to me on top of Ayres Rock once we climbed it but because the weather was too hot no one was allowed to climb it plus we got told by a few locals and tour guides that it's highly disrespectful and bad luck for any woman to climb it so Josh decided to propose to me on our camel ride. On our flight back From Uluru back home to Sydney. I got talking to a few random people on the plane and after I told them how Josh proposed to me while we were there, they said "Omg are you the couple that got engaged on the back of a camel? Everyone is talking about it! Awwww so romantic" Once we returned to my house around 7pm, my parents had surprised us with celebration banners, balloons, cupcakes, candles, dinner and an engagement present! The day after my parents organised a little surprise engagement party at our house just to celebrate with our few closest friends which was great! Josh also surprised me with a comfy jumper that has writing on the back of it that says "he is my best friend, my shoulder to lean on, the one i can count on, he is the love of my life, my everything and I'm proud to be his fiancee". The whole experience was absolutely perfect in every way possible, I was so shocked and I wish I could relive the moment again and again!

I cannot wait to spend the rest of my life with my best friend.
The Engagement Ring