Ryan and Sharon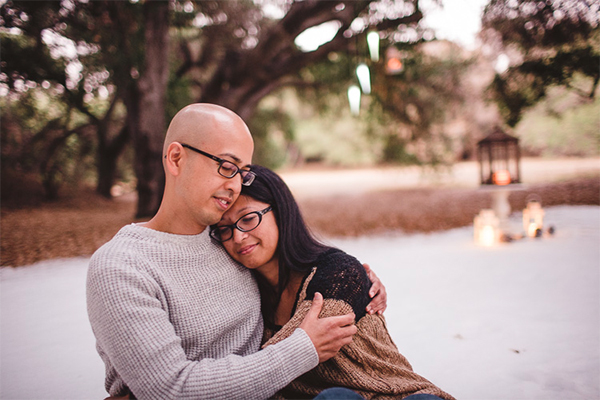 The Proposal
We had a day off together and he planned it all out for us – check out a couple exhibits at the Reagan Libary in Simi Valley, then head to Beverly Hills for dinner. We left the library early to get through traffic, get to dinner early and check out the Christmas decorations they put up. Or so I thought.
In typical fashion, I fell asleep in the car. When I woke up, we were off the normal route we would take to get there. Ryan just told me we were on a detour and to go back to sleep, which I did. A few minutes later, I woke up again, and we were entering into Malibu Creek State Park. I thought he just wanted to take a walk around the trails there because there was still plenty of time to kill before our dinner reservation.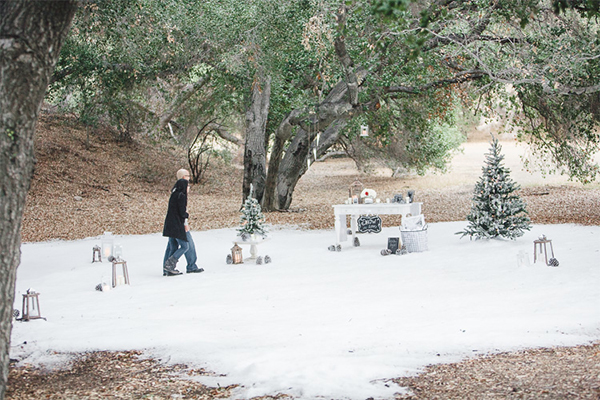 We started off walking on a trail, and in the upcoming meadow, it was clear that there was an event of some kind going on. There were lights and lanterns on the ground and in the trees. I realized there was snow on the ground – a huge 40×40 patch of winter wonderland in the fall, in Malibu. Then, as we stepped onto the snow, I heard The Piano Guys' cover of Christina Perri's "A Thousand Years" playing, and I knew what was about to happen. (A couple months back, I had him listen to it as a potential song to which I could walk down the aisle. Song is cliche, I know, but I think it's cliche for a reason.) At this point, I couldn't keep it together and my eyes welled up with tears and I felt weak in the knees.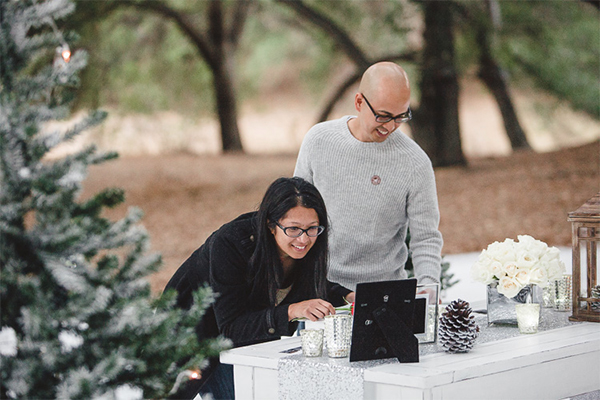 In the middle of this winter wonderland was a table displayed with black and white pictures of us throughout the years. There was also a shadow box that Ryan made for this event, that had a letter telling me how much he loved me and had a collage of pictures of us. Ryan then said his speech, took a single red rose from a 3-dozen bouquet of otherwise white roses, got down on one knee, and asked me to marry him.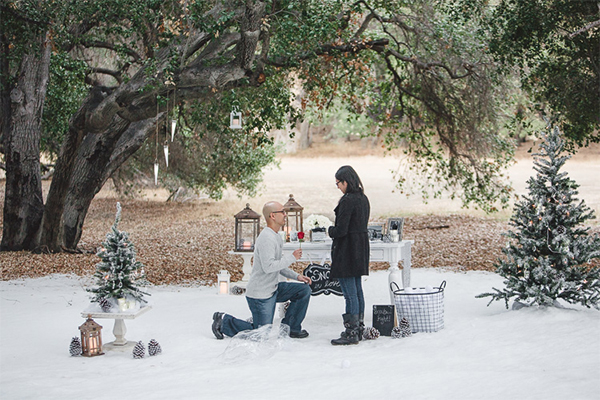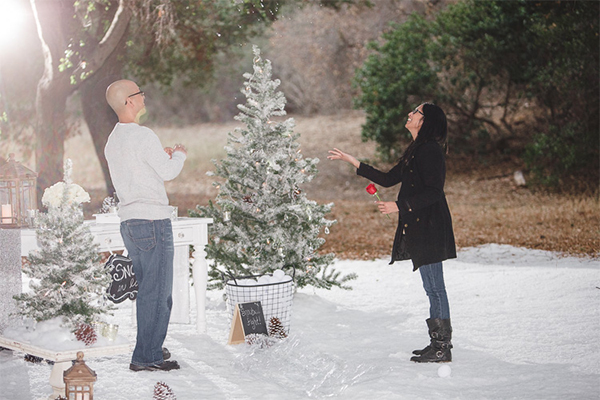 The Engagement Ring
Due to religious convictions, I didn't propose with a ring. Instead, I proposed with a single red rose. The red rose was presented in a bouquet with 3 dozen white roses. When I proposed to her, I told her the white roses represented how I see and feel about all the other women in this world –all the same. The red rose represented her and how I see her standing out, so special from everyone else and how much more beautiful she was compared with all the other women in this world.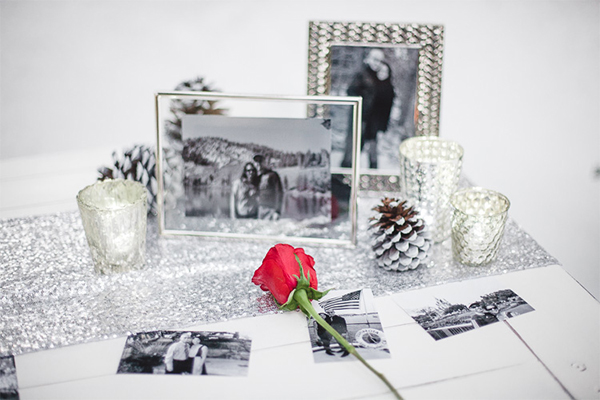 Proposal Planning & Personalized Decor: The Yes Girls
Photography: Mathieu Photo
Florals and Rentals: Studio C Florals
Snow: Crystal Ice Company