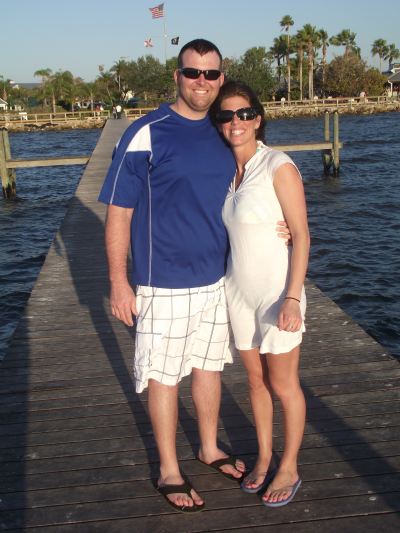 How They Met
Todd and I met while playing staff volleyball. I had been playing for a few weeks when he showed up one day and played with a broken collar bone. I was impressed that he was still able to play. We became friends, fell in love, and a little over two years later we got engaged.
The Proposal
We were at a beautiful resort in Ruskin, Fla. for a week long vacation. He had it all planned out months beforehand. He was going to propose at sunset. As we sat on the beach early on our second day, Todd asked me what I wanted to do during the sunset that night. We talked about watching it on the beach or going to a nearby island. Then he noticed the jet skis and suggested that we watch the sunset on those. I was excited at the thought.
While I was busy doing something else, Todd started planning the proposal. His idea was to propose on the jet skis while the sun was setting. The jet ski rental guy was shocked that Todd was willing to take a diamond engagement ring out on a jet ski, but he was interested to see how it would work out and agreed to let us take the jet skis out for a few minutes. I wasn't aware of his plans and was lead to believe that I would be watching the sunset and taking pictures of it out on the water.
That night as the sun was setting, Todd and I went out on the jet ski. I was carrying the camera and he was hiding the ring. As I took pictures of the sun setting, Todd took out the ring and proposed. Luckily, in our excitement, we managed to lose neither the ring nor the camera! The next day we went out to finish our jet ski adventure and ended up jet skiing next to a dolphin.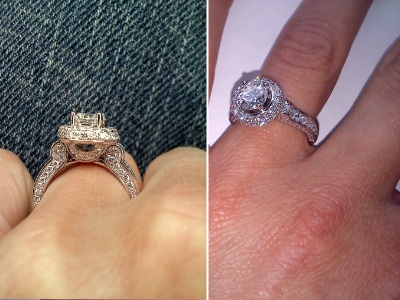 The Engagement Ring
Todd proposed with the same ring my dad proposed to my mom with. The ring is an heirloom, and the diamond used to belong to my grandmother. It was originally a solitaire ring with a yellow gold band. Once we got home from vacation Todd had it reset into a beautiful vintage white gold band with diamonds on three sides, a diamond halo surrounding the original diamond and two semicircle diamonds on the front and back of the ring. It is a breathtaking ring that sparkles like nothing I've ever seen!