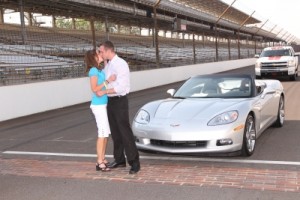 How they met
Sheri and Austin met through a mutual friend that Austin went to college with. He asked her out, they went on a date and they haven't looked back since!
The Proposal
Back in May, Austin noticed a customer of his was tweeting about some contests regarding the Indy 500, and it got him thinking about ways he could propose to Sheri. Sheri is a huge race car fan, loves cars and they both have gone to the Indy 500 and the Brickyard 400 together the past couple of years. Austin wanted to come up with a unique way to propose to her that incorporated some of her favorite things.
He contacted the Director of Digital Communications at Hare Chevrolet and asked if he could get involved in one of their events so that he could propose to his girlfriend. Keep in mind, Austin had never spoken to him and emailed him out of the blue. The director responded in minutes and was immediately on board. Receiving the go ahead from the owners, he secured an invite for their Corvette owners-only event where Austin and Sheri got to go by police escort to the track. He also gave Austin a Corvette to drive for the weekend and helped get permission for Austin to propose on the bricks at the Indianapolis Motor Speedway. Austin had to contact both General Motors, who was sponsoring the event, and IMS officials in order to get clearance to get out of the car and step onto the track.
Of course, Austin had to have a cover story for all of this, so he called Sheri one day at work and told her a client of his at Formstack gave his boss tickets to a Corvette event, but his boss couldn't make it. He also wrote an email explaining the event and had his boss send it to him so it would look like it came from his boss. It mentioned that Austin would need to take the Flip camera to record some video so he could write a customer spotlight post for their blog and put up a video of it. But really it was just an excuse for Austin to record everything without it being suspicious.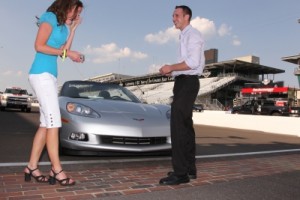 Throughout the whole planning process, Austin really came to appreciate the tight-knit community Indianapolis has. He sent a few emails to complete strangers hoping for a response, and within hours he was connected to executives at the IMS, Chevrolet, Andretti Green Racing and even Sheri's favorite driver Tony Kanaan. It was amazing how excited everyone was to help out and go out of their way for someone they had never met.
Interested in seeing how the proposal went? Watch the video to find out. Spoiler alert – she said yes!
Photos by Chris Theisen  and Ron McQueeney