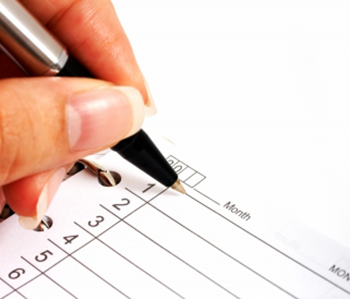 When you're pinning away on Pinterest and have that (amazing) sinking feeling in your stomach that the question is just about to be popped, there is no other more magical feeling. Even after he utters that life-changing question and you excitedly agree to share your life with him, the real fun – and yes, the real work – of your relationship has just begun. The first step down the aisle – before that lovely dress and before writing those precious vows – is nailing down the right date.
Don't wait too long
While there is no right or wrong length for your engagement, most relationship experts agree that a shorter engagement usually leads to a happier couple. As much fun as engagement planning is (and should!) be, it's a very stressful time where couples often bicker about money, future plans, career and lots of other important things that can negatively effect an otherwise strong union.
"You don't need to get too crazy about setting a date immediately. You'll enjoy your engagement more, however, once you have some of the big details figured out, like when the big day is," says Jenev Caddell, relationship expert and psychologist. "When a couple is forever engaged with no date in sight, it can be a sign that they're afraid of commitment. Enjoy being a new fiancé for a little while, then within a couple months get to work on figuring things out. If you can set the date within 3 months, you are in good shape."
Include him
To get your man to sign the dotted line, make it fun for him. Make sure he's included in the decision-making process and that his biggest wants for the wedding are part of the venue selection. Does he want an open bar? A huge dance floor? A place that's not too terrible on his budget? If you make him feel included, he'll be more inclined to settle in on a date you'll both remember forever.
By Aurora Brown