Brent and Mandy met in 2007 and since then had been near inseparable, so how to make the proposal special?
Mandy was staring as Charlotte Lucas in an adapted version of Pride & Prejudice through The Vintage Theatre in Scranton, PA, a sort of Jane Austen meets Mad Men take on the story set in the 1960s. On the last night, Brent decided the time was right and wanted to take advantage of the stage and the audience for his next big move.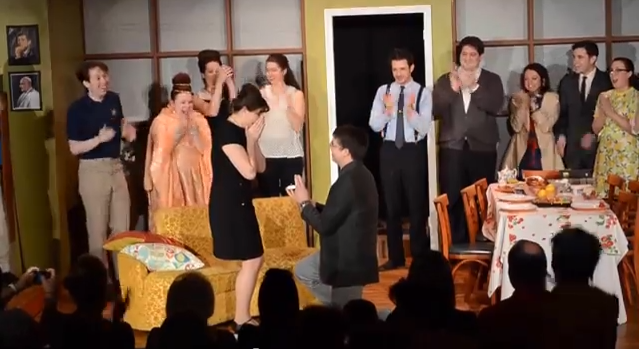 In front of a sold-out crowd, Brent got down on one knee and asked Charlotte Lucas to be his Mrs. Darcy. Er, wait, that's not how the story goes!
The reaction of the actors and the audience is priceless. I love that gentleman who called Mandy front and center is just about jumping up and down when Brent kneels and Mandy's head starts nodding. I definitely think proposing on a stage has its advantages, because it adds such a thrill to the moment!
Oh, and by the way, I'm totally interested in seeing this adaptation! What a fun twist to a classic.
Emily