While many state fair proposals may seem cliche or not very unique, there is nothing wrong (in my opinion) in going for the classic-romantic proposal. I mean, come on, what girl doesn't fawn over The Notebook?
My husband had such a hard time coming up with a way to propose. I'm a snooper, so he had no way of planning it without me finding out (truly… I'm that good). He says that's why he jumped the gun and proposed randomly. I clearly wasn't expecting him to propose to me while we were watching Aladdin. I was envisioning fireworks, New York lights, or something out of a Nicholas Spark's book/movie. Whether you prefer A Walk to Remember or The Notebook, you can't deny that those guys have some moves.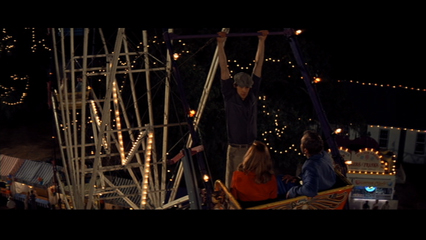 Why all the Nicholas Sparks references? Well, every time I think of classic romance, I think of the scene on the ferris wheel where Noah is desperately trying to get Allie to go on a date with him. What's more romantic than being at the top of the ferris wheel with your sweetie? Having a guy hang there until you agree to go on a date with him. Am I wrong?
OK, I'll stop jabbering. Here are my ideas!
1. Go for a ride. Whether you're at the top of the ferris wheel (with the ring secured somewhere) or being competitive at bumper cars, find a time to pop the question. While you may not be able to drop to one knee, you will certainly take her by surprise and there will be moments to follow for all the crying, kissing, and traditional stance. She may not think you're serious until you present her with a ring. I would suggest saving that for after the ride, so you don't risk losing it, but that's just my worry-wart self.
2. Win her a prize. What girl doesn't love the idea of her boyfriend winning her a giant stuffed animal or goldfish at the fair? Win something (or have something planned ahead of time) and find a way to attach the ring to it before handing it over. Don't want to drop your ring into the bag with the fish? Win her prize and use that opportunity to tell her what lengths you would go to for her, then drop to a knee and present her with a true prize– one awesome rock!
3. Use a booth. I don't know if every state fair has this, but my home state always has craft booths set up from locals selling things. Rent a booth just for your proposal! People will be walking by it all day thoroughly impressed, but ultimately it will come down to your sweetie being taken by total surprise. Also, talk about a photo opportunity! Step up into your little booth with her and pop the question, having a photographer (friend/family member) waiting to snap a shot!
4. It's all about atmosphere. In the end, just taking her to the state fair, eating the food, riding the rides… it all adds up to one awesome date and opportunity to propose. At the end of the evening, whether there are fireworks or just pretty lights, find a spot and use your words and there's no doubt it will mean more than anything else ever will.
My husband always talks about re-proposing for a vow renewal ceremony. I confess I'm a sucker and would want to go on the ferris wheel (which I am, possibly, a little bit afraid of otherwise) just to get a movie-moment proposal. If you have the same thoughts, share this with your sweetie!
Emily
Photo Credit: freeweb.com