Happy First day of Hanukkah! But why not make these next eight days extra special for your future-wife-to-be. Here are some tips on how to make this Hanukkah the one she'll never forget.
1) Write her a special note each day, leading up to the last
Each night of Hanukkah, give your lady a special love note expressing how much you love her. Or, maybe make each one a different riddle to tip her off (or throw her off) what is to come. On the last day, write the love note of all notes and get down on one knee in front of all your friends and family.
2)  Propose during a game of Dreidel
While you guys play a game that takes you back to the best times of your childhood during the holidays, plan your proposal when she least expects. Maybe partway through when she lands on Gimel and gets really excited that she gets take the whole pot, make a comment about how she really has taken everything, even your heart. Show her the ring and pop the question. She'll never see it coming!
3) Give her a new, special menorah
Has she talked about what kind of menorah she wants when she celebrates Hanukkah with her future family? Find one with your monogram on it? Personalize it with the date and your names? Buy her the menorah of her dreams and give her a speech about how you can't wait to spend many years making memories with your family. She'll be touched by the thoughtfulness but confused about where you're going with this speech, until you get down on one knee that is.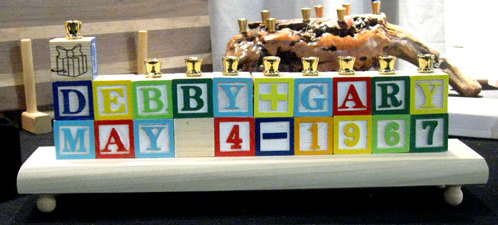 Nikki 
Photo Credit: JewishGiftPlace.com