The Abbraccio engagement ring  by Danhov is one of a kind. This unique design is all about movement and so unique. It comes in an array of different colors for the center stone, metal and different setting details options.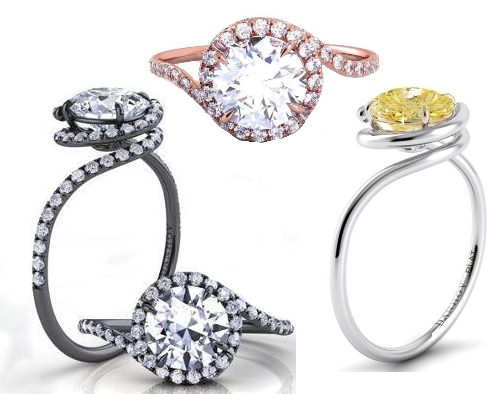 What is amazing about this ring is that it can't be cast. Though many manufacturers and designers promote the fact that their rings are hand made, it's not always true. Many just end their ring making process with handmade engravings , polishing, hammering etc… They usually start with a cast of the basic shape of the ring. The Abbraccio by Danhov can't be cast or it would break. Just like swords can't be cast without breaking. Take a look at the different steps it take to make this ring and why if you like a ring style, you should not get something that "looks like it" but always the real deal.
The Danhov Abbraccio Making Process
Step 1

The gold is melted down at a high heat and poured into a mold to be pulled into a wire form.

Step 2


Once in wire form, the gold is heated to begin the shaping process.

Step 3


Skilled artisan jewelers shape the gold into the signature Abbraccio shape.

Step 4


Measurements must be exact, as each piece is custom made.

Step 5


Lastly, the diamond is set and is off to the polishing station.