Each time I see Christiane Seidel, I can't help but stare at her beautiful rose gold wedding set and other baubles. So, it was about time to do a proper sit down and talk about her love of jewelry and how important it is in her everyday live, on the red carpet and when she is playing a character.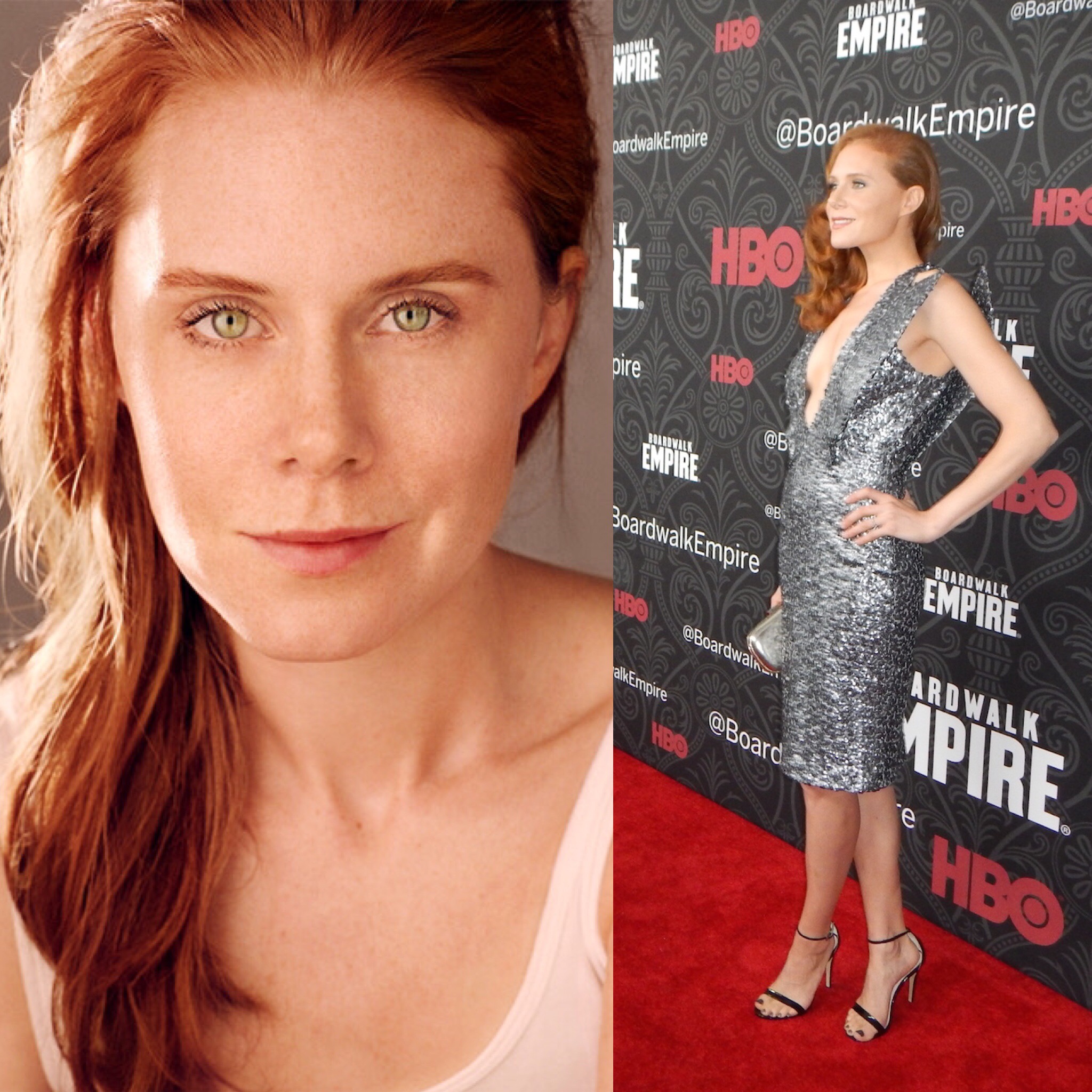 Can you remember the first time you were fascinated by a piece of jewelry?
As a child I rummaged through my mother's jewelry boxes and would find the flashiest, most colorful costume jewelry to play dress-up. Late 80s, early 90s jewelry. Once in a while my mom would allow me to look through her precious jewelries that were locked in a safe. My favorite piece still to this day is a gorgeous ring with little diamonds set in a round shape. She received it from her mother when I was born and I was allowed to wear it on my wedding day.
How influenced are you by your European heritage when it comes to wearing jewelry?
Through the years I've come to appreciate jewelry that has a story or an intriguing history attached. There are family heirlooms that have been passed on to me for precious milestones in my life. In that sense I definitely gravitate towards jewelry with the look and feel similar to my heritage. Wearing a piece of family jewelry makes me feel connected and close to them even when I'm on the other continent.
What jewelry do you wear in everyday life and what do you usually pick on the red carpet?
For everyday life I love jewelry that's lightweight in the sense of that I don't know or feel it's there. Otherwise, I'm rarely without my wedding ring which is a very thin infinity band in rose gold. For my other hand I usually opt for a couple of heirloom rings that belonged to my mother and grandmother. I also wear studs and a thin necklace daily. I go through phases where those don't come off for days.
For the red carpet I love going with big, chunky, bold pieces. I like to think of jewelry not just as an accessory that complements a dress, but as it's own character that can offer a new perspective. Often jewelry is such an afterthought on the red carpet but eye-popping jewelry can really make a difference.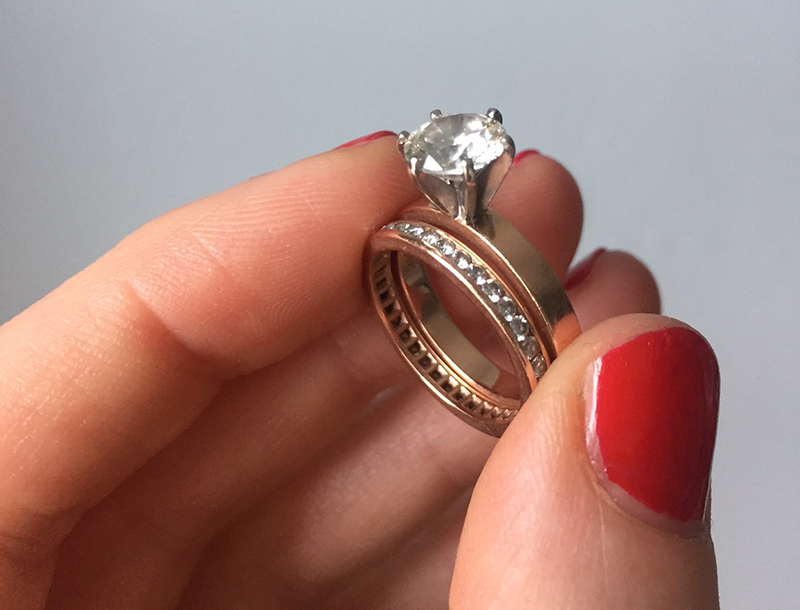 You have a beautiful engagement ring. Who designed it and what do you love about it? How was your proposal?
Thank you! We had our rings made by DVVS Fine Jewelry in Chelsea. Unfortunately, the owners shuttered their doors a few years ago to fulfill their lifelong dream of living in Hawaii. They were so talented, generous and really helped create exactly what we wanted. My engagement ring is rose gold and I love it. It's me.
The proposal was very special, intimate and in Antigua. We were alone on a wide deck overlooking the English Harbor inlet, which is one of the most beautiful bays I've ever seen. I was sprawled out on a chaise reading a book but my husband couldn't was just so restless. I kept thinking that he'll probably need a couple of days to get into vacation mode. Suddenly he presented me with a gorgeous dark blue velvet box. I loved that it was just the two of us and the ocean. That moment was ours only.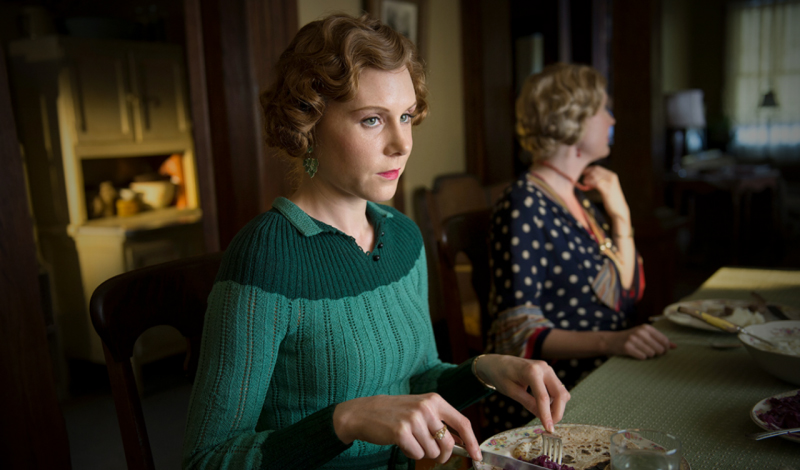 When playing a character on TV or film, wardrobe usually helps an actor. Do you remember jewelry also helping you connect to a character you played?
Jewelry can often be the piece or pieces that makes the character come together for me. Costume designers will often have an amazing selection of jewelry and we'll often have in depth conversations about where the character's earrings are from or how a necklace may be her only possession and therefore only worn on special occasions. Jewelry can be such an intimate, private thing and I enjoy creating stories around the pieces a character wears. It can really help me ground myself in a character. As Sigrid Mueller on Boardwalk Empire, I came from a very poor life in Norway and married an American for a better one. Wearing and feeling Sigrid's wedding band loaded me with very specific hopes and dreams she had.
You are currently shooting Godless a new Netflix TV show. Can you tell us anything about your character? Is she wearing jewelry? 
My character, Martha, on Godless is this mysterious women who lives in a small mining town, which is strangely made up entirely of women. Since Godless is set in the 1880s, we got to wear period-pieces in terms of costumes and jewelry, which is so exciting and fun. I can't say more about the show, but Martha occasionally wears jewelry and it was definitely a great way for me to connect with her.
Voila,
Sev
Severine Ferrari AKA Sev is the editor and writer of this blog and the online magazine Engagement 101. Sev was born and raised in Paris and has lived in New York City for over 20 years. Her blogging style still includes elements of her French writing style and humor. We recommend reading it with a glass of champagne and a French accent.